Last Seen: Nov 4, 2023 @ 12:12pm 12NovUTC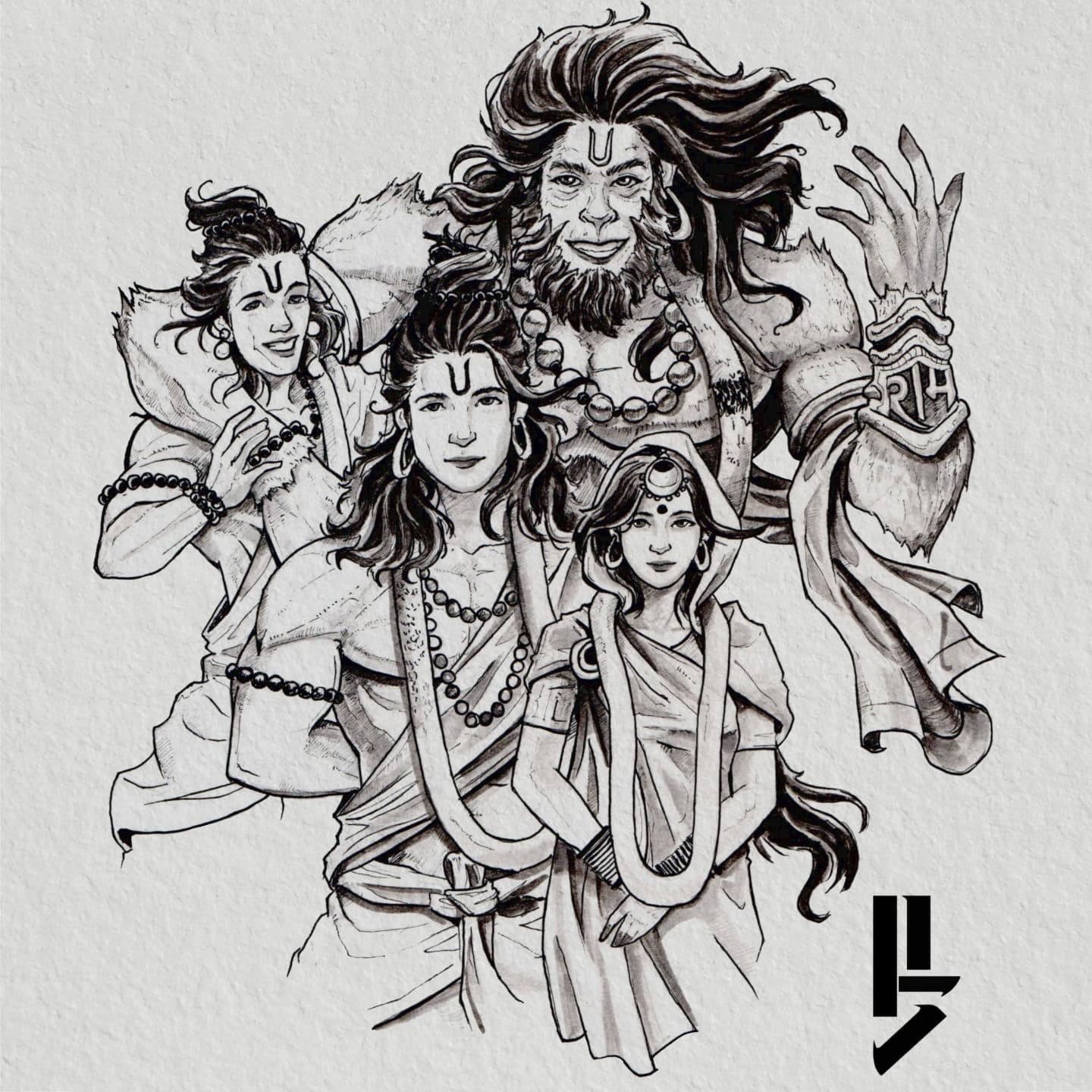 Long ago, there lived a king in Ayodhya named Dasaratha. He had three wives named Kausalya, Kaekeyi, and Sumitra. Unfortunately, he did not have any children. So he was concerned about the next
king of Ayodhya. Dasaratha asks his guru Vasishta about what can he do to get children. Vasishta said Dasaratha to perform a yagna to get sons. The next day Dasaratha performs the yagna and
Agni deva emerges from the yagna and gives the bowl of kheer to Dasaratha. He gave half to Kausalya, he gave half of the remaining half to Sumitra, and even half of the remaining quarter to
her while he was giving the other half quarter to Kaekeyi, a crow swooped down and took a little bit of Kheer. while it was flying, it dropped the kheer so Vayu carried the kheer and dropped the
kheer in a small bowl that Anjanadevi was holding. Years ago, Lord Shiva had given a boon to Anjanadevi that Lord Shiva would himself come as her child. She thought this Kheer
was a gift from Shiva so she ate it immediately. Months later, Dasaratha's wish came true because he now had four sons. The eldest among them was Rama who was born to Kausalya. Followed by
Bharatha was born to Kaki. Finally, Shatrugnah and Lakshmana were born as twins to Sumitra. In the same way, Anjanadevi gave birth to Hanuman. This was the birth of Rama and Hanuman.
Vishvamitra was the guru of the four royal brothers. They learned all the 64 arts in 64 days. After they learnt all the arts they came back to the Ayodhya. One day, guru Vishwamitra came to
Ayodhya to ask for help from Dasaratha. When he performs his yagna two demons are disturbing the yagna named Maricha and Subahu. They were putting bones and blood into the yagna and asked to
Send Rama and Lakshmana
Dasaratha does not agree to send Rama and Lakshmana to fight with the demons but agrees to send his army but he shall not let his son Rama and Lakshmana into the forests. Vishvamitra makes sure
that nothing will happen to Rama and Lakshmana so Dasaratha agrees and grants Vishvamitra's wish. Soon Rama, Lakshmana, and Vishvamitra left the kingdom and entered the forest. When they
entered the forest horrible sounds occurred and the earth started to shake then they saw Tataki the demon. Rama and Lakshmana instantly became alert with their arrows. Tataki attacked them with
huge boulders. But Rama aimed and shot an arrow towards Tataki which instantly killed her. Then they traveled deeper into the forest, and on the way, they saw an unusual stone. Rama touched stone and it
turned into a lady whose name was Ahalya and she was cursed by her husband for being spotted with another man. Then later her husband realized that he was wrong and told her that
she would be cured when Rama himself touched her. After this, they went to Vishwamitra's ashram. Vishwamitra started his yagna with other sages for 7 days meanwhile Rama and Lakshmana were
protecting the yagna from demons. For six days the yagna was going peacefully but on the seventh day, Maricha and Subahu tried to disturb the yagna with their army. Rama and Lakshmana
killed Subahu and Rama shot an arrow towards Maricha who went thousands of miles towards the sea but he escaped from his death. The next day Vishwamitra took Rama and Lakshmana to Mithila
where King Janaka's daughter Sita Swayamvar was announced. In the morning Vishwamitra, Rama, and Lakshmana went to sita Sawayamvar
The challenge of the swayamvar was that the prince had to lift the Shivadhanush and tie the pratyansha on it.
the first prince came, but he was unable to lift it. The next prince came, even though he was unable to lift it. One after the other princes tried but were unable to lift the Shivadhanush. Then the king of
Lanka'Ravana'stood up and said, " I am the king of Lanka the biggest devotee of Lord Shiva will lift the Dhanush" he came forward and tried to lift it. He almost lifted it but dropped it. He got
angry and left the palace, and then Vishwamithra told Rama to break the Dhanush. Other princes started laughing at Rama and told them that this weak person would be unable to lift it. Lakshmana
got angry and told Rama to show them you are not weak. Rama asked Lakshmana to calm down. He went near the Dhanush and did namaskar and then lifted it. Everyone's mouth fell open,
Rama broke the Dhanush while tying the pratyansha.Janaka announced that Rama was his son-in-law.The next day Rama marries Sita. Sita had three sisters Urmila, Srutha Keerthi, and Mandavi.
While Rama marries Sita, Lakshmana marries Urmila, Bharatha marries Mandavi and Shatrugnah marries Sruthakeerthi. After a few days, Dasaratha reveals in his sabha that the next king of Ayodhya is Rama, A few days later the preparation for the Pattabhishekam for Rama is going on. Then Mandhara, the servant of Kaikeyi filled Kaikeyi's head with negative thoughts of Rama. Kaikeyi too believed it completely so she wanted her son, Bharata to become king. She went and sat in the room of anger, this was thus informed to Dasaratha.
And Dasaratha goes to Kaikeyi and Dasarath tells happy news Kaikeyi that Rama is the next king of Ayodhya. Kaikeyi tells Dasaratha "You have given me 2 boons long back, this is the time I want to use them, "Kaikeyi asks. Her first boon was Rama should go to Vanavasa and her second boon was Bharatha should become the king of Ayodhya.
Last Seen: Nov 4, 2023 @ 12:12pm 12NovUTC
Young Stories
@Prasanth-Kalarikkal
Published: | Last Updated: | Views: 24