Home » Creations »
Well it's a New Year, and We hope you are all doing good.There are a lot of new Things happening at Milyin. This time we focused on Design and Content Creation. But there are a lot of fun things and insights that we would be glad to share with you.
Theme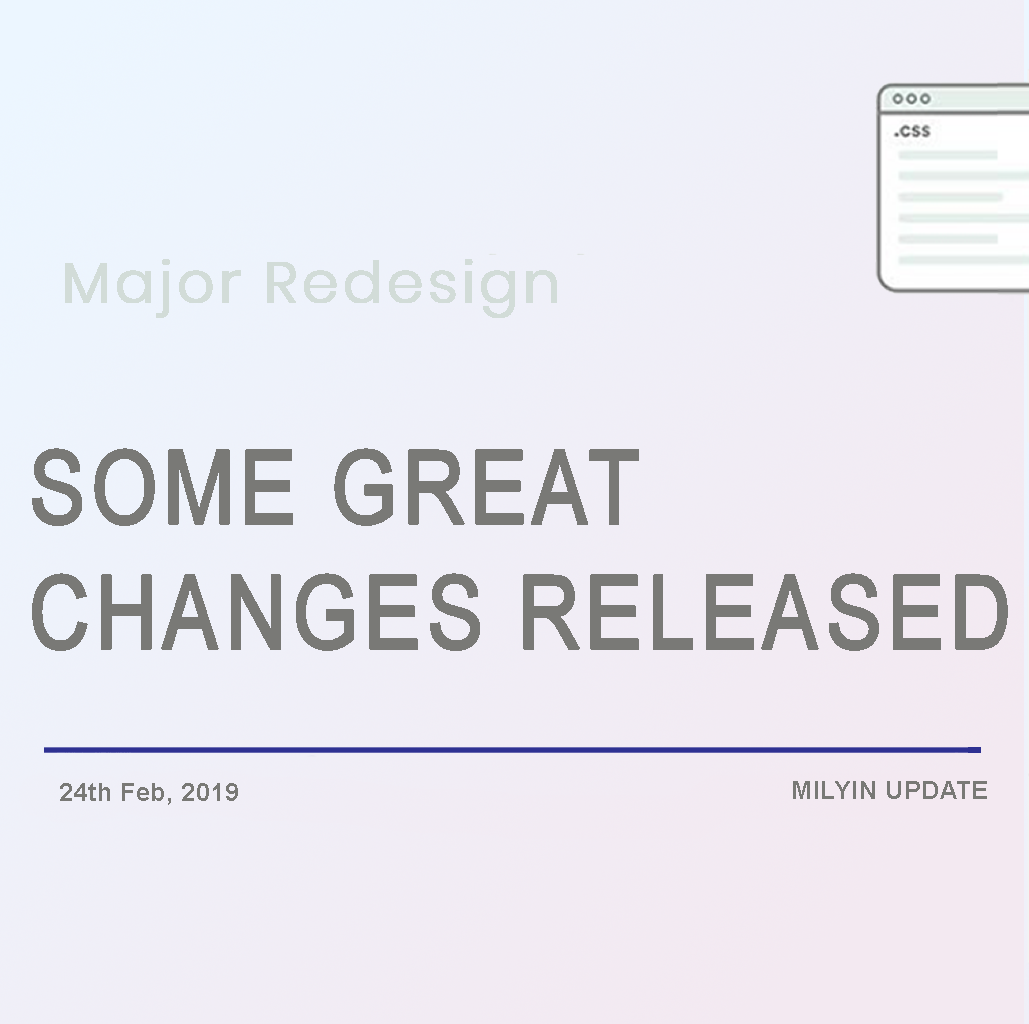 Milyin gets a major design overhaul. Milyin runs on WordPress, WordPress has immense power and lots of customizability. As a result we didn't had to go far to find something great to suit our needs and requirements. We earlier ran on a WordPress Theme named "Hestia" by Themeisle, and today we shift to theme "Neve", which is also developed by Themeisle. This means you shall see a whole lot different design in terms on colors, containers, and various elements. Things would have fresh coat on paint. Theme shifts are not much difficult, but in big sites, like Milyin, a theme shift means we need to readjust the code, the Dark Mode, the User Interface and many other important things. We have been working had under the hood, to figure out and fix every issue, before we shift to the Theme. And for sure, we have done it. We have ensured a Quick and Smooth shift this theme, so that everything on Milyin keeps running without skipping a beat. What are the benefits of New theme, well we will discuss it soon, this includes Performance, PWA, Navigation Menu.
Skeuomorphism
Skeuomorphism is one of the latest UI trends, and like all trends in UI, the goal is to make the User Experience as real world Objects like, as possible.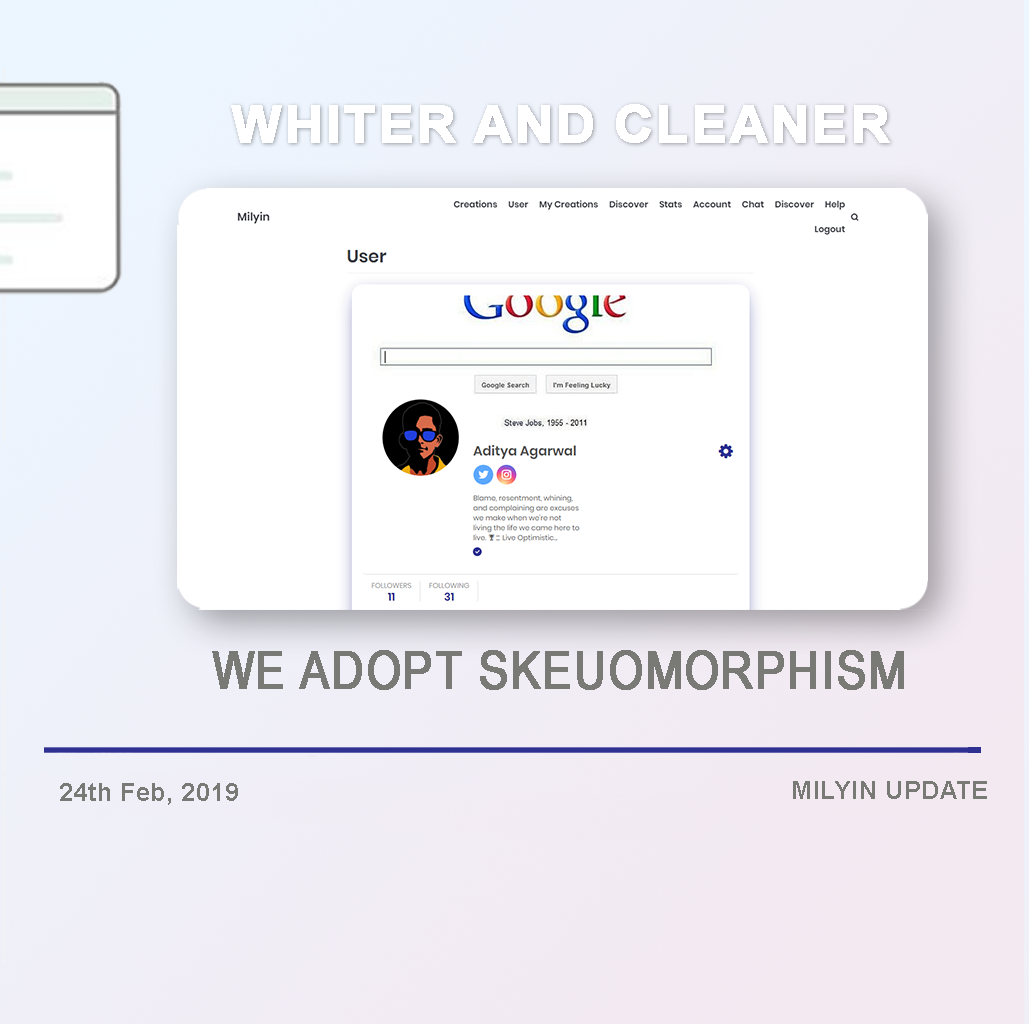 We reduce contrast between Foreground and Background and use Color Accents to allow distinction between them With our new theme, we also remove the Thumbnails on all Pages, this is a move which was necessary, not only does removing the images improve page load time, but also, it gives us much cleaner and much more pure white look, which is truly wonderful.
Policy Update
We have been constantly working to Improve and Better the platform, one of the steps in this direction, is keeping our Policies correct. As a result we frequently Improve our policies.
We have added stricter rules against Plagiarism, Intellectual Property misuse, Data Theft and Specially Fake News. We have also taken the decision to allow everyone to request Getting Verified on Milyin. Users can now Request Verification, and we shall then examine there report and decide upon whether to Verify the user or not. Also, we added another Policy for Verified Users. This goes through Rights and Duties of these Creators.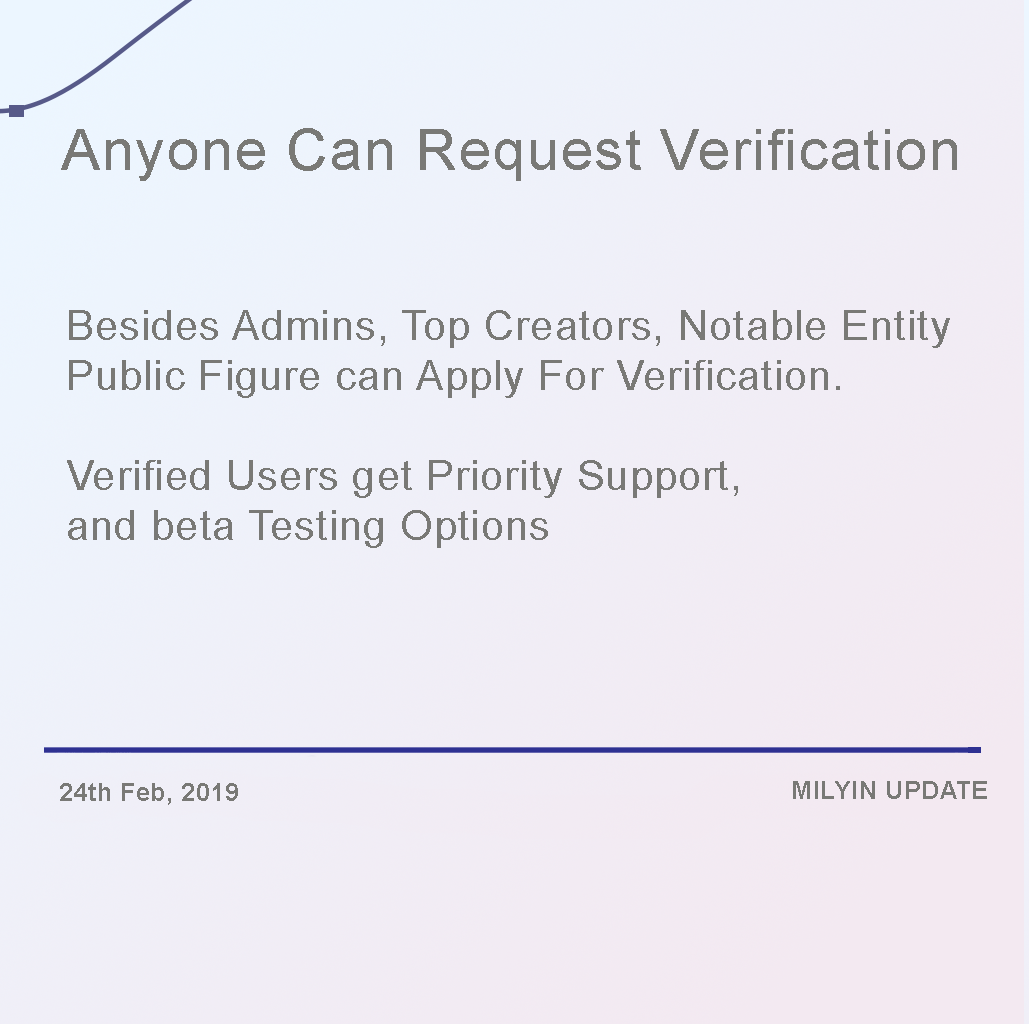 Redesigned Text areas and Inputs
Input areas and text fields are common, vital and necessary part of each and every website. We wanted to give the textareas an overhaul as a result we decided to give theme light borders on all sides. Earlier text areas were just border at bottom. This is done, to create more object like feel, and also, the border gives clear distinction, along with giving them an hierarchy. This makes the clicking and typing into the textarea much more intuitive, thus improving User Experience.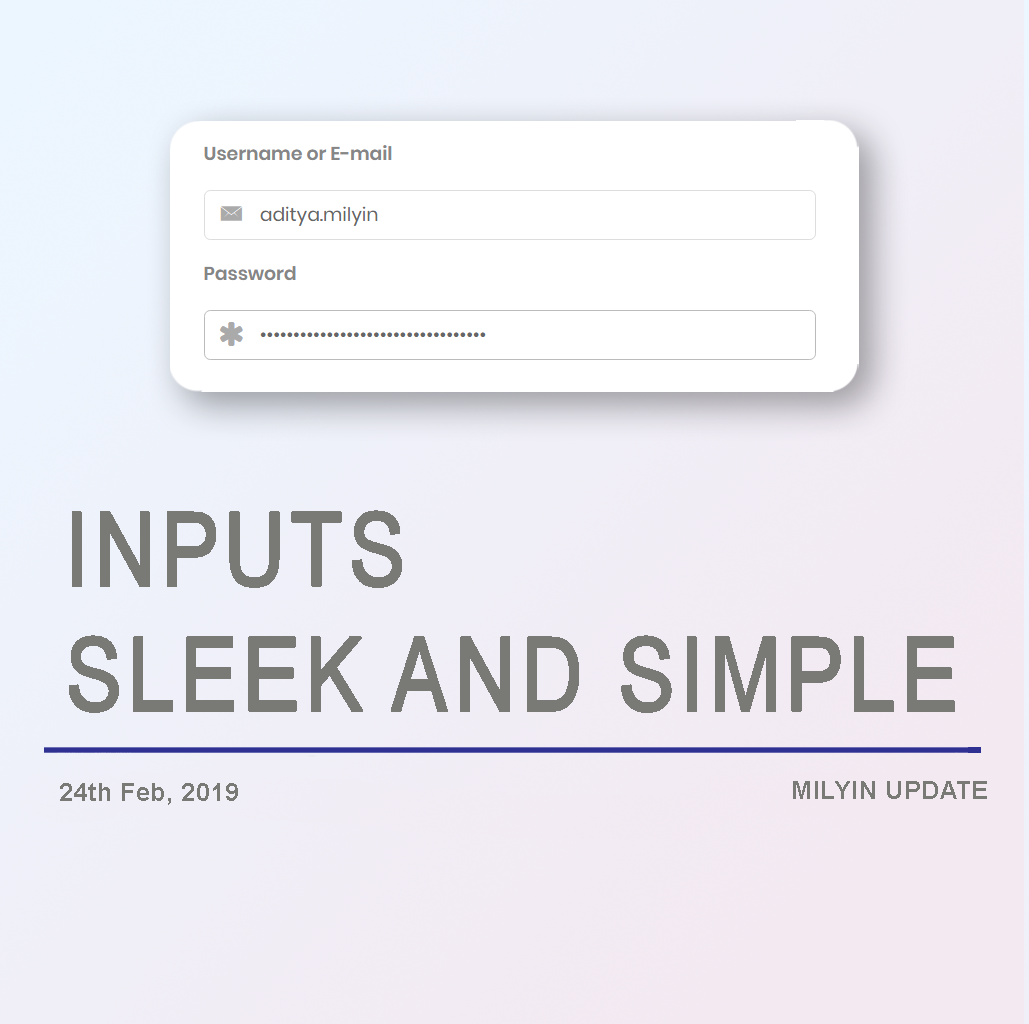 We tried to keep things as clean and as simple as possible to make the best use of Screen Real estate.
Redesigned Menu
Redesigned Menu is another important move. While the earlier menu seemed really good and complete. There was issue with expandability, we could fit maximum 7 items in menu. While 7 were more than enough, we needed to think future also, therefore a redesigned menu, gives much more vertical space on Mobile. This new Menu will greet you with Perfectly set Background Blur. And it looks stunning while in Dark Mode.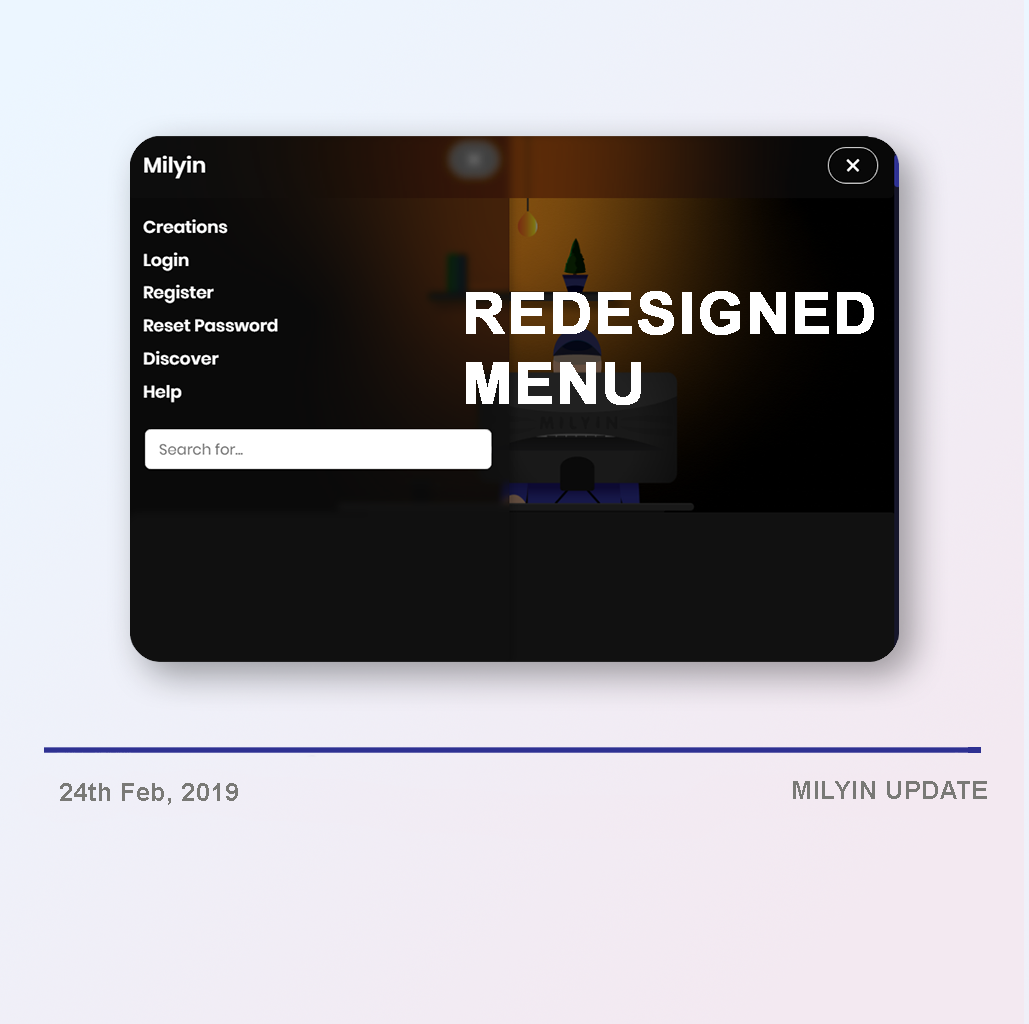 The new menu is Simply perfect, on mobile it slides out from Left with a really cool Transition. We hope you will love it.
New Forms
One of the biggest complaint from general users, were the forms. We used 3rd Part service Typeform to manage our forms, which were basically Contact Us, and Report Content forms. This came along, as we were building up systems for our Verification System, for getting requests for User Verification, we needed a new form, and existing solution didn't feel any good, or promising While we could have struggled and figured out a way to make those forms work consistently and perfectly on all devices. We felt that it's a much better investment to build our own forms. As a result we set to build really cool forms, and we promise these new ones would have high reliability, and consistency, because we manage everything now.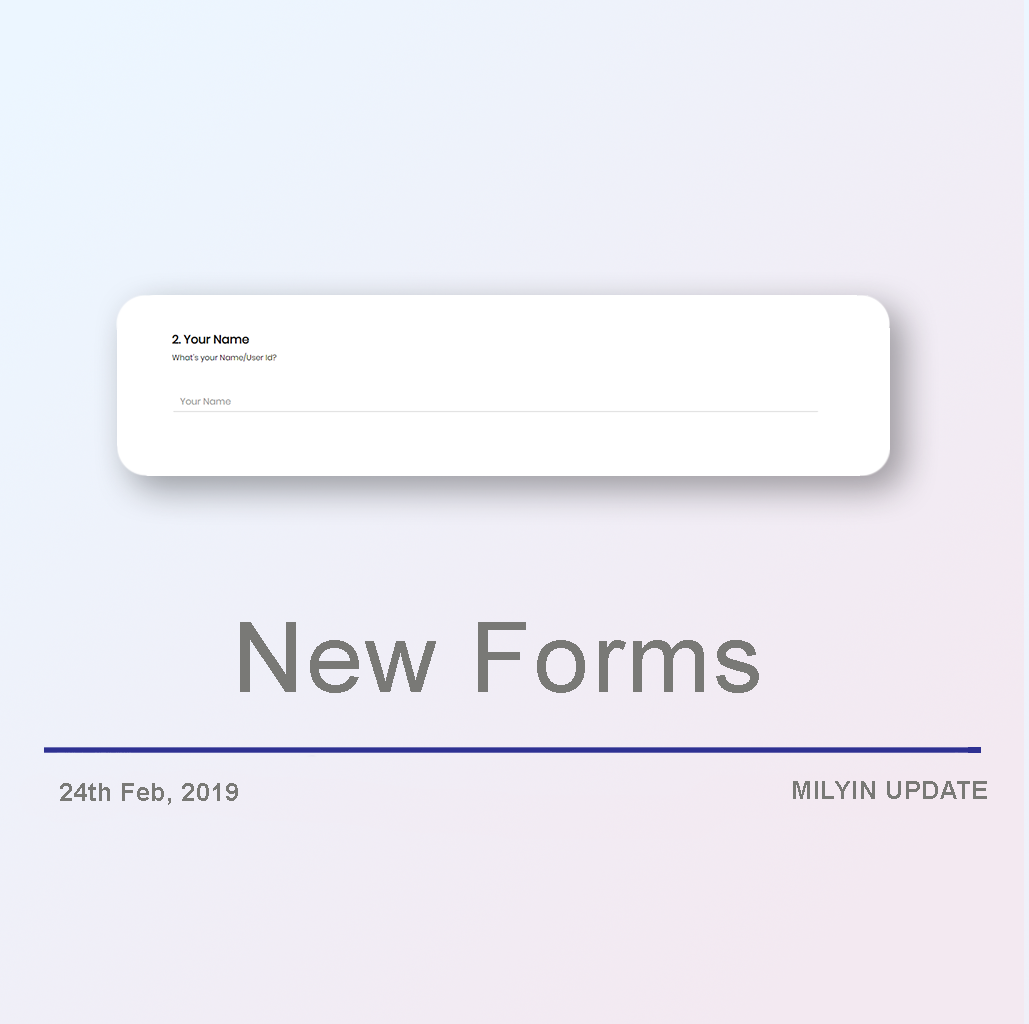 Performance Jumps
As said earlier, the new Theme brings many improvements for performance. The new Theme is written in pureJS, JavaScript has many Libararies which make our work easy, these include Bootstrap and jQuery. These theme uses none of these. They went to extra lengths to code the features in pureJS, so that they can prevent the slow loading and heavy site caused due to these Libararies. For a general user it means quicker load times. A much better sorted code, and well positioned code also has massive impact on performance, We have rewritten our code, so that only the necessary CSS is their on a page. We now add CSS specific to each page seprately ensuring selective relevant loading.
PWA
The new theme comes with built in support for our PWA, this means our PWA will be much more robust and reliable with the new update. Which also means improved performance for our PWA.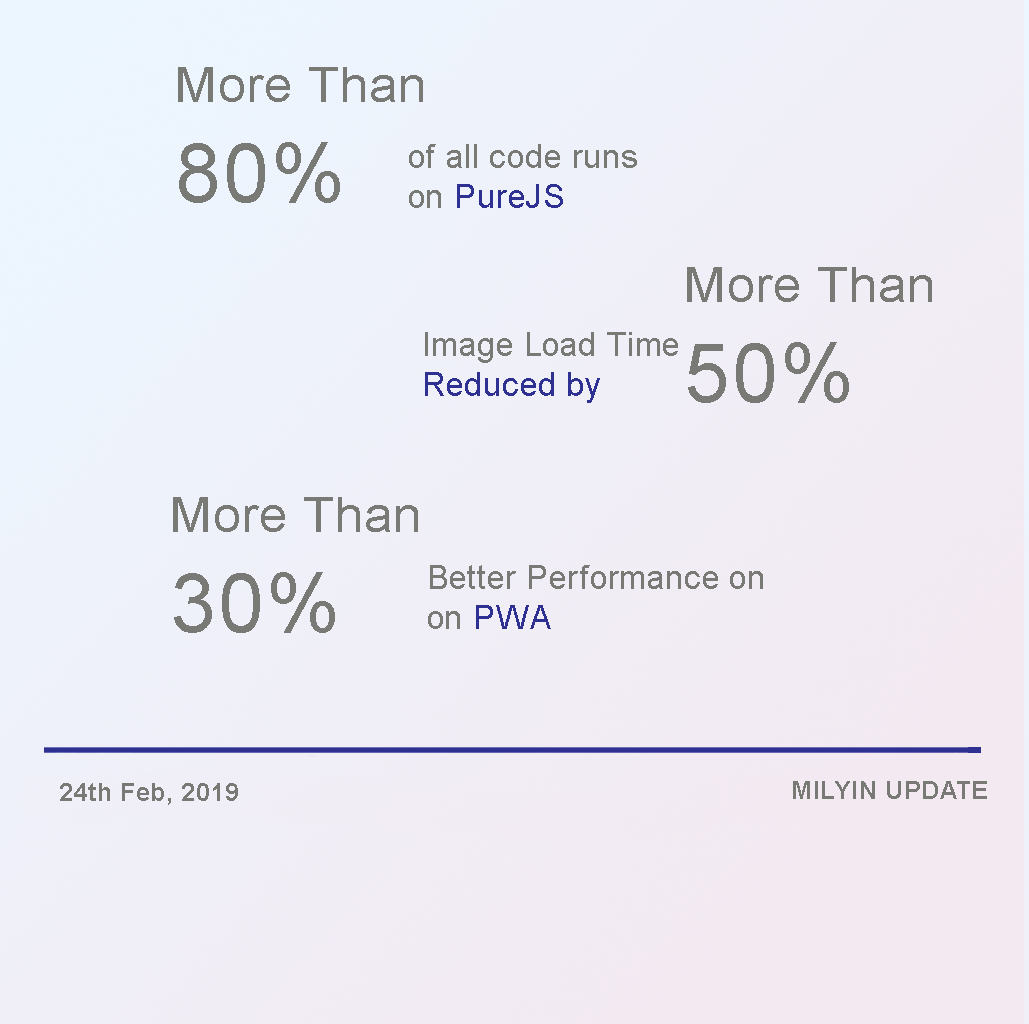 We had already shifted to Workbox for building up our PWA, now we are using much deeper and advanced code to make our PWA much stable and far more reliable.
Content Creation
The Content Creation interface interface has got many new features. These new features were into development for past 6 months, so we hope that you enjoy them. Here we briefly tell what's new, and little insights about features, but for indepth reading about these features head over to Creation Guide.
Restrict Content
Plagiarism is a big problem on Internet, we made lot of policies to safe guard other people's content from getting copy pasted over Milyin. But Inverse was also important, we couldn't let anyone copy our Creations. As a result The Creation Interface now has a toggle for Restrict Content. Selecting Restrict would mean, no one would be able to select text, right click on image/text, or print any thing from your web page. We also blocked shortcut keys for Inspect Element on Web Browsers. We took all steps possible to ensure that Content cannot be easily copied if post is Restricted
Canonical URL
Canonical URL, is a term used by mostly Search Engines, and SEO experts. If you have 2 Creations which are really similar to one another, they both could fight against one another on Search Engines like Google, and this would negatively impact both of them. As a result, you can use Canonical URLs, if you want One Creation to pass on it's Ranking Benefits to Second Creation, then type in the URL of Second Creation in first.
Schedule Creation
Another Important feature, now on Milyin, you can schedule your Creations to get published on a specific time. Any Creation which is currently draft, and was never published before, can be Scheduled to get Published In the Creation Status, select Schedule Creation, and the Creation Interface greets you with option to Schedule Your Creation, clicking which will bring you a user interface to select Date and Time.
Autosave
Some people are lazy, they hate saving their Creations, and often loose their Creations because they forgot to save them, as a result we decided to take care of them. The Creation Interface now has a button at bottom called "Autosave", clicking which would attempt to save your Creation automatically after every 30 seconds, do note that if an error occurs, due to any reasons, we would still keep trying to connect with you, and try to save it again. Please don't use Autosave if you don't have good Data Plan for Internet, saving post every 30 seconds, on long articles can consume data very quickly.
Privately Published
Privately Published Creations, are for really specific use case, if you want to publish creation and not share it on Social Media, or don't allow it to be visible in Latest Creations then this Creation Status is for you. A Privately Published creation is not shown on your profile, or in latest creations, or our Social media, it can be only viewed through it's direct link. You can share the direct link with your friends, or people, who should read it We even add Specific code, so that it is hidden on Google and other Search Engines also. (Though it is upto Search Engines to honour our request.)
Fonts
We added many new Fonts. Fonts bring character, and add to the personality of the Creation, making it much more fun to read. As a result we added around 20 hand picked fonts to choose from. These fonts include Calligraphic Fonts, Simple fonts, geometric fonts, and other varieties to choose from.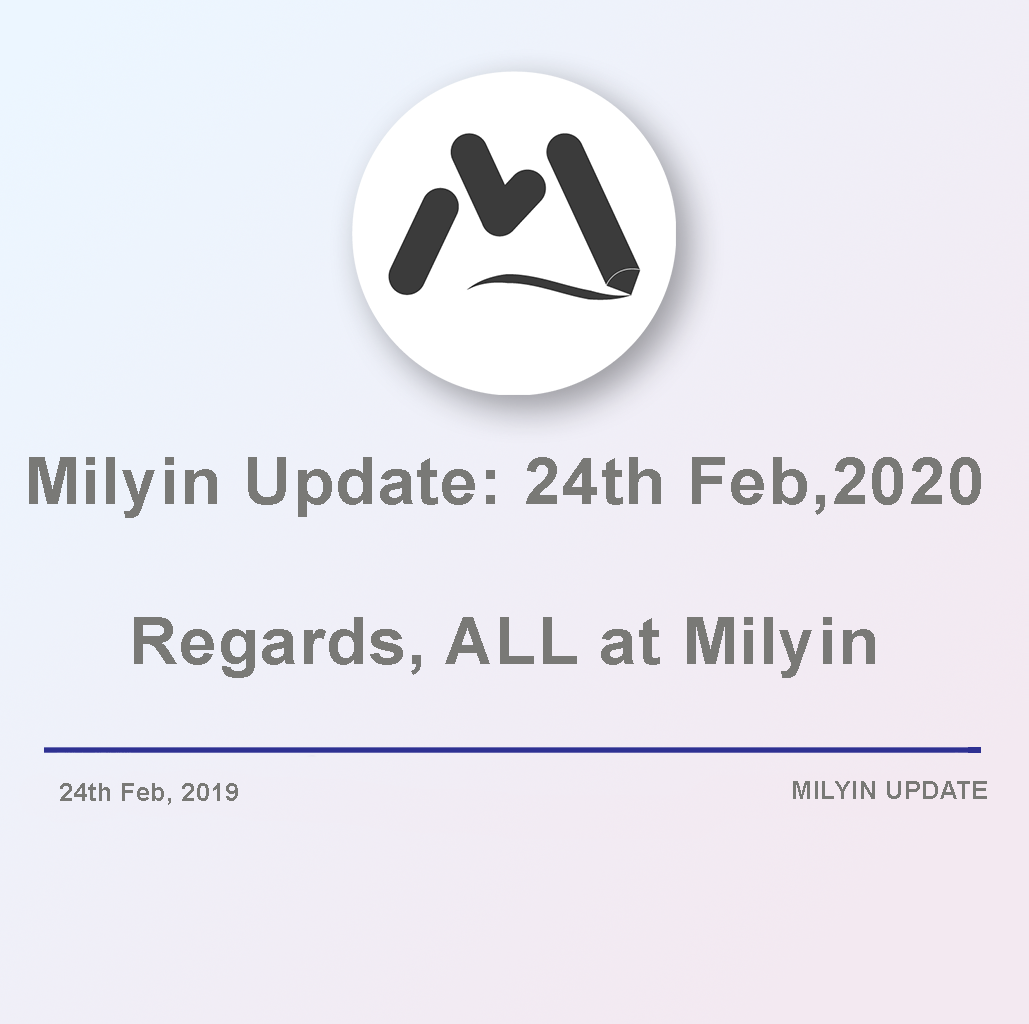 We hope you liked our this Update. Regards, All at Milyin, It's The Passion That Matters
Regards,
Milyin

It's The Passion That Matters
Last Seen: Sep 23, 2023 @ 6:39pm 18SepUTC
Milyin Creators
@milyincreators
It's The Passion That Matters
Published:
Last Updated:
Views: 164