Published by
Aditya Agarwal
on and last updated on
MKBHD Blind Smartphone Camera Test comparison Proves Pixel 3 is not Best
Pixel 3 has the crown for best camera according to most people well verse with technology. But MKBHD proves the whole story wrong.
In a blind camera test of 16 Cameras suprissing results and winners were seen. First of all lets discuss the names of camera's tested in competition. Pixel 2, Pixel 3, iPhone X, iPhone Xs, Samsung Note 9, OnePlus 6t, Pocophone, LG V40, Mate 20, Blackberry, Huawei P20 Pro, Hydrogen, Moto Z2, Palm Phone, Razer Phone, HTC U12+
Now you know that big guns were in start of list, but whole thing went wrong. The winner was Pixel 3… No it was not the winner seriously was #Huawei Mate 20 Pro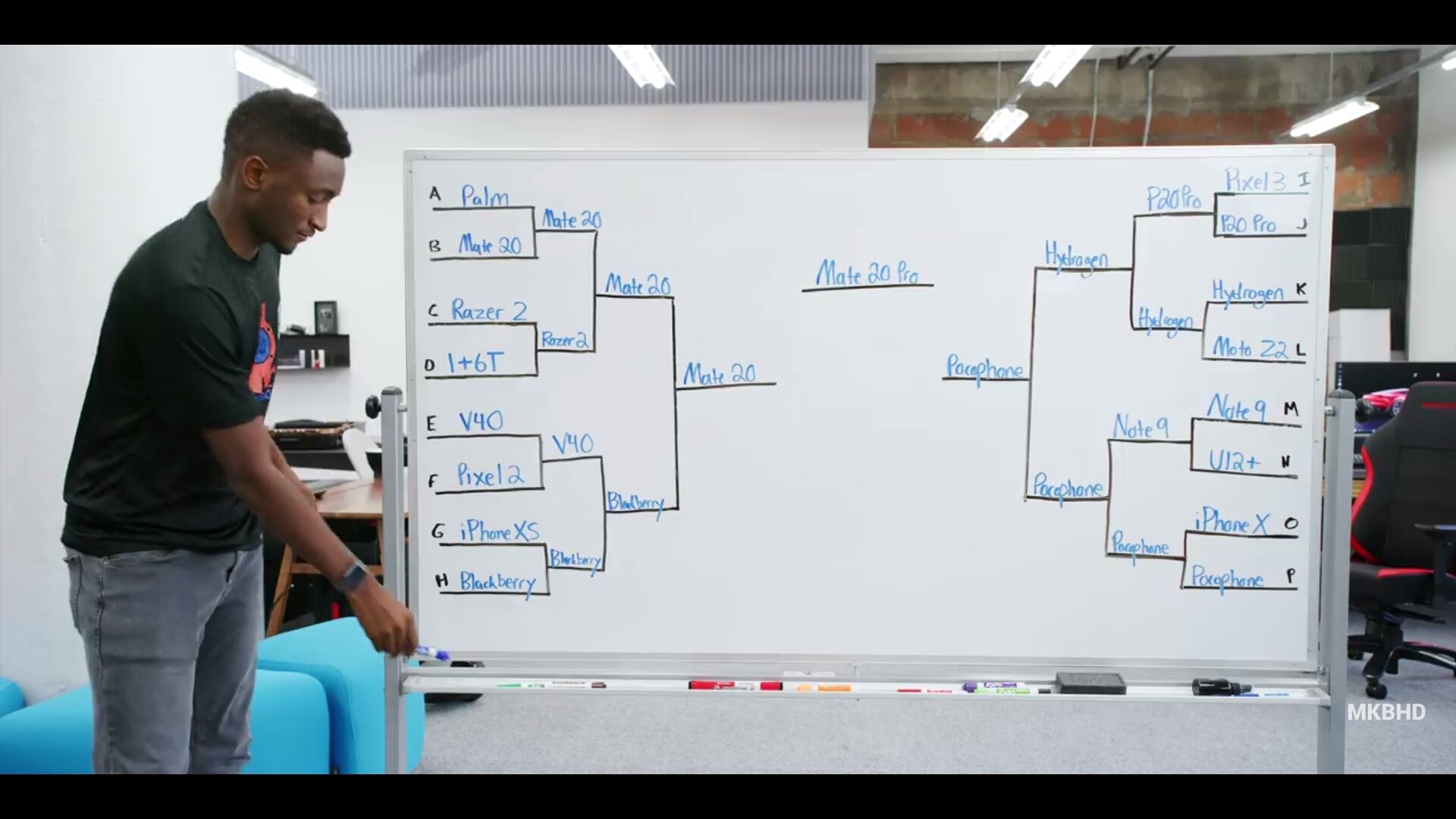 Yes it was. It was not sponsered it is not click bait, check the video.
And the competition was fare. MKBHD, keeping the names secret assigned alphabets to each phone, and then posted there polls on instagram and twitter. Fully unbiased. There was not cheating, and as you can see in the result in image it is seriously suprising how such an underrated phone wins.
Well MKBHD states that people usually prefer, the brighter image. And that is true, most of the other other #YouTubers, who voted also prefered the same. The point is that what do we actually want.
Looking at a image straight forward, you know that brighter usually attracts more, and you see pixel by pixel you can understand, that the lesser bright image may have better #detail better #contrast etc.
The point is why do you even need details if a image looks good at first sight. The basic idea of image is to show off, flaunt on social media etc.
I agree and i personally want more detail in pictures, but is there any perfect balance possible of brightness and detail.
Is the hype of #Pixel image processing just a lie, is all the $800 smartphone's camera thing a whole joke.
When you feel good with a brighter image then what do you even need to do with details.
There are 2 purposes of image, one is for official documentation purposes and other is for sharing with others. When you click images at historic events you have great cameras and want detail, or when you have to click image of your passport you want detail. But when you are at home clicking random photos you simply want them to more appealing to show off.
Months later when you open your social media pic you want it to attract you, appeal to your eyes. And that's what a brighter image does.
#MKBHD didn't prove that to notch #phones are over rated and lower end phones are under rated. It proved that we don't need great cameras. Let great camera remain in #DSLR for some prime minister's speech or MKBHD profession video, or some Jeff Bezos photo. Let's decide we don't need great cameras in smartphones. We don't need detailed photos we need attractive photos.
---