Home » Creations »
Discover some of the best FREE blogging websites to make money in 2023. These blogging platforms are easy to join and are a great way to start your career as a blogger. Choosing the wrong blogging site can result in you being stuck with low traffic, poor writing tools, and less-than-ideal income.
As a blogger, I've tried all these platforms and can confirm that these are ideal for beginners and experienced bloggers. These blogging sites were selected based on their ease of use, pricing, money-making potential, and writing freedom.
Best Blogging Websites
| | | | | |
| --- | --- | --- | --- | --- |
| Name | Joining Fee | Writing Freedom | Monetization | Link |
| 👍Milyin | Free | Excellent | Yes | Ads, Affiliate Links, Sponsorship | Milyin |
| WordPress.com | Free | Very Good | Yes | Ads | WordPress |
| Squarespace | Starts at $16 per month | Very Good | Yes | Paid Content, Subscriptions | Squarespace |
| Wix | Starts at $16 per month | Very Good | Yes | Ads | Wix |
| Medium.com | Free | Excellent | Yes | Subscriber Profit Sharing | Medium.com |
1) Milyin
Milyin is the best all-in-one blogging solutions for everyone
Milyin is a free-to-join content creation platform that lets you start independent writing quickly. You can write blogs, articles, stories, thoughts, unique perspectives, and more. At Milyin, your content can also be monetized, allowing you to earn money from various advertisements on your Creations.
This all-in-one blogging solution has built-in tools to customize UI, stylize content, embed Instagram Photos, Tweets, YouTube videos, and more. You can use Milyin for blogging with their robust SEO guidance and knowledge base. Its simplicity and strong monetization scheme make it one of the best blogging sites.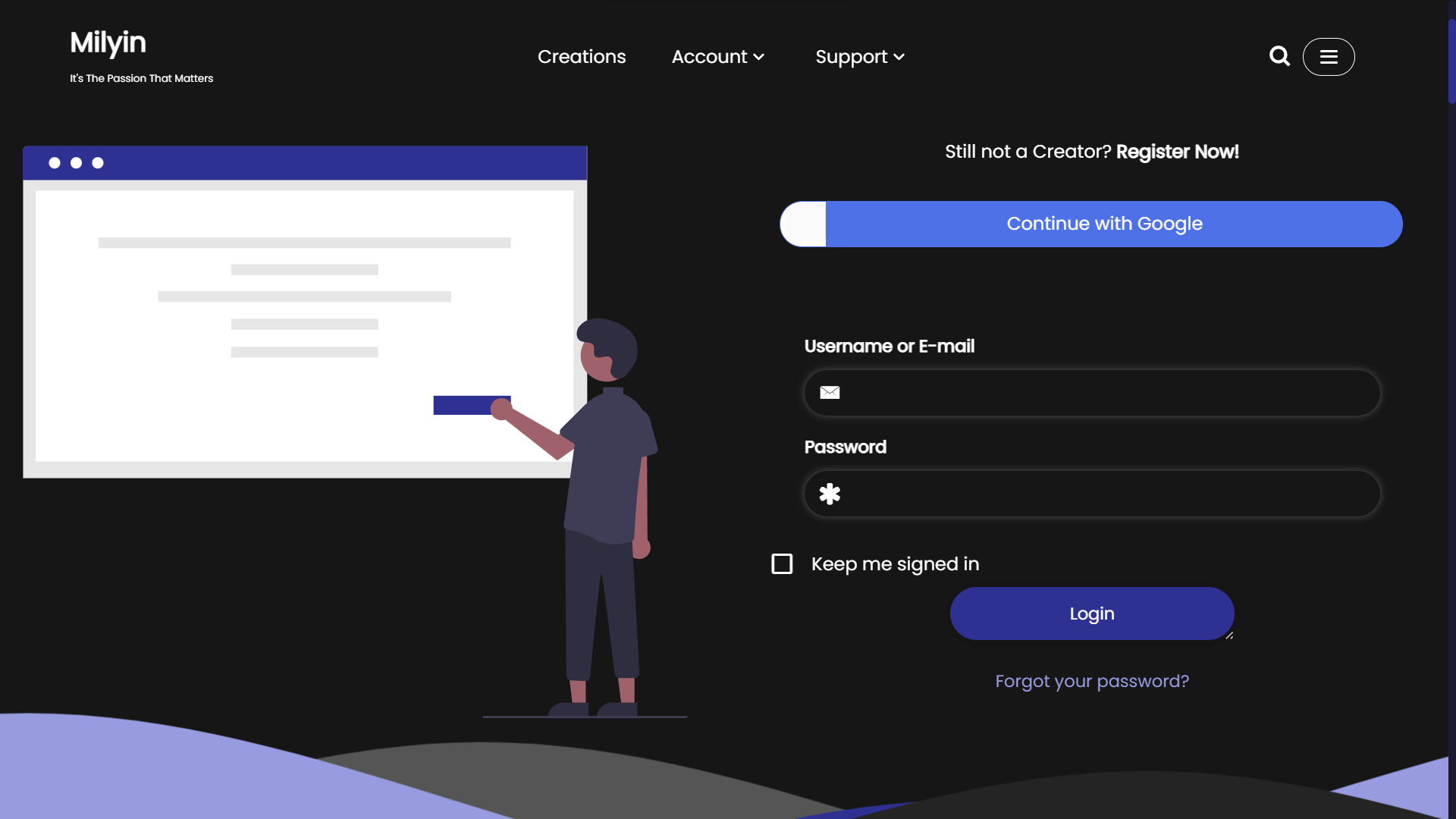 Features:
Control: Complete control over the appearance of content, with the ability to show/hide title, image, header, footer, etc.
Earning: You earn through advertisements. All your Creations will have advertisements, and you will earn $0.01 to $0.25 for each ad click from your audience.
| | |
| --- | --- |
| Pros | Cons |
| All your content is monetized from Day 1 | No mobile app |
| You can withdraw your money as and when you like it. | |
| Interact with other Creators on the platform using comments, chat, follow/unfollow, etc. | |
Link: https://milyin.com
2) WordPress.com
WordPress.com is best for complete control over your blog
WordPress is by far one of the most widely used blogging platforms. Overall, WordPress.com and WordPress.org power the majority of the internet. In case you are unaware, WordPress.org is a free distribution of WordPress that can be hosted locally or with another hosting service, which is expensive. Since you are looking for a free blogging platform, WordPress.com is ideal. WordPress.com is a free distribution of WordPress hosted by WordPress themselves and can be used by anyone to write blogs free of cost.
WordPress has the most comprehensive array of tools, themes, plugins, and guidance to help you customize and control your blog however you want. You can implement comments, likes/dislikes, and Pingbacks to better interact with fellow bloggers.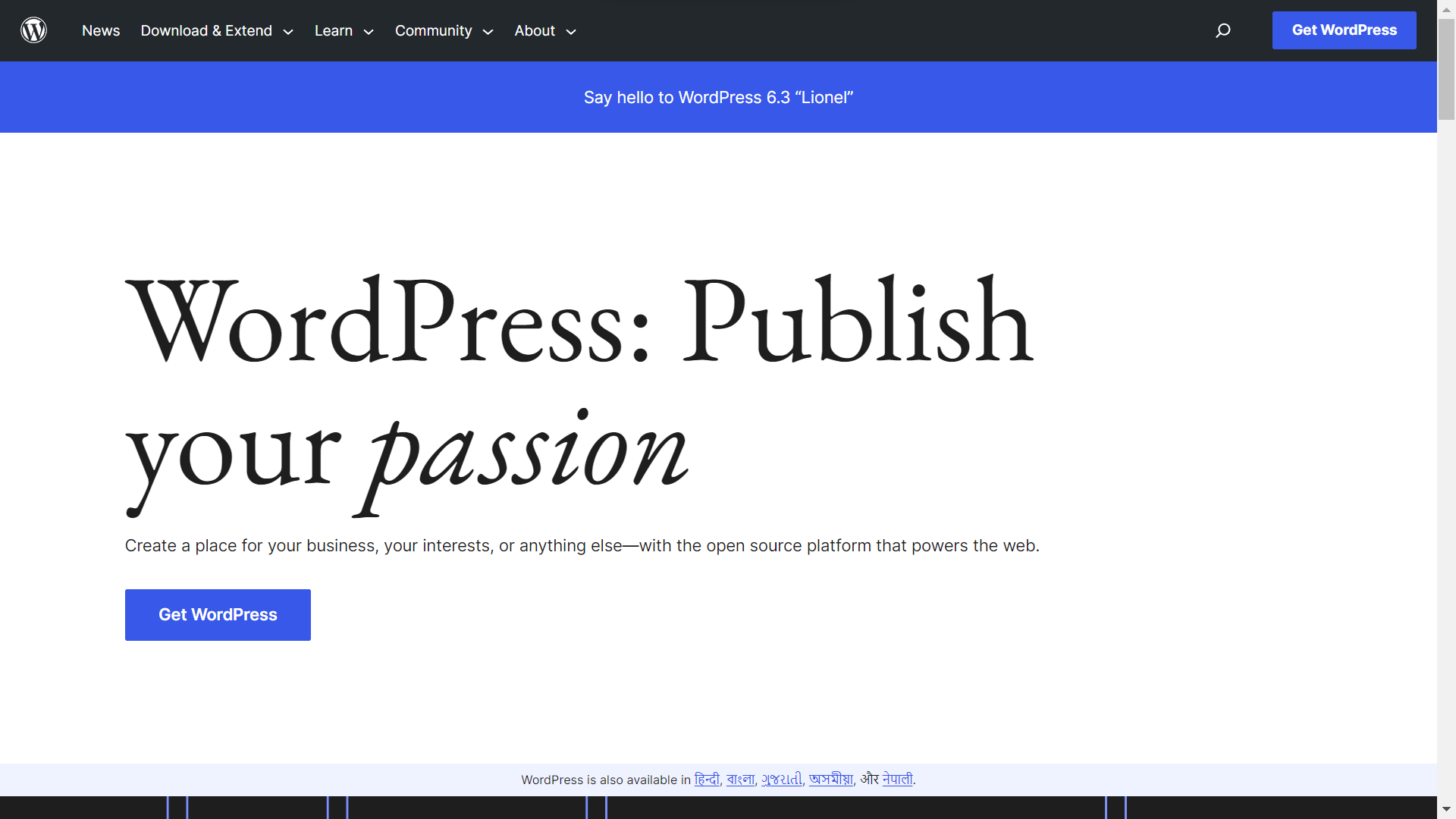 Features:
Themes: Various themes allow you to customize your look to match your use case, with options for News, Technology, Business, and related theming.
Use Cases: WordPress provides tools to support a variety of use cases, including the setup of email newsletters, subscriber-only content, About The Author pages, like/dislike counters, and a lot more.
| | |
| --- | --- |
| Pros | Cons |
| By far, the best guidance and support for helping you build and manage your blog. | You need to pay to be eligible for ad-based monetization. |
| Allows you to purchase optional separate domains to work independently. | |
| Allows you to diversify your blog into various other services, including merchandise, courses, and sponsorships. | |
Link: https://wordpress.com/
3) SquareSpace
SquareSpace is the best for blog monetization
Squarespace allows you to create various forms of websites, including blogs. This is one of the best blogging platforms that support monetizing content using paid newsletters, videos, podcasts, etc. You can also create premium content hidden behind a paywall or subscription for your audience.
Native support for SEO tools makes it one of the best blogging websites to optimize content for better rankings on Google. It has a vast marketplace of extensions that can add functionality and features to the website as needed.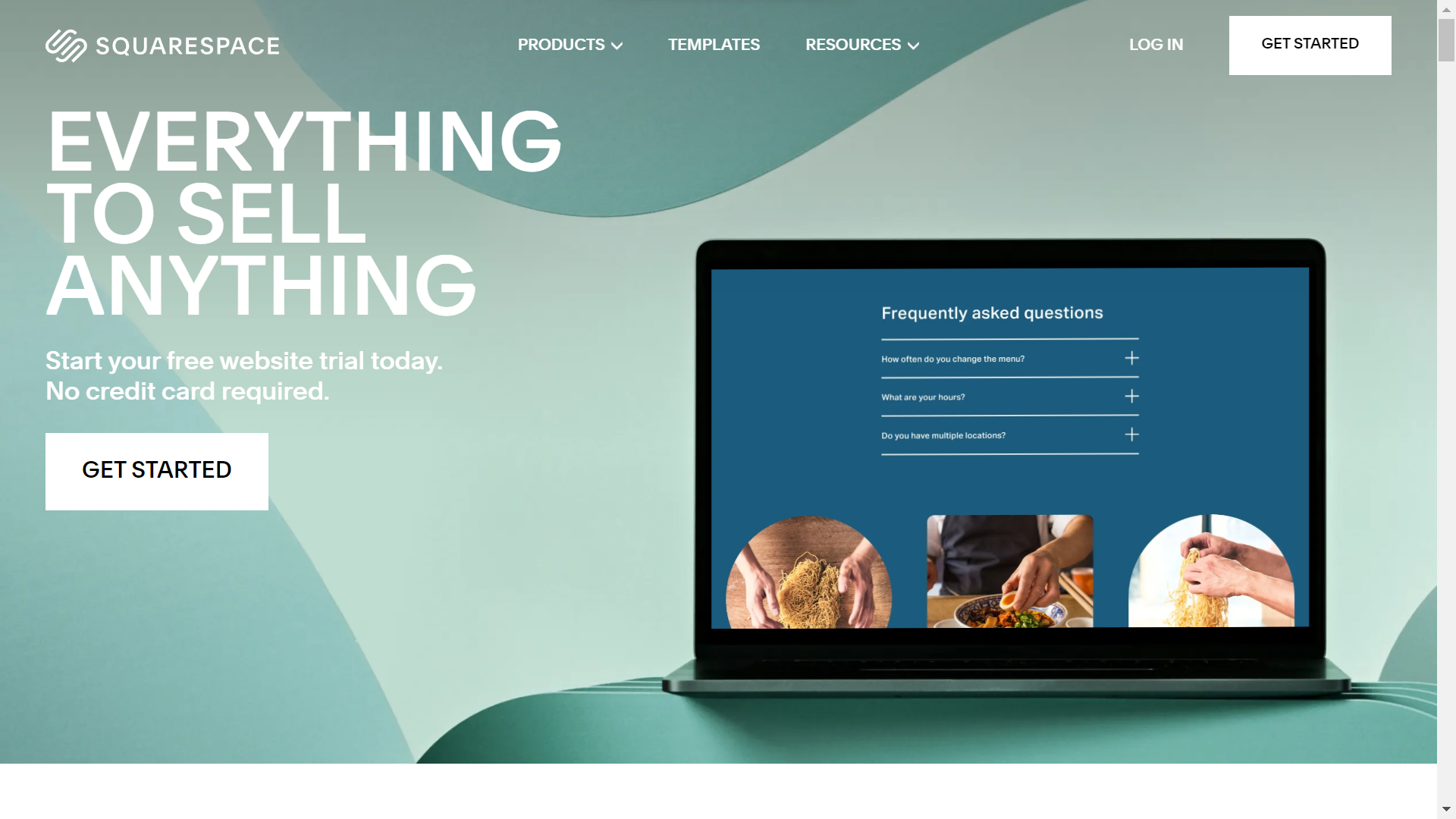 Features:
Analytics: Robust analytics and insights help you better understand your audience and optimize content.
Drag and Drop Page Builder: You can use our drag-and-drop page builder to create landing pages, custom sections, and visually appealing content blocks without plugins.
| | |
| --- | --- |
| Pros | Cons |
| Native support for automation allows you to save time on repetitive tasks. | The free plan lacks a lot of valuable features that you might desire. |
| Allows you to schedule blogs to become life at specific times. | |
| Marketing tools allow you to promote your blogs and build an audience. | |
Link: https://squarespace.com/
4) Wix
Wix is best for ease of use while creating blogs
Wix is a straightforward and easy-to-use blog site. With its no-code solutions for styling, you can customize your website based on the look you need. The page builder lets you design pages for your requirements and is designed to be intuitive for even the most inexperienced users.
This blogging website provides various additional tools, including a robust Logo maker that allows you to create logos for your website/brand for free. They also provide you with a complete SEO toolkit to help you promote your blog, making them the best blogging platform for all your needs.
Features:
Monetization: It helps you monetize blogs through affiliate marketing, e-books, sponsored content, and more.
Content Blocks: You can use its content generation tools to easily create content blocks for various forms of content, such as social media embeds, banners, and more.
| | |
| --- | --- |
| Pros | Cons |
| Designed as a no-code blogging platform, helping you focus on writing | It is not ideal for customization and writing custom code. |
| Native mobile app to manage your blog from anywhere with ease. | |
| Analytics and data insights to understand audience behavior. | |
Link: https://wix.com/
5) Medium.com
Medium.com is best for meeting other writers
Medium is a writing-focused platform that is free to join and is home to a wide range of famous writers and internet personalities. At Medium, you can easily create content on your site or host it separately with your custom domain. Its active community and many writers are ideal for interactions and collaborations.
You can use their monetization program for your blog to earn money. You earn from the paid subscribers of Medium that interact with your blog, making it one of the best blogging websites.
Features:
Writing: It allows you to conveniently write and share content, building your identity as an independent internet personality.
Tools: A robust visual editor lets you quickly write, edit, format, stylize, and arrange content per your requirements.
| | |
| --- | --- |
| Pros | Cons |
| Interact with some of the top creators in the industry. | You must scale up well in view count to earn a consistent income. |
| Straightforward UI with various tools to add components like images, embeds, codes, etc. | |
| Completely free to join and use, with no paid plans. | |
Link: https://medium.com
6) Blogger
Blogger is the best platform for beginners
Blogger, as the name suggests, is a platform devoted to bloggers. It is one of the oldest blogging platforms known for its straightforward writing style. If you are a beginner, Blogger is a great way to get started, gain experience, and figure out your niche before becoming a professional.
It is so low on our list because it's not ideal for advanced writers who demand proper tools, monetization techniques, and other issues. However, it has a vast user base and is a great way to experiment and test new ideas. It is an excellent launchpad for your needs if you are a beginner. If you don't like Blogger, you may even consider the top Blogger Alternatives for your blog.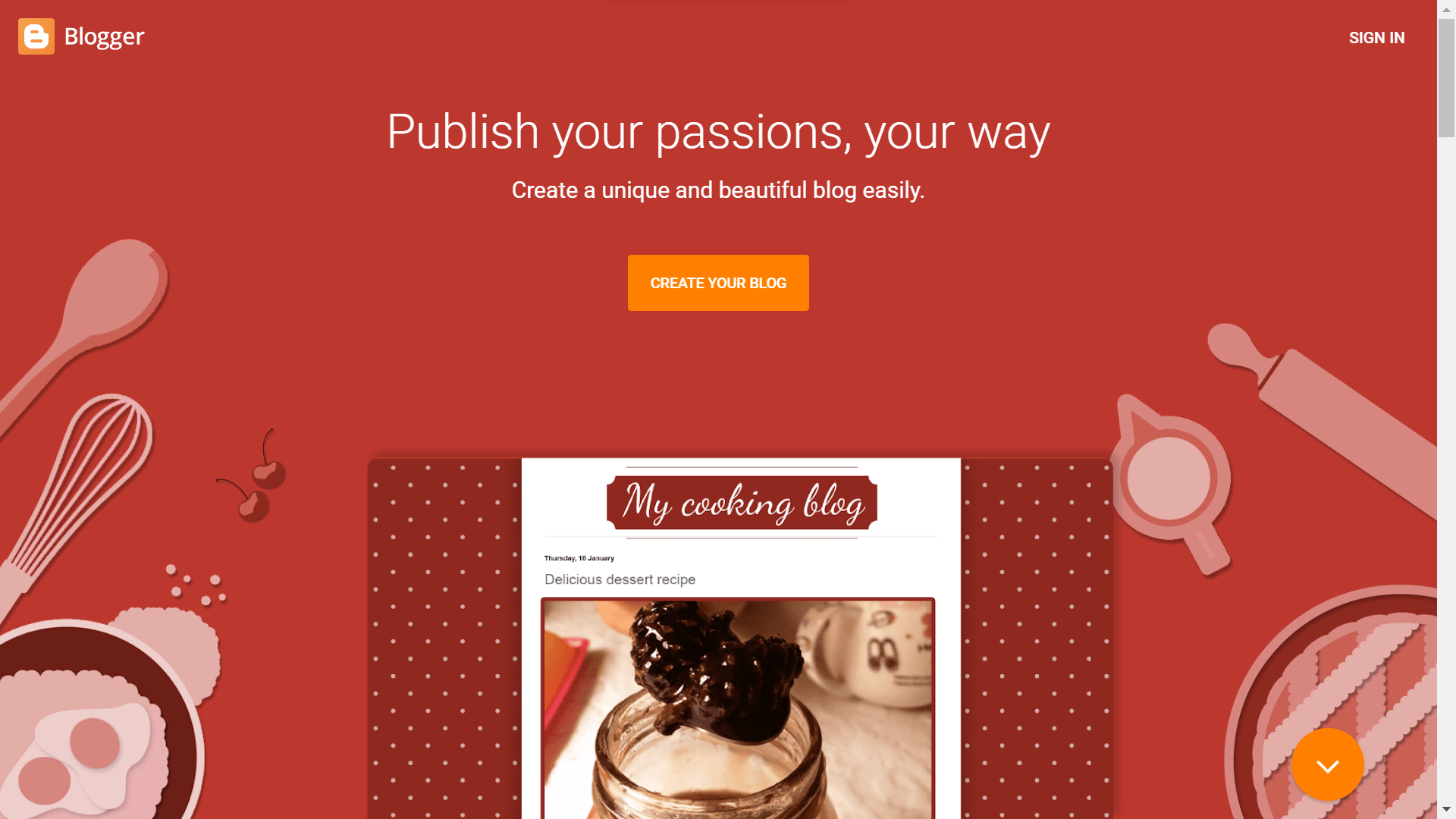 Features:
Control: Complete control over your content with little to no moderation from them. You can choose the topic, niche, formatting, and writing style.
Users: As one of the oldest platforms, it has a vast pre-existing user base and a large audience that you can easily target to grow your blog.
| | |
| --- | --- |
| Pros | Cons |
| Beginner-friendly, lets you get started from Day 1 | Lacks tools and services for advanced use cases. |
| Allows you to edit your website's HTML and CSS as needed directly. | |
| It lets you sign up for Google AdSense and Analytics directly. | |
Link: https://blogger.com/
7) Write.as
Write.as is best for people who enjoy writing their thoughts
Write.as is a platform meant for showcasing ideas, expressing views, and sharing your opinions online. You can use this robust platform as a stage for independent online voice. The straightforward user interface makes it easy to become a blogger.
With no advertisements, popups, and other distractions, it has a clean UI that bloggers and readers love—the pure, user-friendly sign-up process and dashboard, making it one of the best writing websites for content creators.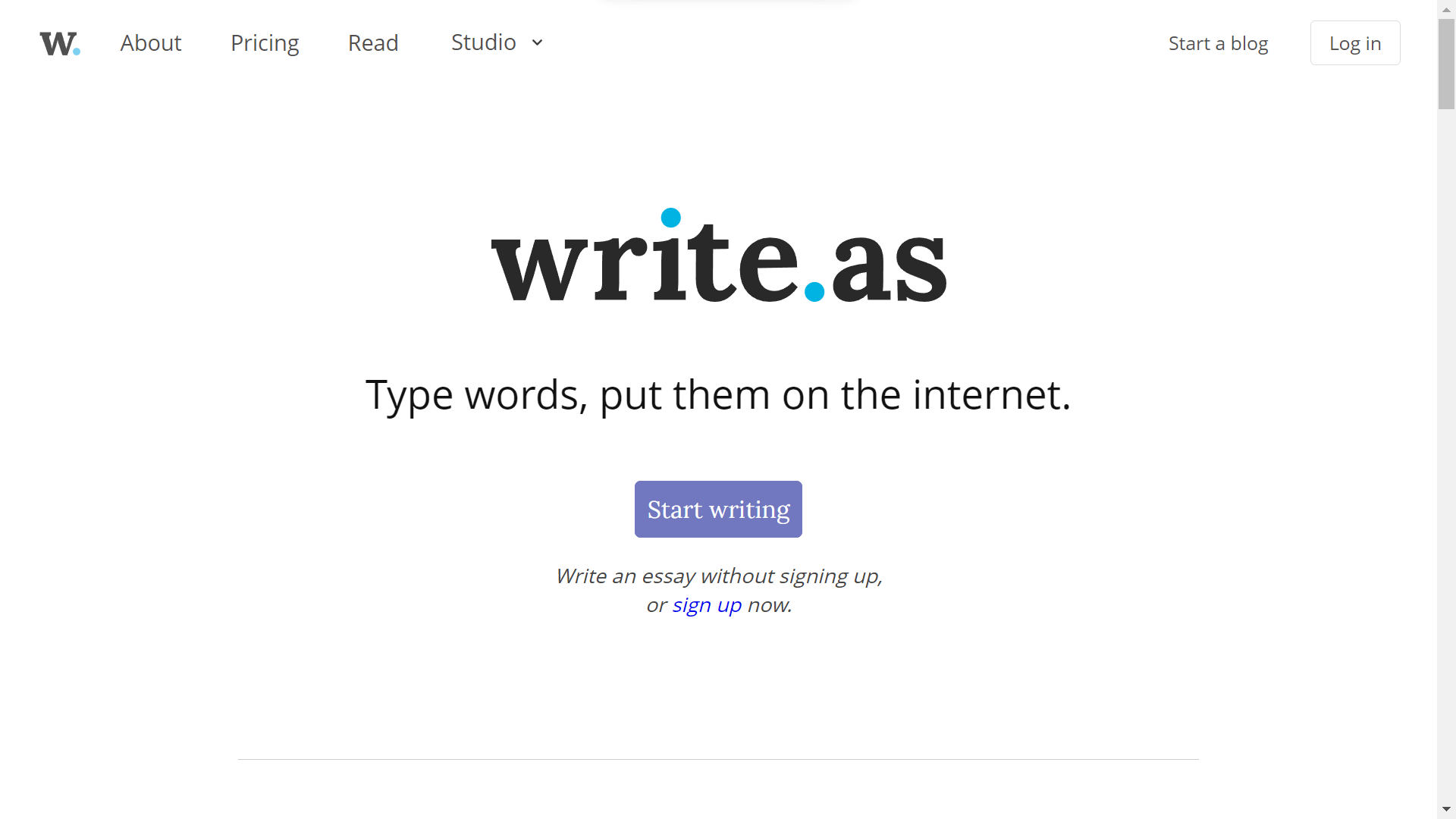 Features:
Joining: It is entirely free to join and provides significant autonomy for your content.
Writing: You can write your unique thoughts, opinions, ideas, and perspectives online and gain much social appreciation and following.
| | |
| --- | --- |
| Pros | Cons |
| Learn about other's unique and personal experiences | Poor support for media insertion. |
| A minimalistic user interface ensures you never get distracted from writing. | |
| It is a great place to write your unique thoughts and perspectives. | |
Link: https://write.as
8) Weebly
Weeblt is the best drag-and-drop page builder
Weebly is one of the best blogging websites with robust tools to help customize pages and websites through an intuitive drag-and-drop page builder. This allows users to have complete control over their content and visual appearance.
Features:
RSS Feed: Native support for RSS and social sharing allows you to share things with much greater ease.
Page Builder: Its robust page-building tools are ideal for e-commerce, landing page building, and creating complicated custom sections for your content.
| | |
| --- | --- |
| Pros | Cons |
| Straightforward tools to create SEO-friendly titles, meta descriptions, tags, and more. | Lacks designs and visual customization options |
| Tools to create feedback forms, sign-up sheets, surveys, and more. | |
| It provides you with statistics and insights for better appealing to your audience. | |
Link: https://www.weebly.com/
Conclusion for Best Blogging Sites
Here, we discussed some of the ideal blogging websites for you. But we don't end there. We have narrowed down our review further to provide you with a final verdict for choosing the blogging platform for your needs:
| | |
| --- | --- |
| Feature | Blogging Website |
| Best for writing with complete freedom | Milyin |
| Best for starting podcasts, newsletters, and various other media. | SquareSpace |
| Best for interacting and socializing online | Medium |
#Blogging #BloggingPlatform #BloggingWebsite #BloggingSites
Last Seen: Sep 27, 2023 @ 4:37am 4SepUTC
Aditya Agarwal
@AkarshitMahajan6300
Published:
Last Updated:
Views: 51