Home » Creations »
Google AdSense is one of the most popular ways of monetizing websites. With a wide range of advertisers, advanced algorithms, and a vast user base, it is an excellent choice for content monetization. However, it is not the best. In my experience, many AdSense alternatives give higher returns and are much more versatile.
AdSense always had a low RPM, and the $100 minimum income threshold for withdrawing earnings was a dealbreaker for me. Plus, AdSense keeps 30%+ of all the revenue and has one of the lower RPMs among all the services. I tried all the popular Google AdSense alternatives to find the best ones for you. My research involved evaluating apps based on payment thresholds, joining requirements, earning potential, and more.
Google AdSense Alternatives for Bloggers & Content Creators
| | | | | |
| --- | --- | --- | --- | --- |
| AdSense Alternative | Minimum Payment Threshold | Traffic Requirements | Earning Potential | Link |
| 👍Ezoic | $20 | None | High | Ezoic |
| Media.net | $100 | 100,000 views per month | Very High | Media.net |
| Captive (formerly AdThrive) | Unknown | 100,000 views per month | Very High | Raptive |
| Amazon Affiliate | None | None | Extremely High | Amazon Affiliate |
| Adversal | Non | 50,000 views per month | High | Adversal |
1) Ezoic
Ezoic is best for using as side-income along with Google AdSense
Ezoic is a monetization platform with many tools and features to place high-revenue ads on your content. It can used as a stand-alone monetization platform or as an integration with Google AdSense. It will serve the best ads from available ads in AdSense and Ezoic when integrated with AdSense. This ensures you are constantly doing the most high-earning ads on the platform.
Ezoic also provides many other tools, including Ezoic Leap, for optimizing websites for performance and reducing loading times. It has multiple levels; as your website grows in terms of viewers, you are promoted to higher levels, earning you even more.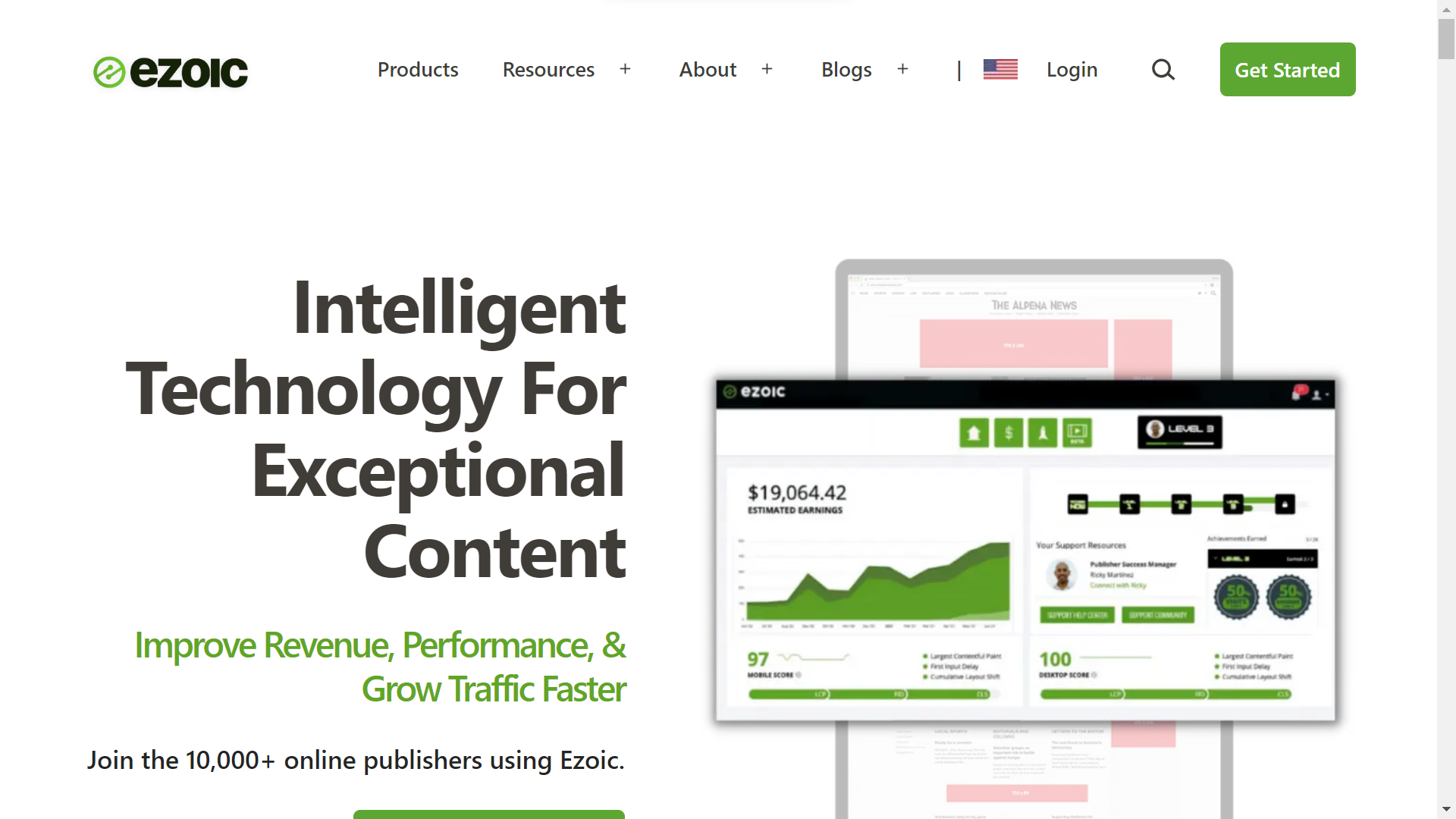 Features:
SEO Tools: Provides robust SEO tools and analytics to manage and optimize your earnings properly
Algorithms: AI-driven algorithms work to maximize your revenue and ensure excellent user experience.
Performance: Helps optimize core web vitals and fix various issues on your website relating to loading times and security.
A/B Testing: Automatically perform multiple variable testing and run many experiments to find the best-performing setup for your needs.
Payment Threshold: It has a low payment threshold of $20, which is ideal for smaller websites
| | |
| --- | --- |
| Pros | Cons |
| Straightforward integration using Cloudflare or WordPress plugin | It takes a long time to get approval |
| Low payment threshold of $20. | |
| Excellent customer support through live chat, email, community, etc. | |
Link: https://ezoic.com/
2) Media.net
Media.net is best for high-performance contextual ads
Media.net is one of the largest monetization platforms using various algorithms and techniques to serve contextual ads with a very high click-through rate for better earnings. Its native marketplace is ideal for finding opportunities directly without relying on any algorithm.
It gives you great control over the type and the categories of ads that can be allowed/not allowed based on your audience preferences. It has some of the highest quality websites and ensures an ideal experience. Responsive customer support ensures all your issues are solved at the earliest.
Features:
Tests: Automatically tests and chooses the ad formats that work best for you and improve your revenue.
Custom Ad Units: Allows you to create custom-sized ad units that can be placed in specific locations to optimize your website ad performance.
Autopilot: Autopilot lets you keep all your ad units automatically by taking the help of ad specialists
Minimum Payment Threshold: You can withdraw your earnings after crossing the minimum payment threshold of $100.
Minimum Traffic Requirements: You are required to have a minimum of 10,000 views per month to get approved in Media.net
Earning Potential: Works with top advertisers and marketing institutions to maintain the highest earning potential for websites.
| | |
| --- | --- |
| Pros | Cons |
| Easily customize advertisements to the look and feel of your web pages. | Very hard-to-match traffic requirements. |
| Allows you to manage bids with an open and transparent marketplace for advertisers and publishers. | |
| Best of the marketers and most premium advertisements | |
Link: https://media.net
3) Raptive (formerly AdThrive)
Raptive is best for technology driven marketing
Captive (formerly AdThrive) creates tools and services to help bloggers and content creators grow. It has one of the largest sales teams among all ad networks and exclusive partnerships that get you access to advertisers unlike ever before.
It is working hard to ease out various pain points of creators. This includes building AI-based algorithms that can improve your revenue. Their team also creates solutions to help you navigate privacy or antitrust issues and easily maintain income.
Features:
Ad Formats: Proprietary ad formats, sponsorship deals, ad agreements, and more help maximize your revenue potential.
Affiliate Income: Provides various affiliate advertisements that reward you whenever someone purchases through your link.
SEO: Their SEO team provides guidance to improve your content and gain exclusive access to their AI-driven SEO solution.
Top Websites: Raptive is ideal for working with leading advertisers and getting exclusive marketers. It can get such high-value clients due to
| | |
| --- | --- |
| Pros | Cons |
| In-built tools to help you perform A/B Testings | Requires a minimum of 100,000 monthly visitors. |
| Provides guidance and various resources to teach you e-commerce. | |
| Robust audience insights to help you better understand user intent and optimize your website accordingly. | |
Link: https://raptive.com/
4) Amazon Affiliate
Amazon Affiliate is best for earning through affiliate marketing
Amazon Affiliate is an affiliate program by Amazon. It lets you place ads or links on your website content for any Amazon product of your choice. You will earn a percentage commission from Amazon for each sale made by website visitors through your link. Unlike other platforms, Amazon gives you complete control over your ads, allowing you to choose the ads on the web pages.
Amazon has obvious, unambiguous details about the exact percentage of commissions offered. If sales are made for expensive products like phones or TVs, you can easily earn $50+ in sales revenue, making it ideal for websites that review products of any form. You can use Amazon affiliate to earn money by writing reviews of products.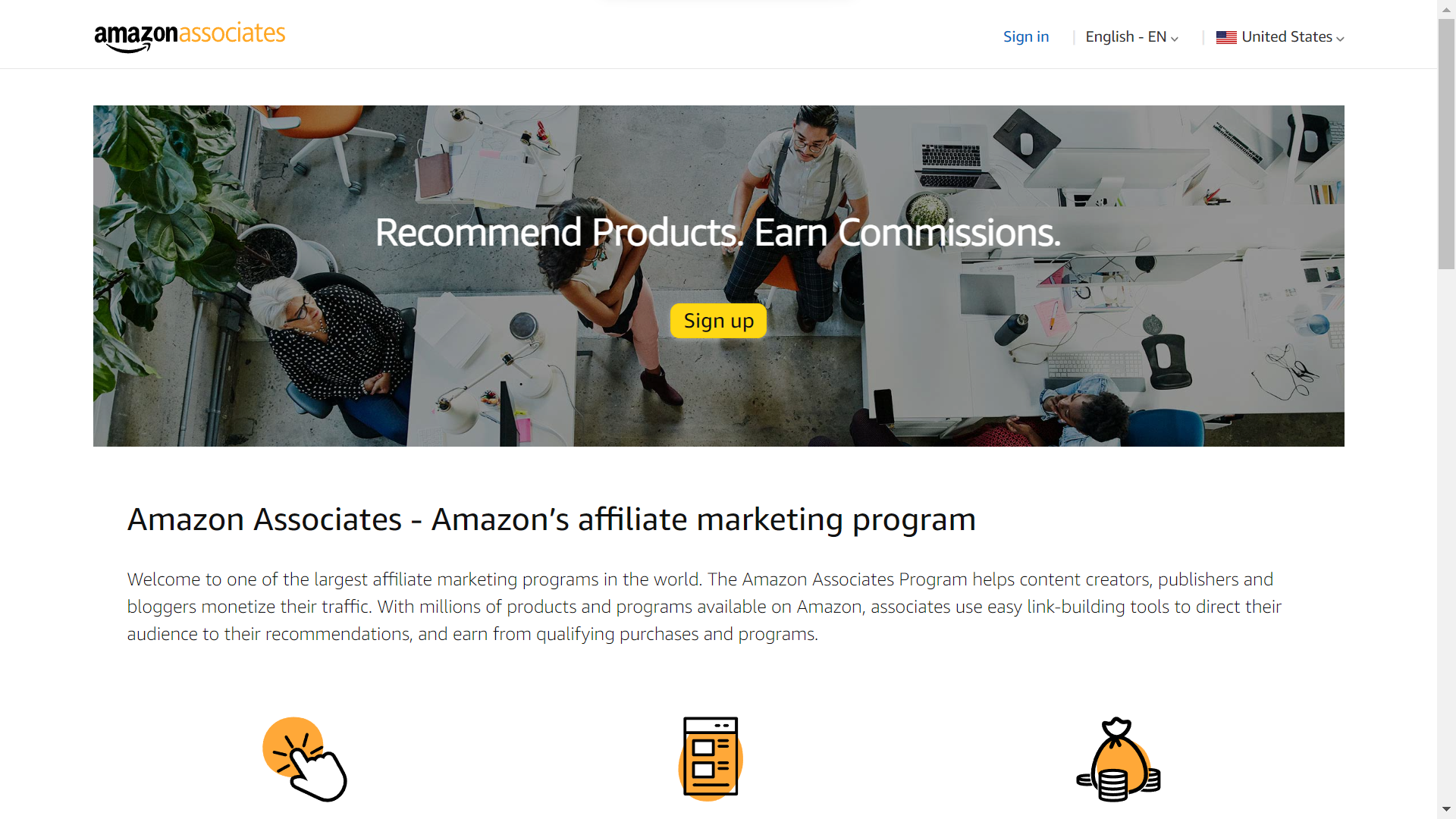 Features:
Social Media: Completely open for all social media influencers, content creators, marketers, and bloggers.
International Audience: Allows you to target an international audience with ease.
Products: Widest range of products and marketing potential for a wide range of use cases.
Reviews: Amazon Affiliate is the most suited Google AdSense alternative for product review writers.
| | |
| --- | --- |
| Pros | Cons |
| High-risk, high-reward earnings potential. | No revenue in the Cost-Per-Click model |
| Provides up to 10% commission in the best case. | |
| Provides you with robust reports and analytics. | |
Link: https://affiliate-program.amazon.com/
5) Adversal
Adversal is best for enjoying multi-format ads in your content
Adversal is one of the best Google AdSense alternatives, allowing users to create multiple native ads. It has native media advertisements in native, video, and display formats. This tool comes with native tools for CPM optimization and compliance with all privacy and laws to ensure your complete protection.
It provides a relatively easy setup and minimum requirements to ensure everything can be configured easily. You can get started with earning through it in almost no time. It is ideal for websites running WordPress, or one of the top WordPress alternatives.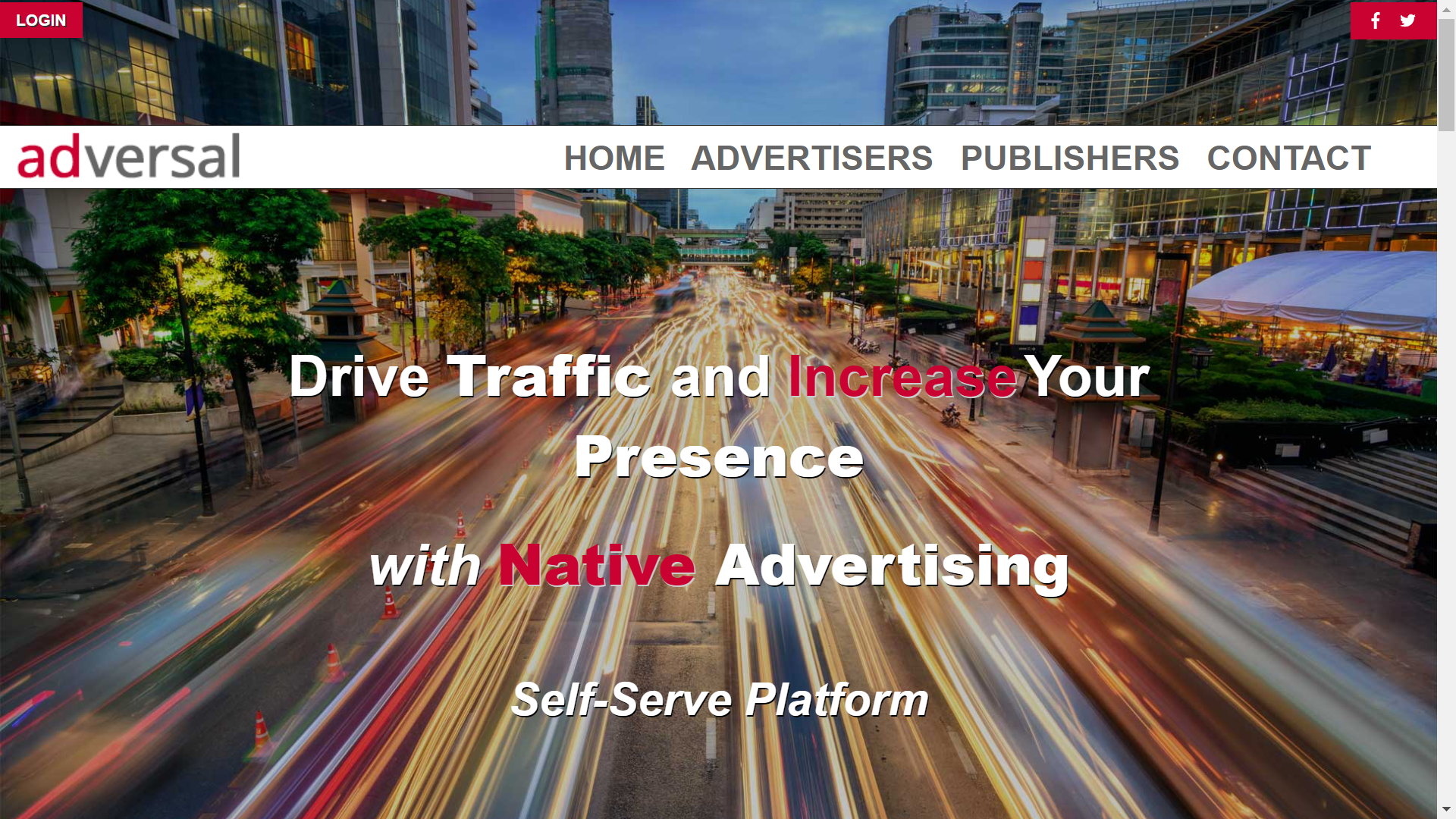 Features:
Regular Payments: Provides regular monthly payments, ensuring a constant cash flow.
Contracts: It has no binding contracts or paperwork, which gives you complete freedom to switch platforms easily.
| | |
| --- | --- |
| Pros | Cons |
| Manage tags and templates according to your use case requirements. | Poor documentation and support. |
| Tools to detect and manage invalid traffic and frauds with ease. | |
| Provides robust insights, reports, and analytics through an interactive dashboard. | |
Link: https://www.adversal.com/
6) Propeller Ads
Propeller Ads is best for multisource advertising
Propeller Ads is a robust multi-platform platform among the best Google AdSense alternatives. It provides advertisements for mobile, desktop, apps, and more. Its wide range of advertisers ensures an ad network. Its robust anti-fraud solutions help eliminate spam clickers and further improve ROI.
It displays ads in a fair and brand-safe environment, protecting your audience well-protected. You can use it to serve ads through push notifications, popups, in-page pushes, and interstitial ads, making it one of the best Google AdSense Alternatives.
Features:
Performance: It has unique performance-boosting tools for specific interests targetting
Analytics: Robust data analytics for traffic estimation, win rate, smart rotator, and more.
Traffic: No minimum traffic requirements. Allows you to start instantly and withdraw earnings at $20.
| | |
| --- | --- |
| Pros | Cons |
| Provides a wide range of reading material and guidance to help you grow your revenue | Relatively fewer advertising partners. |
| AAI-powered algorithms to maximize your ROI | |
| SStraightforwardsetup | |
Link: https://propellerads.com/
7) InfoLinks
InfoLink is best for proper intent targeting
InfoLinks is one of the best Google AdSense alternatives that provides tools for proper intent targeting. It boasts a network of more than 25,000 publishing partners that give exclusive placements that bring massive revenue for you. Its highly scalable network allows you to provide quality advertisements across the globe to your audience across any niche.
It has various ad formats that are served and optimized for specific screen sizes and devices to ensure maximum optimizations. Besides, it is designed to utilize all unused screen real estate on your website to show ads of varying styles.
Features:
Ad Units: 3D Ad unit to create extra impact and easily catch user attention.
Above The Fold Engaging Ads: Some highly engaging ads are loaded when users interact with the page.
Payment Threshold: Maintains a low payment threshold, allowing you to withdraw at just $20.
| | |
| --- | --- |
| Pros | Cons |
| There are no minimum traffic requirements for joining | Poor design and hard-to-navigate website |
| Fast website review and approval/rejection within 48 hours. | |
| Delivers contextual ads based on the current page's content. | |
Link: https://propellerads.com/
8) Publift
Publift is best Google AdSense alternative for running experiments
Publift is an ideal Google AdSense alternative for most content creators and website owners. It employs a robust team of data scientists, engineers, and analysts to review and optimize ad strategies for the best possible results. You can use its wide range of tools to perform A/B testing and quickly improve your earnings.
It considers various factors like code architecture, website performance, and web vitals to ensure better performance for yourself.
Features:
Algorithm: Machine learning-driven algorithms coupled with insights from experts continuously analyze and optimize your ad stack
Slots: Flexi Slots allows multiple ads in a single space, showing only the highest revenue advertisement.
| | |
| --- | --- |
| Pros | Cons |
| It is a Google Certified Ad Publishing | Extremely high traffic requirements |
| Allows you to perform multivariate testing with ease | |
| Creates innovative ad formats for ad optimization and optimizing your earnings for your audience. | |
Link: https://www.publift.com/product/revenue
The Verdict
We've shown you some of the best Google AdSense alternatives. To help you in taking the final call, our team has created this final verdict.
| | |
| --- | --- |
| Use Case | Best AdSense Alternative |
| Earning Affiliate Income | Amazon Affiliate |
| Using parallels with Google AdSense | Ezoic |
| Best Overall AdSense competitor | Media.net |
Last Seen: Sep 27, 2023 @ 4:37am 4SepUTC
Aditya Agarwal
@AkarshitMahajan6300
Published:
Last Updated:
Views: 39