Home » Creations »
The best websites with quotes and sayings have 100s of writers that publish quality quotes and sayings for love, health, inspiration, motivation, and more. These websites provide interesting quotes with various perspectives, allowing you to change your mood quickly.
Our research process involved finding the best platforms to help you find quotes. We evaluated over 20 best websites based on various content, quality of content, and ease of access. Finally, we shortlisted the seven best websites for quotes & sayings for almost anyone.
7 Best Websites For Quotes
| | | | | |
| --- | --- | --- | --- | --- |
| Websites With Quotes | Variety of Quotes | Quality of Quotes | Ease of Access | Link |
| 👍Milyin | Excellent | Very Good | Very Good | Milyin |
| Wikiquote | Very Good | Very Good | Very Good | Wikiquote |
| Your Quote | Excellent | Good | Very Good | Your Quotes |
| BrainyQuote | Very Good | Very Good | Good | BrainyQuote |
| Quotes Donut | Excellent | Good | Good | Quotes Donut |
1) Milyin
Milyin is best for Quotes, Stories, Poems, Thoughts, and more
Milyin is an open-for-all quotes website to find crowd-generated stories, quotes, poems, and stories. You can find your favorite quotes by their search for quotes or by using hashtags to search the sections of your choice selectively. You can join Milyin and follow your favorite Creators, interact with them on chat, or comment on their selections. It goes far beyond quotes by supporting articles, poetry, fiction, and anything you can imagine.
You get notifications of new Quotes (or any other Content) from your favorite Creators. Milyin remains completely free, meaning you can join and enjoy some of the best quotes online with minimum effort. If you are interested, you can also write your selections on Milyin. It houses many original sections as well as curations of quotes from famous people. Join Milyin today.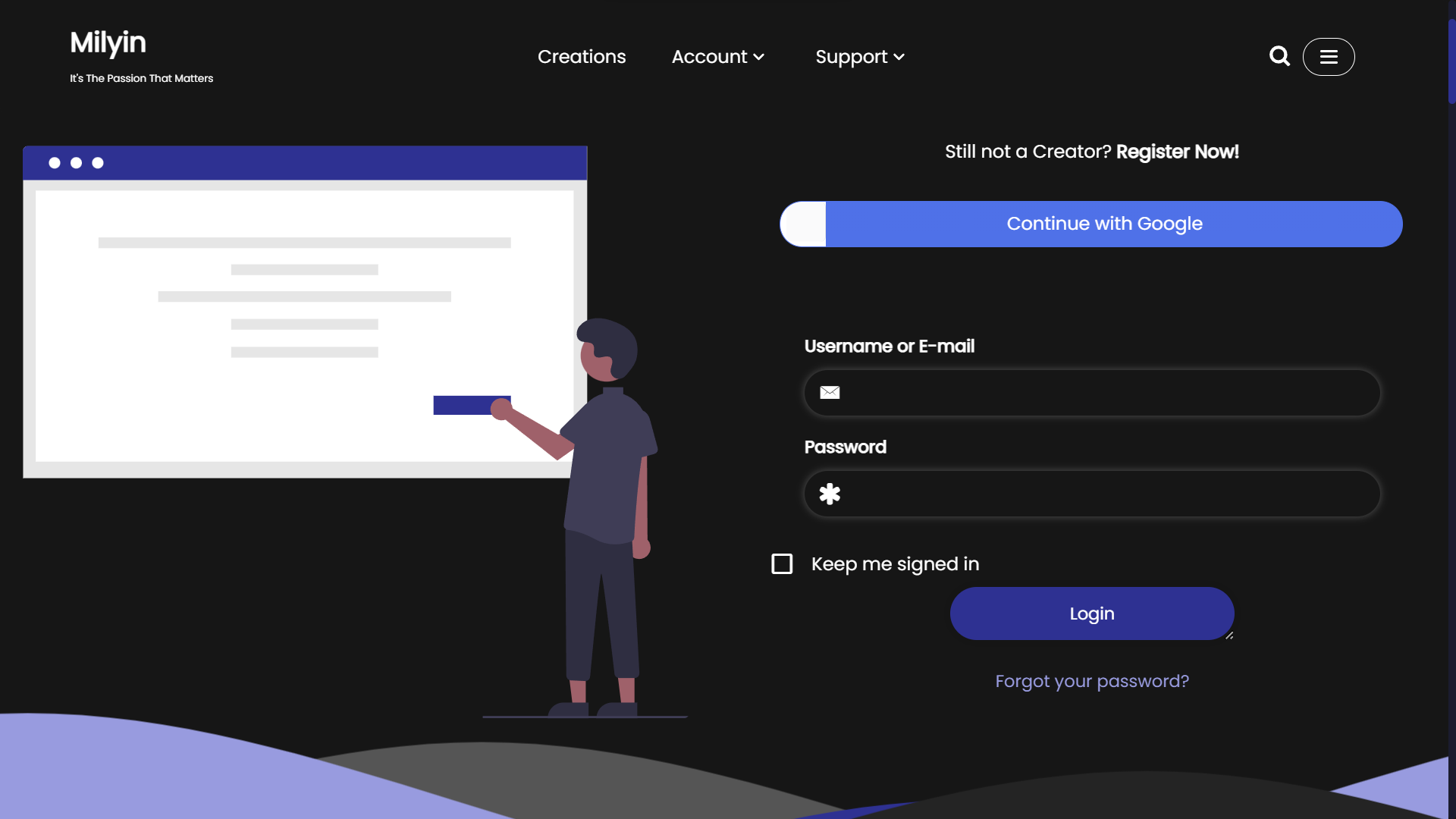 Features:
Communication: Built-in chat to communicate with the Creators of various Quotes and other Creations that you may like
Content: Works in all types of content, genres, and languages (including many hyperlocal languages)
Website for Quotes: This website for quotes helps you find any content with minimum effort.
| | |
| --- | --- |
| Pros | Cons |
| One of the most engaging Creator Community | No Android or iOS app |
| The easy-to-find quotes from all genres. | |
| Some of the most experienced and high-quality content writers | |
Link: https://milyin.com/creations/
2) Wikiquote
Wikiquote is best for finding quotes in any language
As the name suggests, Wikiquote is a wiki of quotes in various languages. You can easily select the language you want to find and read codes. This is one of the best sites for quotes, with a "Quote of the Day" section for every language showcasing one famous selection from respective languages.
You can find pages quickly based on languages, Quoter, source (movie, writeup, etc.), and more. It allows you to explore quotes based on people, occupation, nationality, and other parameters. This platform is only meant for original and verified quotes from famous personalities, making it truly authentic.
Features:
Email Newsletter: Option to subscribe to quote of the day to receive new quotes in your email
Quote Searching: In-built support for searchable quotes allows you to find any famous selection with ease
Popular Quotes: Find all popular quotes by any famous personality globally.
| | |
| --- | --- |
| Pros | Cons |
| Provides translations and meanings of non-English quotes | There is no support for writing/reading quotes from small Creators |
| Completely free and open to use | |
| Download quotes as PDFs with ease. | |
Link: https://en.wikiquote.org/wiki/Main_Page
3) YourQuote
YourQuote is best quotes website for reading original quotes
YourQuote is quite the opposite of Wikiquote. YourQuote is focused on original quotes from lesser-known individuals. It promotes creativity and is ideal for finding new, unique, and primarily unknown quotes. This is one of the best websites with quotes to discover unknown writers and find underrated yet high-quality content.
This website of quotes works on a subscription-based model, where you can subscribe to a writer at a nominal monthly cost to enjoy their quotes and exclusive content. Its robust mobile app is ideal for casual content scrolling and reading.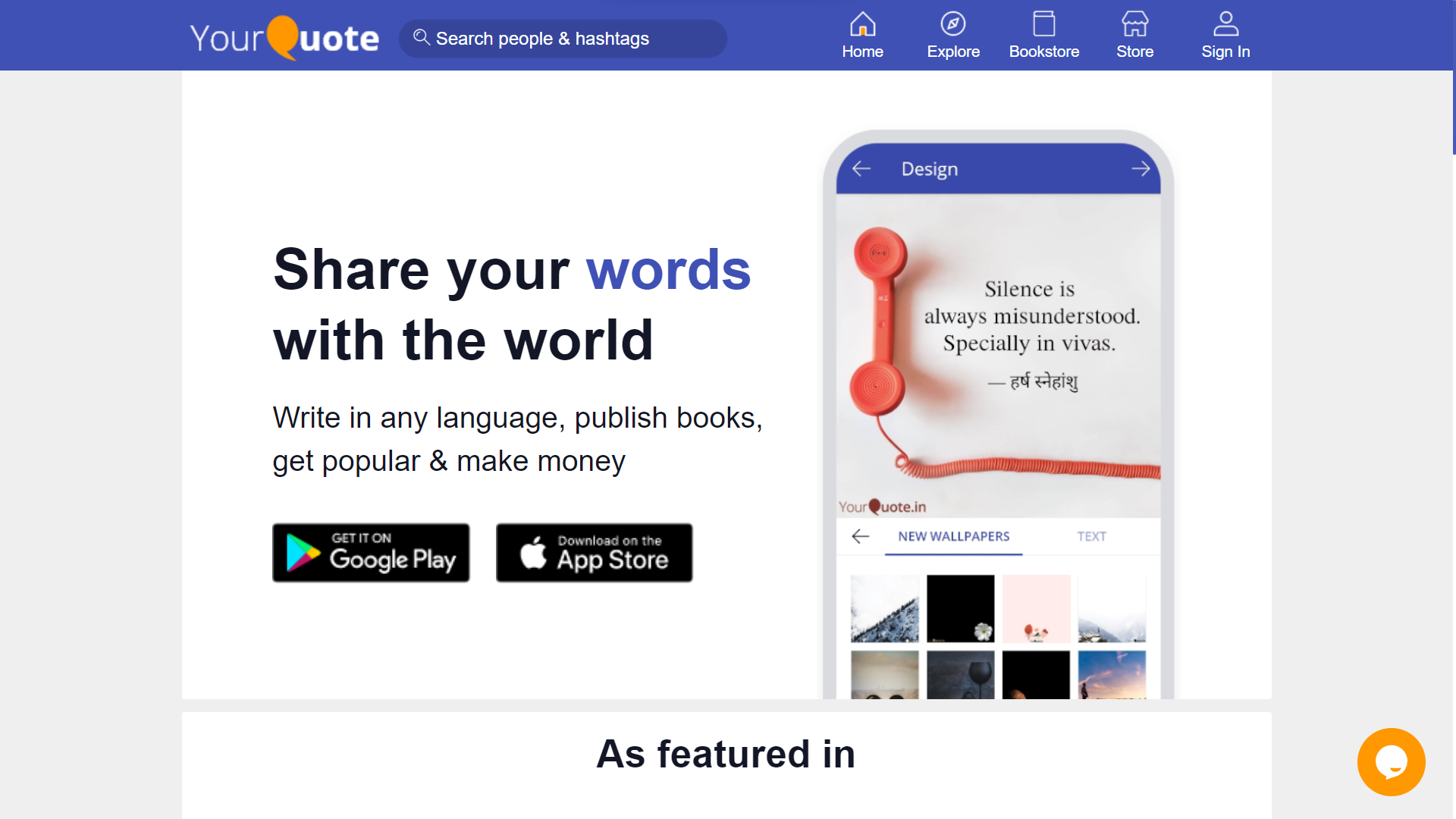 Features:
Content: Writers create exclusive content for their audience, allowing you to receive frequent, complete quotes worth reading.
Stories: Apart from quotes, you can also read original stories from their writers, giving you more content.
| | |
| --- | --- |
| Pros | Cons |
| Buy the best quotes from the writer in the form of printed books | Paid plans can limit the freely available content |
| Become a part of the community and access exclusive content from writers | |
| Massive variety of regional content for Indians | |
Link: https://www.yourquote.in/
4) BrainyQuote
BrainyQuote is best for finding genre specific quotes
BrainyQuotes is one of the largest libraries of quotes and original sayings. It keeps all quotes sorted in a wide range of categories, allowing you to choose any type and find quotes, making it one of the best websites for quotes.
You can also find quotes for famous personalities or topics like life, health, love, etc. It has a "Quote Of The Day" section that honors one great selection every day. You can visit its handpicked list of the top 100 Quotes that are likely to be appreciated by almost everyone.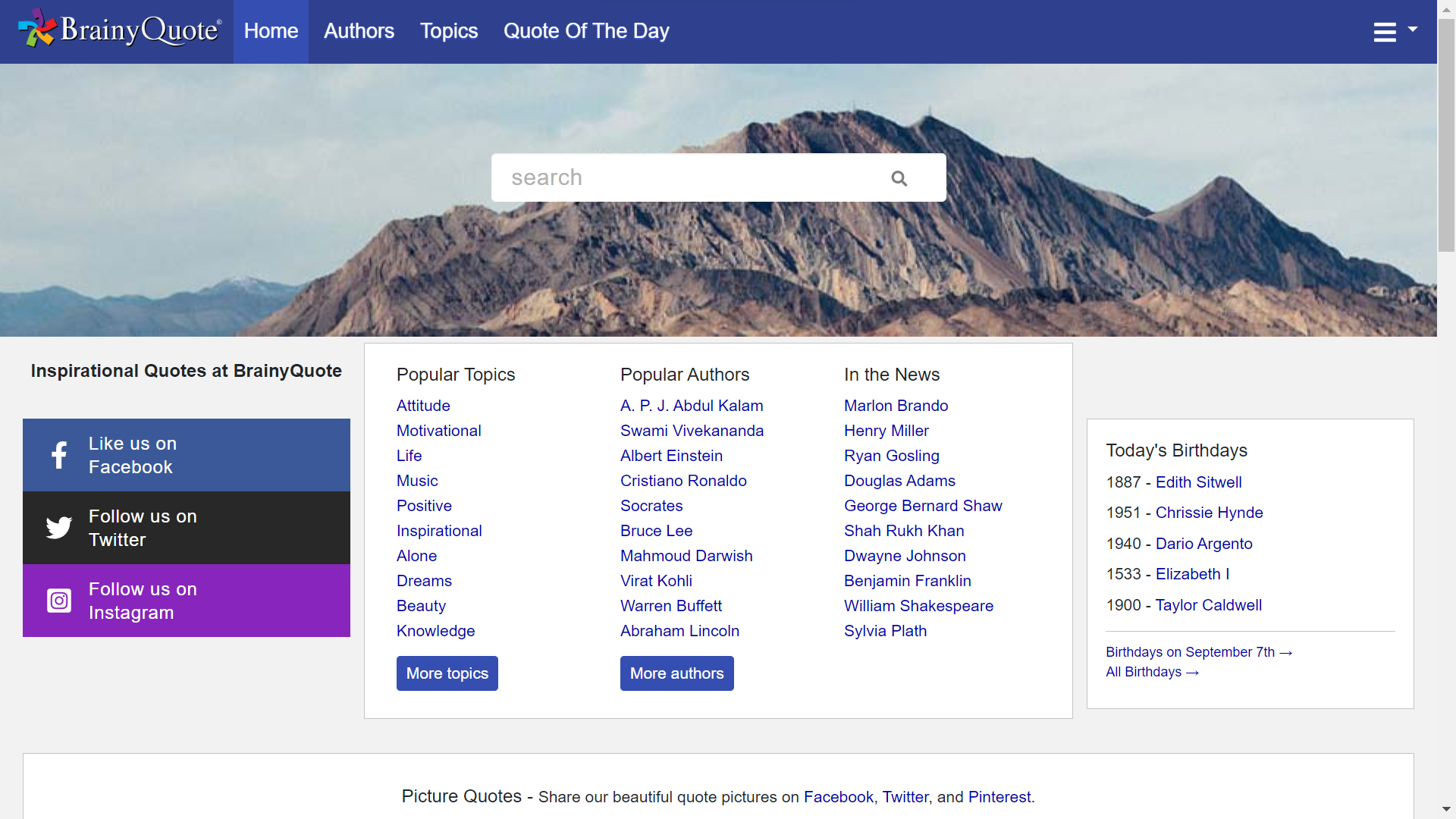 Features:
Content Delivery: It has an RSS feed, WordPress plugin, and Email Subscription that delivers you the Quote of the Day
Top Authors: You can review its top authors to find quotes from one of your favorite authors.
| | |
| --- | --- |
| Pros | Cons |
| You can learn about the famous people born on that particular day | Relatively old/outdated UI |
| Completely free with no limits whatsoever | |
| You can find the exact quotes on their social media accounts: Instagram, Facebook, etc. | |
Link: https://www.brainyquote.com/
5) Quotes Donut
Quotes Donut is best for enjoying quote writing events
Unlike other platforms, Quotes Donut keeps readers/writers highly engaged by organizing frequent events and contests. They may target a particular topic, cause, or event. This website also categorizes all its quotes to allow you to find your favorite quotes easily.
You can use this quote website to find great Instagram captions with quotes. Furthermore, it lets you get your favorite quotes printed on books, mugs, and more. The sections are in plain text and attractive images with text art for better visual appeal.
Features:
Cost: It is free with no in-app purchases, as it solely relies on advertisements
Category: All the quotes are categorized based on various emotions and feelings attached to them, giving you easier access and greater searchability.
| | |
| --- | --- |
| Pros | Cons |
| The effortless signup process ensures you can start enjoying quotes with minimum effort. | Unstable application |
| Quotes from familiar netizens as well as famous people | |
| Allows writers to reuse and republish quotes with due permissions | |
Link: https://quotesdonut.com/
6) Quotery
Quotery is best for discovering new quotes
Quotes is one of the best websites with quotes for finding and sharing new sayings, quotes, and stories. You can easily find various moods, topics, and personality selections. You will love this website with quotes as it has searchable quotations that can assist you in finding the most relevant quotes with minimum effort.
With every quote, you will be provided with additional information that will be essential in helping you understand the meaning, get a bit of backstory, and better understand the author. You can visit author profiles and better interact with their content.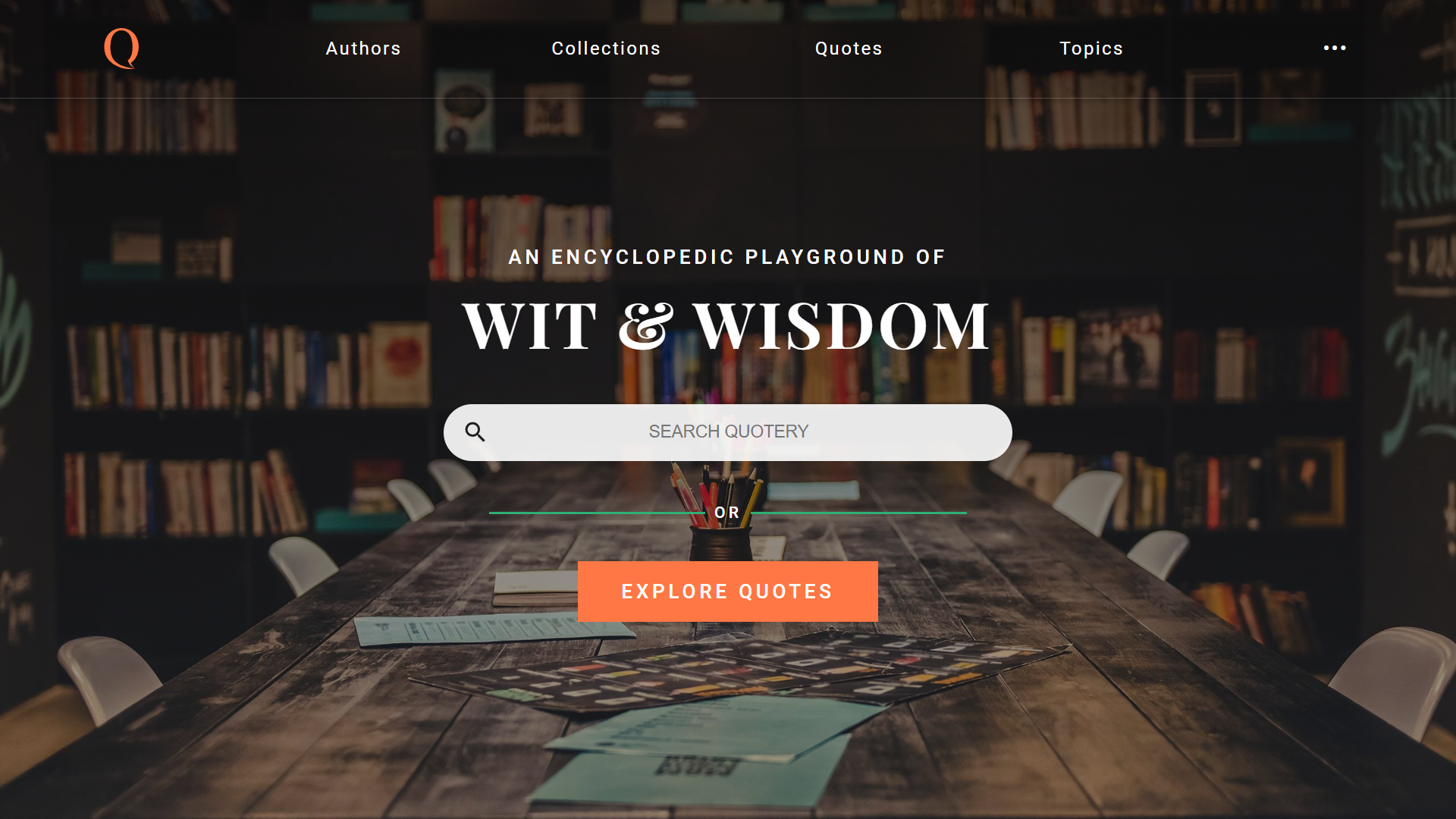 Features:
Algorithms: Advanced algorithms analyze and suggest new quotes based on quotes you have liked.
Sharing: Allows you to easily share your favorite quotes with anyone using sharable links and direct sharing on various apps.
| | |
| --- | --- |
| Pros | Cons |
| Curates its collections of best quotes from different authors | Poor socialization options |
| Put quotes on attractive backgrounds and download them easily | |
| Completely free and funded by ads | |
Link: https://www.quotery.com/
7) Goodreads
Goodreads is the best for finding the highest-quality quotes
Goodreads curates and finds some of the best quotes in the world and brings them to you. Amazon owns Goodreads, which is a platform to share and review written content, including Books. With Goodreads, you can also get information about the origin and author of the quote.
You can use it to like your favorite quotes. Its homepage comprises a feed of the best quotes for you. It's based on the most desired and engaged sections in recent times. It is also among the best sites to read poetry.
Features:
Variety of Content: You can use it to read and write book reviews, find quotes, and more
Follow: Follow authors/writers and stay up-to-date with their latest writeups.
| | |
| --- | --- |
| Pros | Cons |
| Search quotes based on authors and mood | Not a very large variety in terms of content |
| Helps build social following and join communities | |
| Find book recommendations and reviews. | |
Link: https://www.goodreads.com/quotes
The Verdict
We have worked hard to help you find some of the best quotes online. Our attempts have enabled you to select the right website with quotes.
| | |
| --- | --- |
| Feature | Website Of Quotes |
| Best website for quotes | Milyin |
| Massive variety of quotes | Your Quote |
| Quotes by successful people | Goodreads |
#Quotes #QuoteWebsite #WebsiteForQuotes #Quote
Last Seen: Sep 27, 2023 @ 4:37am 4SepUTC
Aditya Agarwal
@AkarshitMahajan6300
Published:
Last Updated:
Views: 53