Home » Creations »
Writing can be a promising profession if you want to earn money in India. You can easily make money by writing Blogs in India (online). The best platforms provide plenty of monetization tools to start earning from Day 1.
You must be very careful while choosing the right platform for creating content. Also, regardless of what you do, you need to be consistent and hard-working to earn a regular income.
Some of India's best writing platforms can help beginners start making from Day 1. However, the income would be less, so you would have to work a few weeks before building a consistent cash flow.
Make Money By Writing Blogs in India
| | | | | |
| --- | --- | --- | --- | --- |
| Name | Joining Cost | Ease of Writing | Earning Potential | Link |
| 👍Milyin | Free | Very Good | Very High | Milyin |
| Medium | Free | Very Good | High | Medium |
| Ghost.org | $29 per month | Good | Very High | Ghost.org |
| Write. as | Free | Very Good | Moderate | Write. as |
| Quora | Free | Very Good | Moderate | Quora |
1) Milyin
Milyin is the best balanced Content Creation Platform
Milyin is one of the best places to make money by writing Blogs. This platform is free to join, and anyone can use it to follow their passion for writing. You would earn through advertisements that are shown in your content. It supports effortless withdrawals as many times as you want in a month.
You can naturally engage with other writers and become better. Its advanced writing tools include writing content, adding images, tables, and lists, embedding tweets/videos, and more. With Milyin, you can write on any topic you choose without restrictions. With robust creation tools, a simple signup process, proper monetization tools, and robust guidance, Milyin is an ideal place to make money by writing blogs in India.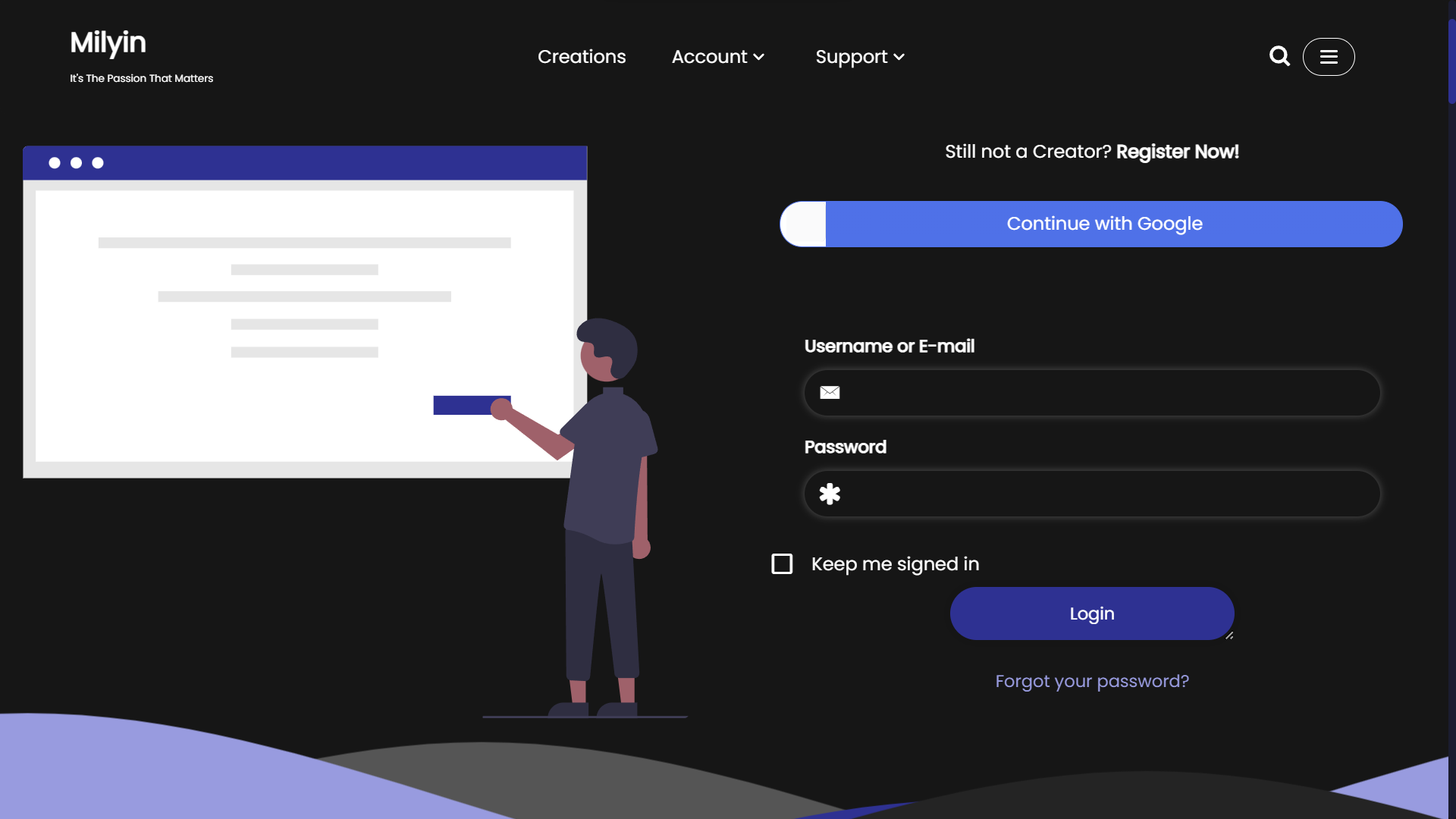 Features:
Socialize: You can easily interact with your audience using chat, comments, following, and various other tools.
Straightforward Earnings: Milyin would run ads in your entire content. You will earn based on genuine ad clicks from the audience that you receive on your ads.
Freedom: No restriction on the topic and genre of your content. It allows you to work with any matter of your choice.
| | |
| --- | --- |
| Pros | Cons |
| Straightforward Signup and setup process | No mobile app for Android or iOS |
| A low minimum withdrawal income threshold of $1 | |
| Monetization tools allow you to increase or decrease ads to meet your earning goals. | |
Link: https://milyin.com/
2) Medium
Medium is best for collaborating with top Indian blog writers
Medium is a platform well known for its wide range of content and its wide range it content. Some of the most celebrities and creators use Medium to publish blogs. If you want to make money by writing Blogs in India, try Medium.
You would earn based on the number of readers visiting and spending time on your Blogs. It's an ideal place to discover new writers, learn new things, etc. It has an intuitive editor with all the functions and features you need to produce quality Blogs.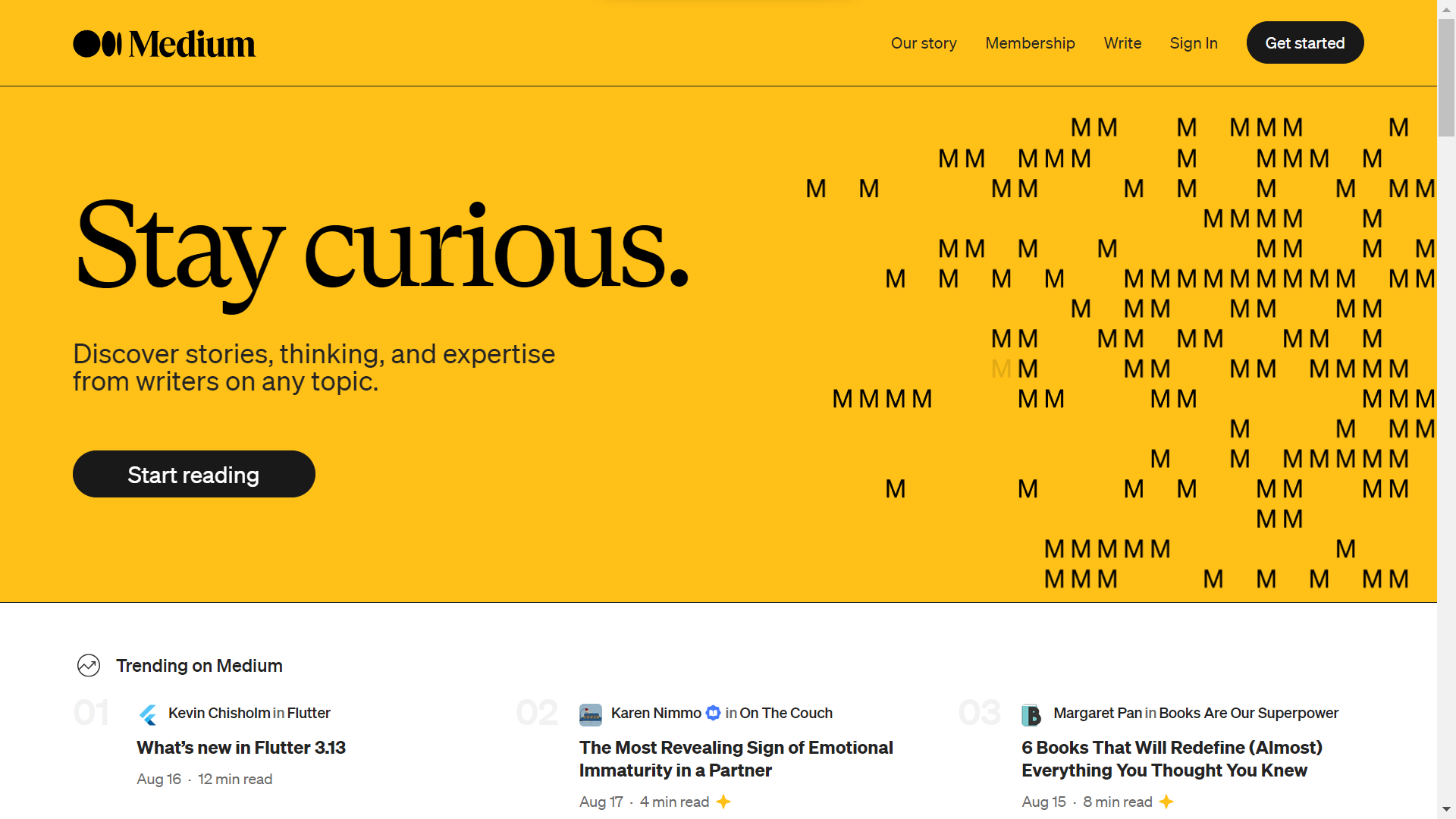 Features:
Interact: You can interact and get acquainted with some of the top creators worldwide. This will allow you to gain exposure and learn new things from top writers.
SEO: Due to the Domain Authority of Medium, your content will likely rank high on Google and easily outperform any other site.
| | |
| --- | --- |
| Pros | Cons |
| The Creator Hub provides learning resources and helps you become a better writer. | It takes a lot of time to build an audience and steady income |
| It helps create an audience and popularity that can be effectively monetized in many ways | |
| It handles all the SEO, security, and performance requirements, letting you focus on writing Blogs. | |
Link: https://medium.com/
While you are at it, you might be interested in earning money through poem writing as well
3) Ghost.org
Ghost.org is best for starting your own blog in India
Ghost is a platform for building blogs, websites, or e-commerce stores. With Ghost, you can set up an utterly independent blog that serves your audience and gives you far greater freedom than any other platform could ever provide. You can configure an utterly separate blog with Ghost's robust toolsGhost'suilt templates, themes, and other tools.
Sure, it would take relatively longer to become profitable, but you would grow exponentially once you start getting recognized. Signups: You can make money by writing Blogs in India, and once you become famous, you can launch other revenue streams like merchandise, sponsored content, collaborations, etc.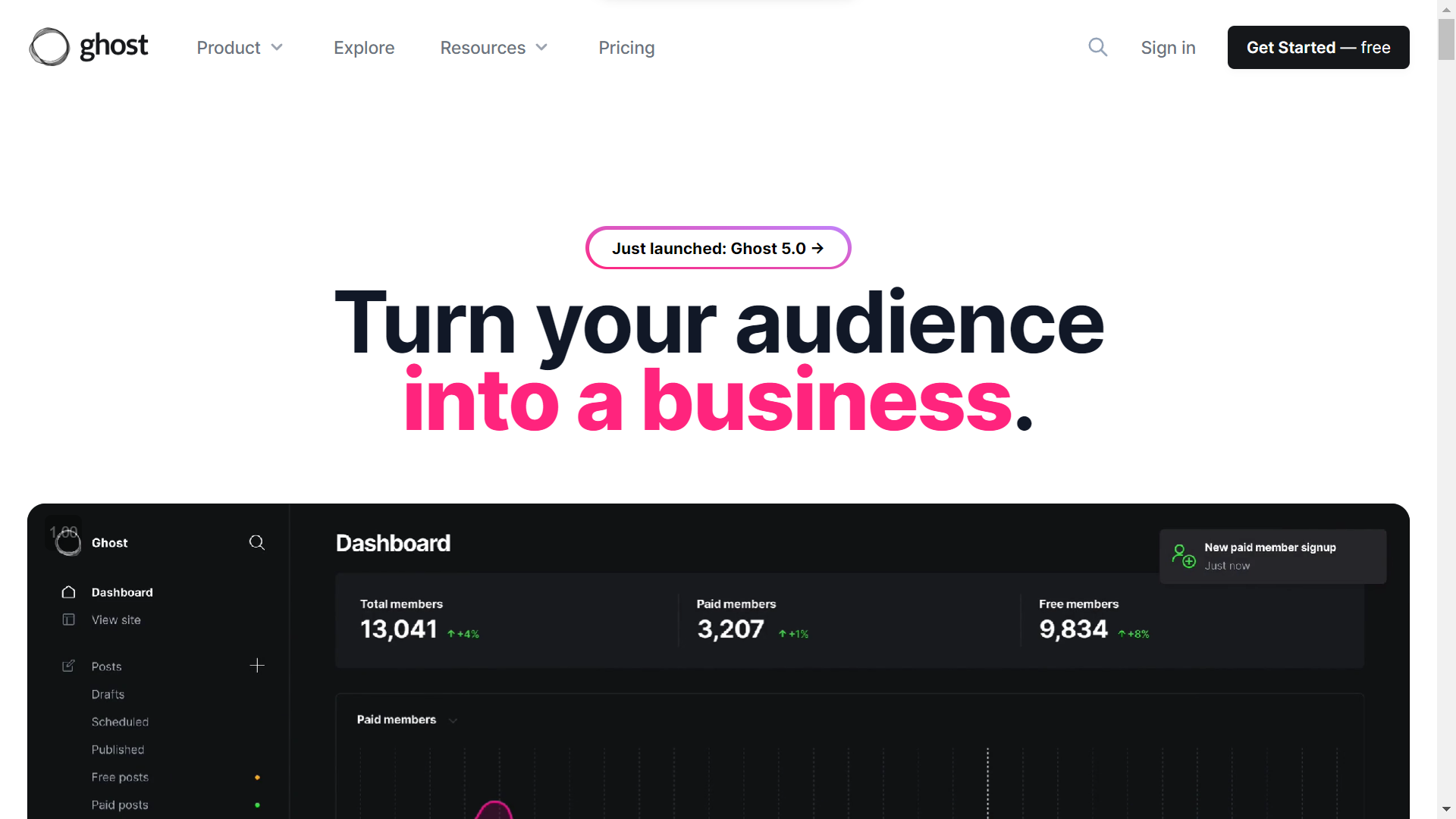 Features:
Tools: Ghost.org provides various tools to manage, create, and analyze your content. You can use their devices to schedule posts and quickly edit and modify them using advanced editing tools.
Analytics: The native analytics tools allow for effortlessly monitoring and recognizing trends, shortcomings, and bottlenecks in your growth.
| | |
| --- | --- |
| Pros | Cons |
| Highest customizability and complete control over your content | No free plan is available. |
| Quickly scale up your Blog writing gig into something bigger. | |
| The most comprehensive range of monetization options includes ads, affiliate marketing, etc. | |
Link: https://ghost.org
4) Write. as
Write.as is best for sharing your own thoughts
Write. as is a platform that supports independent ideas and helps people spread their unique thoughts, opinions, and beliefs. With Write.as you can earn money by writing Blogs about your perspective. Unlike other platforms, you are completely free and do not need to be influenced by any external factors for writing your content.
Write. as provides a simple, straight user interface and a simple signup process that allows you to get onto writing in almost no time.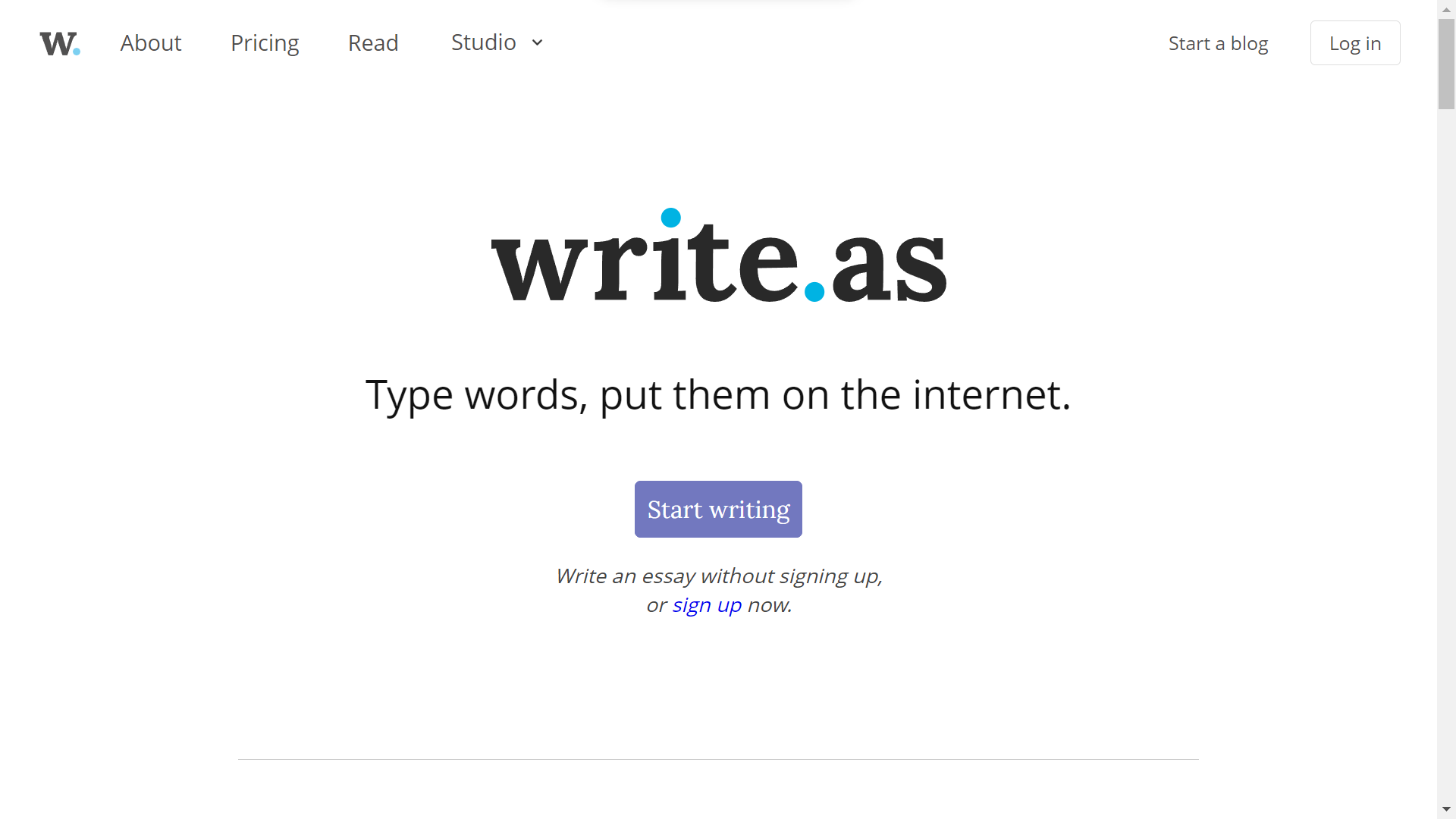 Features:
Beginner-friendly: Write. as is designed to be simple, easy to use, and beginner-friendly. As a result, gaining success doesn't require much experience, allowing Indians to sdoesn'togging quickly.
Focus: It focuses exclusively on content, ensuring all other forms of writing can thrive freely and earn a lot of money.
| | |
| --- | --- |
| Pros | Cons |
| The modern, minimalistic design allows for effortless content production | Weak monetization strategy |
| Great for beginners who want to practice writing and improve their vocabulary | |
| Helpful in reading about the experiences of other people | |
Link: https://write.as/
5) Quora
Quora is best for earning money by writing answers online in India
Quora is a popular social platform best known for its question-and-answer format interactions. Previously, Quora did not provide any ways to earn money by writing Blogs. However, with Quora Plus, you can create spaces, post content you like, and monetize it for people to read. Some of your Blogs/answers would be public so people can discover your content. At the same time, other answers/Blogs are only accessible to Quora+ users.
Whenever someone views your Quora+ answers, you'd earn a small fraction of their monthly subscription fee. It is that simple. A lot of your wisdom, little to no hurdles, and straightforward writing. Chances are you already have a Quora account that you use for reading answers or writing answers yourself.
Features:
Questions: You don't have to find topics to write on. Quora automatically finds questions that you can answer.
Memberships: It allows you to set your price for membership to exclusive content.
| | |
| --- | --- |
| Pros | Cons |
| One of the most established brands in the writing space | Very high-income withdrawal threshold of $10 |
| Quickly build an audience and gain popularity | |
| Interact with other readers and writers in comments and spaces to improve your skills. | |
Link: https://quora.com
6) Wander Lust
Wander Lust is best for travel-related writing
This is one of the best places to write about anything related to travel, whether you enjoy going someplace for pleasure, business, or any other purpose. All of the content on Wander Lust is connected to travel. This website is ideal for creating high-quality travel material and enjoying your travels and adventures. In essence, you would be compensated for writing about your travel experiences.
This site has the biggest payouts, with 220 Euros being paid for each accepted job. One of the highest caliber and professional writing groups. They only publish a small number of content releases each year, yet they can maintain a significant presence worldwide.
| | |
| --- | --- |
| Pros: | Cons: |
| One of the most reputed travel-related blogs in Europe | Meager chances of content being shortlisted for publishing |
| Let you choose the topic of your choice | |
| Even first-time writers can get their content published if it is written with professional, careful writing. | |
Link: https://www.wanderlust.co.uk/about-us/writers
7) Writers Lab
Writers Lab is best for making money by wriitng blogs as freelancer in India
Writers Lab is a platform that invites the best of the best writers not to create content for some of the most demanding clients. Its joining process isn't easy. It involves proper document verification, grammar tests, trial assignment tests, citation tests, and more. They take quite some time to review your application and send you the offer to start writing.
You get to choose the assignments of your choice and work at your own pace with complete freedom. They have predefined rates for projects based on various parameters. You can select and take up a job that suits you the most.
| | |
| --- | --- |
| Pros | Cons |
| Different prices and deadlines based on your experience and command over language | Old and hard-to-navigate user interface |
| Ensures consistent writing work for you whenever you want | |
| Valuable tools to help you make money by writing Blogs in India | |
Link: https://writerslabs.com/
Conclusion – Make Money by Blog Writing in India
It is pretty easy to become a blogger and earn money as an Indian. YoWe've made a consistently high income by writing blogs on writing platforms. We've shown you some of the best blogging platforms to choose from. You can choose the one most appropriate for you based on our verdict below.
| | |
| --- | --- |
| Feature | Best writing platform in India |
| Best Earning Potential | Milyin |
| Best for starting an independent blog | Ghost.org |
| Best for sharing thoughts | Write. as |
Last Seen: Sep 27, 2023 @ 4:37am 4SepUTC
Aditya Agarwal
@AkarshitMahajan6300
Published:
Last Updated:
Views: 110