Last Seen: Dec 2, 2023 @ 4:54pm 16DecUTC
Ideal writing websites allow you to easily create blogs, poems, stories, quotes, and articles. Some of the best writing websites include Milyin, Weebly, and Blogger. The top 9 writing sites will allow you to write and submit articles to article directories. These sites pay well and give you great exposure as well.
Writing sites provide insightful data and tools to help you register as a writer, Blogger, author, storyteller, poet, copywriter, journalist, and more. Modern monetization tools also allow for earning money with that. Keep reading until the end to read our expert advice on choosing the perfect writing website for your requirements.
Best Writing Website For Writers & Bloggers 2023
| | | | | | |
| --- | --- | --- | --- | --- | --- |
| Platform | Joining Costs | Writer Freedom | Earning Potential | Ease of Writing | Link |
| Milyin | Free | Very Good | Very High | Very Good | Learn More |
| Medium.com | Free | Good | High | Very Good | Learn More |
| Weebly | Free | Very Good | High | Good | Learn More |
| Blogger | Free | Very Good | High | Good | Learn More |
| Submittable — Poetry Magazine | Free | Moderate | Very High | Good | Learn More |
1) Milyin
Milyin is best writing website for creating a lot of content and earning money from it
Milyin is an excellent platform for everyone, from newcomers to experienced writers. They support a variety of writing formats, including blogs, stories, poems, and more. They provide insightful data for easy audience understanding and improving your content. You can start earning from Milyin right from Day 1.
Besides, Milyin is one of the easiest-to-use writing websites with its free joining and easy-to-use interface. You can limit copying/stealing of your content with advanced features that block text selection and copy-pasting of your readers.
Features:
Content: It supports various formats, including short stories, long stories, blogs, articles, poems, quotes, and more.
Media: At Milyin, you can create Creations with text, images, videos, GIFs, tables, lists, grids, social media embeds, and various other forms of content.
Socialization: Allows interacting with other writers and readers using support for commenting, chatting, and following/unfollowing.
Earnings: Easily optimize your profits with advertisements from Google AdSense and affiliate links in your content,
| | |
| --- | --- |
| Pros: | Cons: |
| Completely free and open to all | No support for Android or iOS app |
| Very high earning potential for all writers | |
| Easy Monetization policies and tools | |
Link: https://milyin.com/
2) Weebly
Weebly is best for building a portfolio and engaging with clients.
At its core, Weebly is a no-code page builder, but it is also one of the best writing sites for many reasons. With Weebly, you can do much more than write content. You can write content on Weebly with advertisements, social media icons, newsletters, lead generation, and more.
They also allow you to build your portfolio quickly, which helps you showcase your skills and talents without needing coding knowledge. You could also make your merchandise and ebooks and sell them using Weebly.
Features:
Pricing Plans: It provides multiple pricing options for all needs, including a Lifetime Free Basic Plan for you to choose from.
Integrations: You get support for integration with custom domains for writing with complete independence and autonomy, which is rare with other websites for writing.
Tools: It has various built-in tools for SEO, marketing, and lead-generation tools that can be used to grow an audience or convert visitors into customers.
Management: Weebly handles all site performance, security, and maintenance, allowing you to focus entirely on writing.
| | |
| --- | --- |
| Pros: | Cons: |
| Data analytics and statistics help you better understand your audience and optimize content. | Lacks designs and visual customization options. |
| It is easily integrated with domains and subdomains. | |
| Allows building landing pages, e-commerce pages, and more using drag-and-drop builder. | |
Link: https://weebly.com
3) Medium.com
Medium.com is best platform for growing and developing an audience by leveraging one of the best reader base globally.
Medium is a writing website that some of the most famous people use for writing blogs and stories. Medium.com is home to some of the most prominent bloggers. This makes it a great place to grow your content and gain popularity as a writer. Medium is one of the best writing websites for writers and bloggers in 2023, with plenty of tools and features to assist in fast and effective writing.
At Medium, you will be recognized and find others to share your thoughts and ideas. Writing at Medium will help your content rank higher in Google searches and generate a lot of views. Their simple monetization scheme is easily understandable and can be used by all.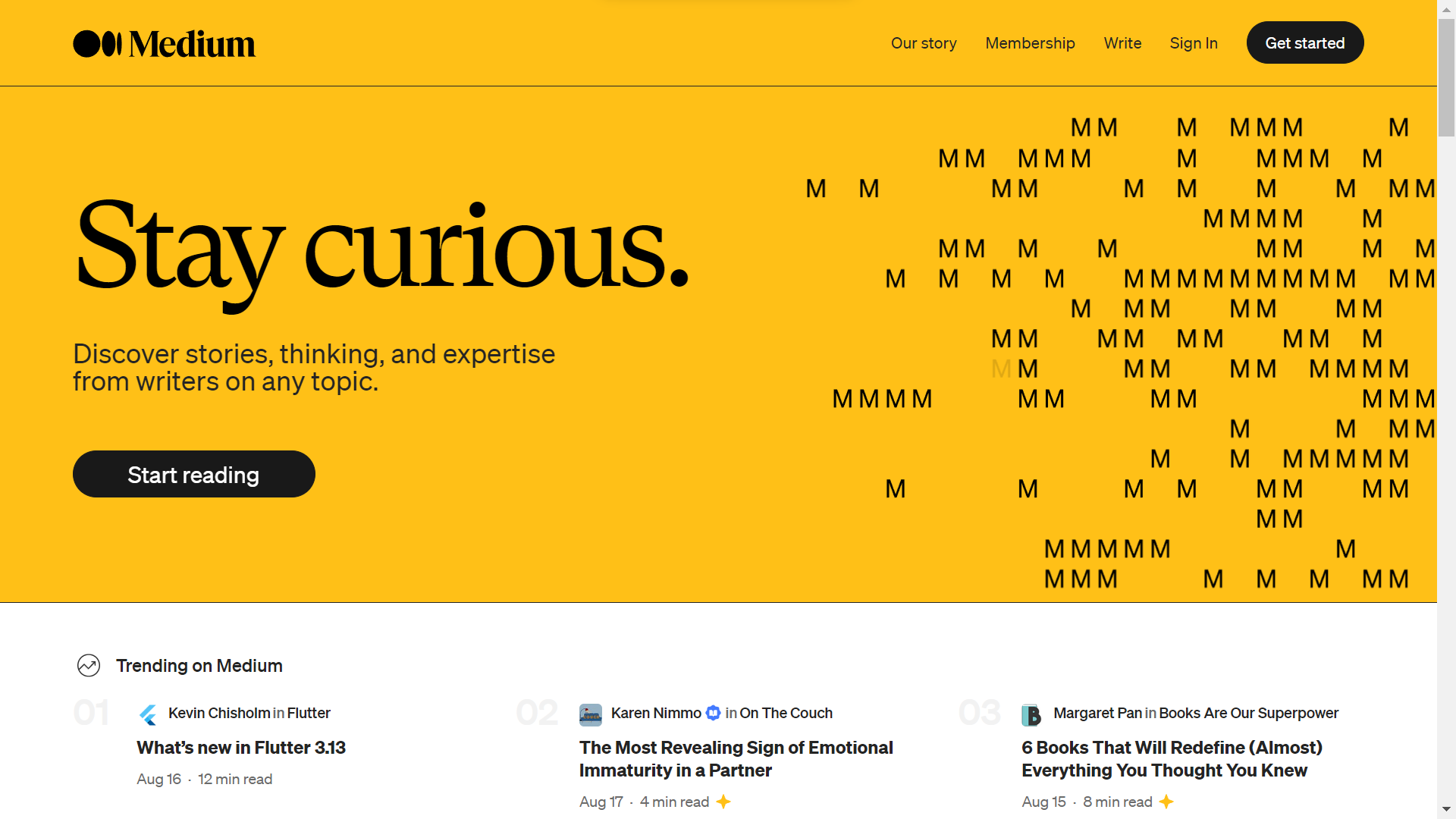 Features:
Knowledge Base: Gain knowledge and learn tips for becoming a better writer with their Creator Hub and insightful recommendations for improving your content/
Ease: A speedy joining process allows you to sign up and get started in almost no time. This ensures you can start writing on this website instantly.
Socialization: It allows you to socialize with other creators and readers on the platform using Chat, Comments, Following, Claps, and various other built-in methods.
| | |
| --- | --- |
| Pros: | Cons: |
| Beginner-friendly user interface | Requires being consistent before being eligible to earn money |
| A most comprehensive range of genres and writers among all platforms | |
| Allows sharing and learning through other people | |
Link: https://medium.com/
4) Blogger
Blogger is best website for writing content as beginner or inexperienced writer.
Blogger is the oldest place for starting a blog. It started back in the 1990s and was the first popular blogging site. It can be a suitable place for beginners who want to learn writing, gain experience, and showcase their initial creations before becoming full-fledged writers. To become a better writer, refer to our Pro Tips for Writers.
Modern blogging websites have inherited a lot from Blogger, making it one of the most basic writing websites. They don't provide any guidance for improving as a writer, but still, it's the best place to learn independently and unrestricted.
Features:
Analytics: It provides data-driven analytics as well as support for Google Analytics for data collection. This can be used to understand user behavior and optimize writing for the best experience.
Monetizations: Support independent monetization by integrating services of your choice, including Google AdSense, to help you earn money while writing on this website.
Guidance: Built-in tools and guidance that are perfect for new/inexperienced writers to learn and improve their writing.
| | |
| --- | --- |
| Pros: | Cons: |
| Allows working with free subdomains or using a custom domain | Lacks SEO, Marketing features |
| Easy to set up and get started with creating | It has no design/theming support |
| Built-in support for Google Analytics and various | |
Link: https://blogger.com
5) Submittable
Submittable Magazine is best for writing and publishing poetry online
Submittable Poetry magazine specializes in poetry and is the best place on the internet to write poetry. It could include short and long forms of poetry.
Submittable Poetry Magazine is a great writing website for professional poets with vast potential. With Submittable, you can submit your lyrics/poetry/quotes for one of the most reputable magazines. It supports independent creators and ensures quality poets can become successful.
Submittable is entirely free to join. You can easily submit your writing to Submittable, after which your content gets reviewed before being approved/published. Once your content is approved, you will earn $10 per line, with a minimum pay of $300 per poem, which is pretty impressive for new writers.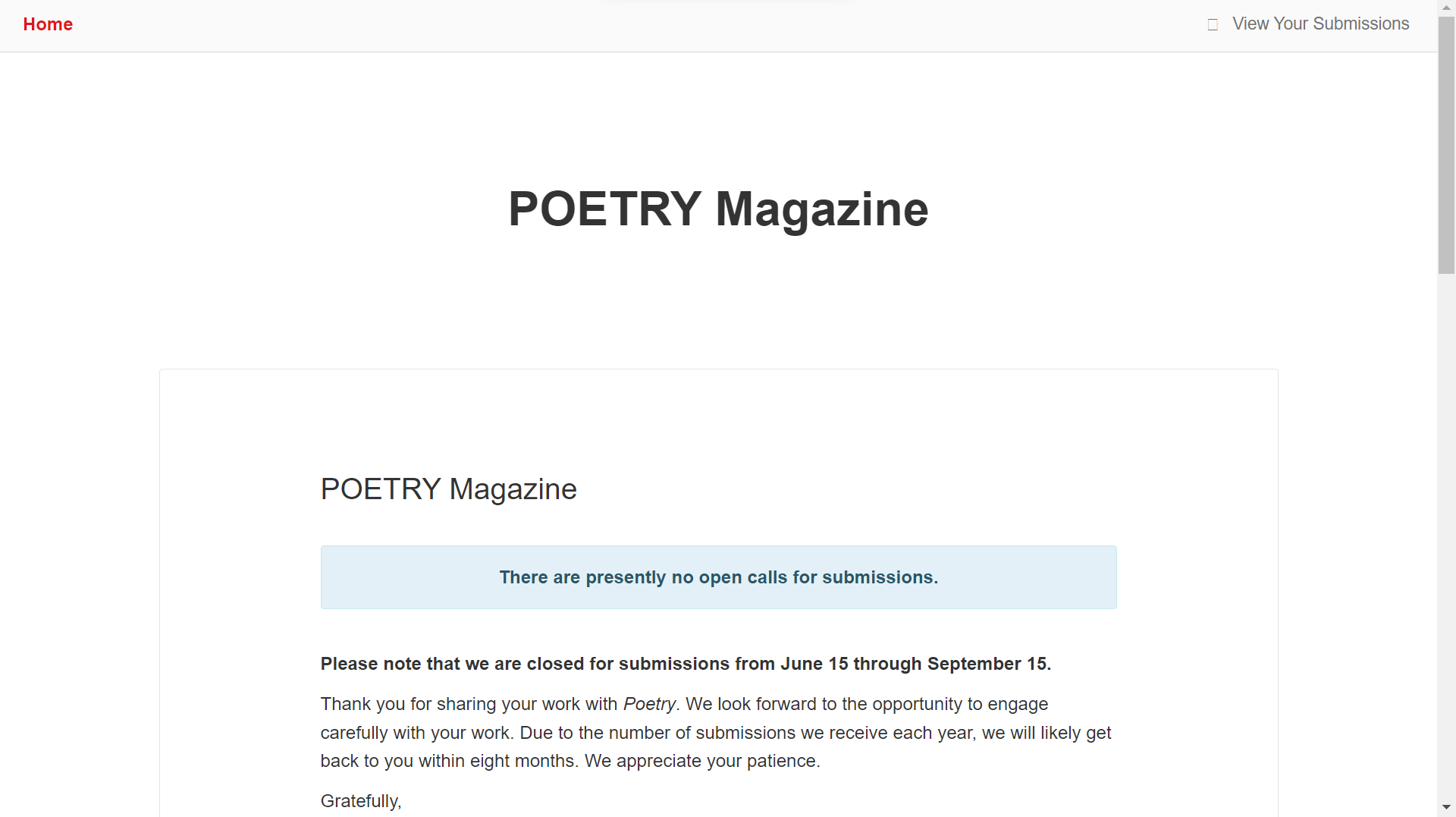 Features:
Payouts: The minimum honorarium of $300 per accepted assignment makes it an ideal and lucrative choice for most experienced writers.
Multiple Writings: Getting the writing reviewed and approved takes much time. That's why you can write and submit up to 4 projects at once.
Ownership: You retain complete ownership of your work and its gains. This helped me gain a reputation among the big names in the world of poetry.
| | |
| --- | --- |
| Pros: | Cons: |
| Most reputed source of publishing and reading quality poetry | It takes a lot of time to approve content |
| Some of the highest payout rates across all platforms | |
| Helps gain reputation and popularity | |
Link: https://poetry.submittable.com/submit
6) Ghost.org
Ghost.org is the best website for long-form write-ups
Ghost is one of the most popular writing websites for writers and bloggers on the internet for writing long-form content, including blogs. They provide one of the best, easy-to-use, intuitive user interfaces for writing and managing content. Their tools are excellent for primary use as well as professional use.
Ghost is very simple to use and allows you much freedom to manage your content however you want. You don't need coding knowledge to get started on writing with Ghost. Moreover, they support earning money via ads so you can be profitable from day 1.
Features:
No-Code: Completely no-coding solution for writing online with minimum effort. You can quickly build pages and stylize them through drag-and-drop builder.
Analytics: Built-in analytics for understanding the audience to help you understand user behaviors and implement changes for better user engagement.
Use Cases: It supports email newsletters, paywalls, newsletters, and other use cases per your preferences.
| | |
| --- | --- |
| Pros: | Cons: |
| Beginner Friendly and Easy to use | No Free Plan |
| Various Monetization streams for earning money | |
| Easy UI customization | |
Link: https://ghost.org/
7) WordPress
WordPress is best for creating a highly scalable website and wriitng content with ease
WordPress is the most popular way to represent oneself on the #internet. More than half of the internet uses WordPress. It's an excellent choice for writers, bloggers, & authors in 2023 to create your website for writing content in blogs, stories, poems, and more.
You can start with WordPress for free on their highly customizable subdomains. One of the significant benefits of WordPress is its ability to scale up. You can do it easily with WordPress if you plan to scale up to a fully independent writer, Blogger, author, or poet. They allow easy import exports from their free websites to professional custom websites with WordPress.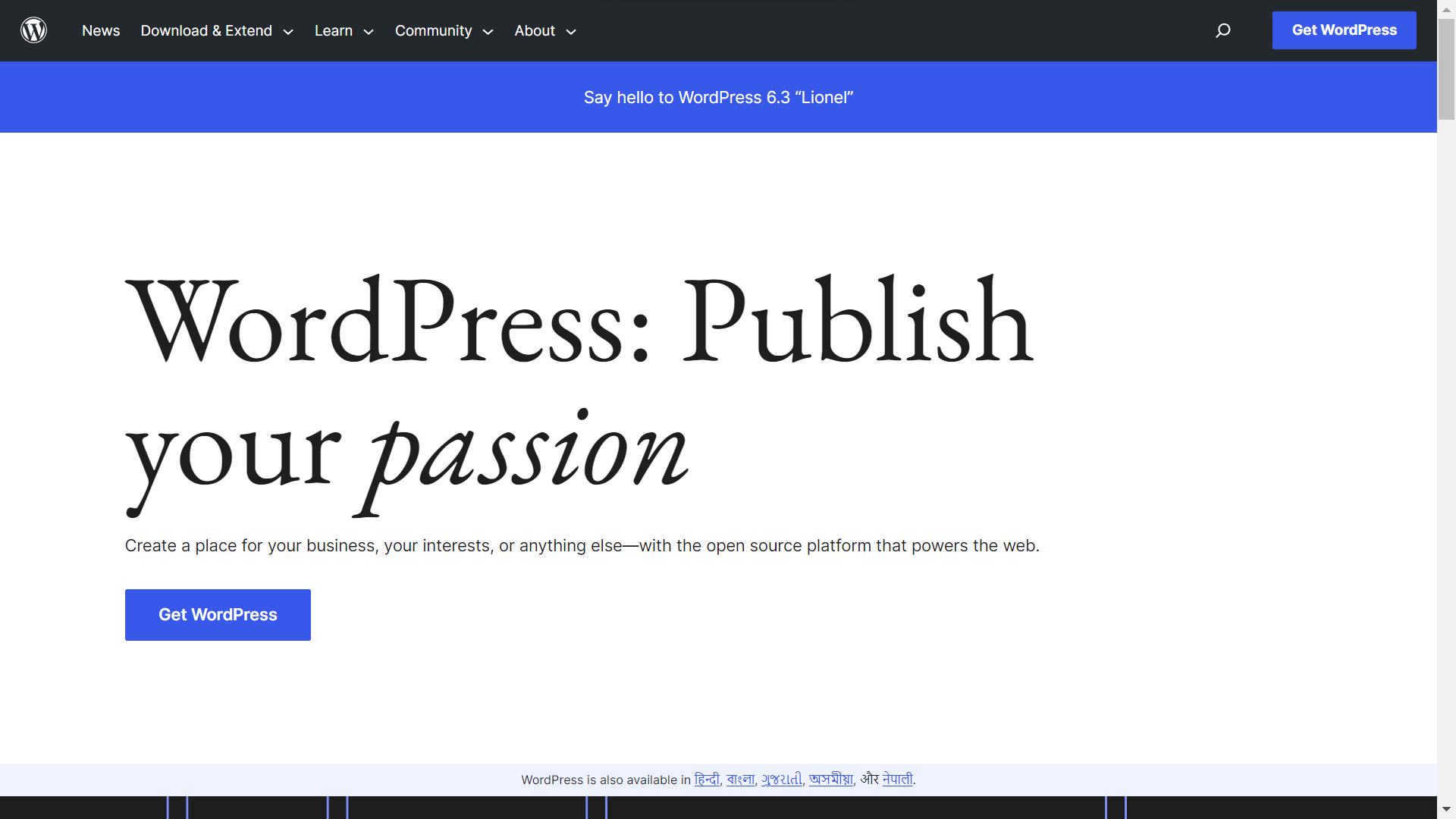 Features:
Tools: The most comprehensive range of plugins, themes, and support documentation.
Scalable: Easily scalable to the independent website, ensuring you can grow your website into a business.
Freedom: Freedom to customize and change the design as needed. This allows you to create content on a niche or topic of any choice.
| | |
| --- | --- |
| Pros: | Cons: |
| Easy scalability | Building an audience can be challenging initially |
| Freedom to do e-commerce, mailing lists, ads, and more | |
| The most comprehensive range of plugins, themes, and support allows efficient implementation of any possible use case. | |
Link: https://wordpress.com
8) Your Quote
YourQuote is the best writing website for writing quotes online
Your Quote is a startup that allows publishing quotes or short stories. Your Quote provides features for earning money with quotes. This is one of the best writing websites to offer paid content subscriptions.
It allows you to create content and make it available to the public or exclusive to your subscribers. The subscription rates can range from Rs. 20 to Rs. 100 monthly ($0.25 to $1.25). You can easily publish and share your quotes on social platforms with Your Quote.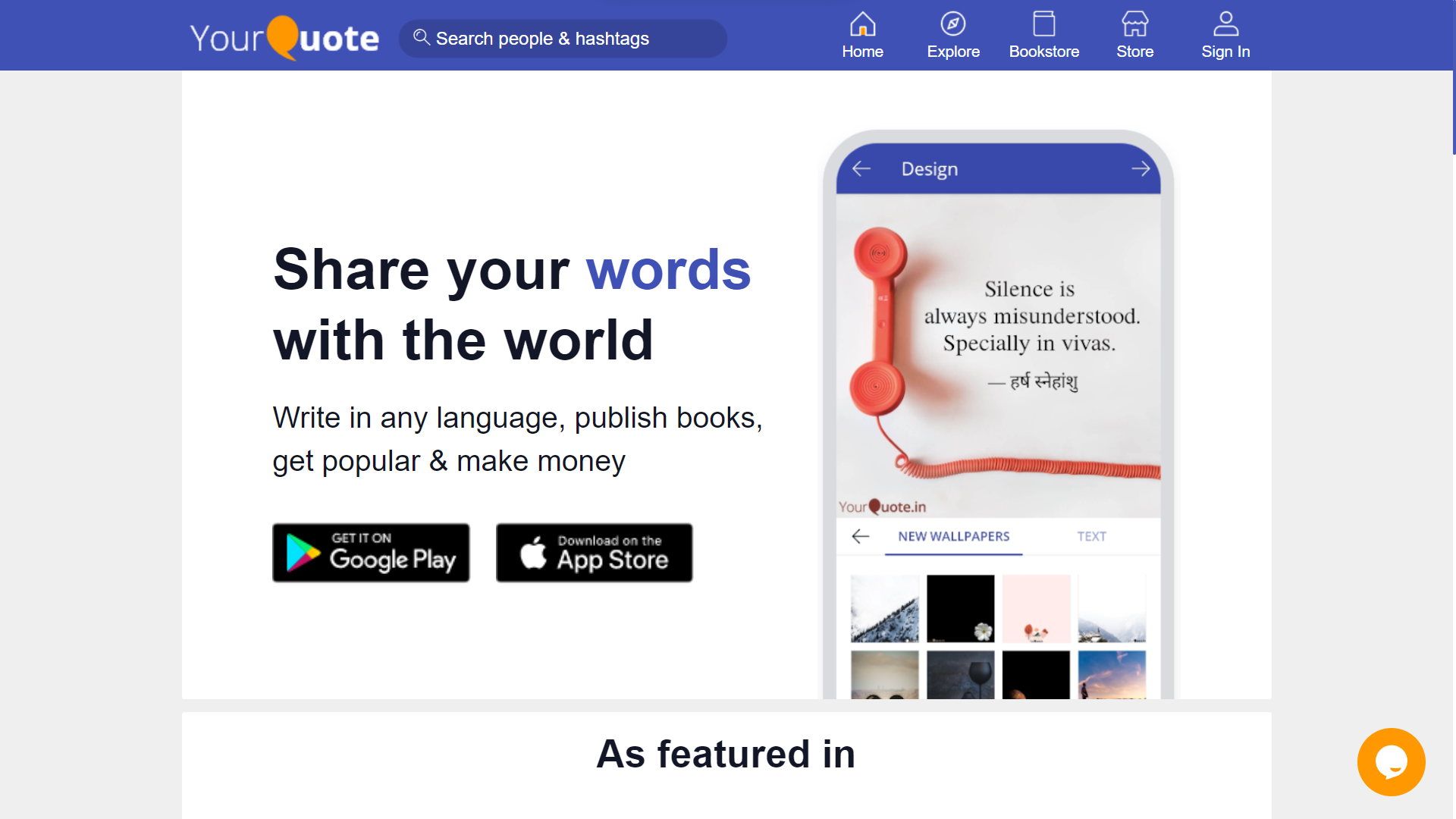 Features:
Ownership: You maintain the complete right of your content, ensuring no one can misuse or reuse your content without your permission.
Social Presence: It helps build social presence and improves your following quickly. This allows you to grow as a social media influencer quickly.
Graphics: It provides various tools to create beautiful pictures from your content, allowing you to create visually pleasing content.
| | |
| --- | --- |
| Pros: | Cons: |
| Supports writing content in multiple languages like English, Hindi, Bengali, Gujarati, Malayalam, Kannada, etc. | Payments can be withdrawn only after reaching Rs. 1000 (12.5 USD approx) |
| It helps create beautiful watermarked graphics from your quotes and stories. | |
| Complete freedom and ownership over your content. | |
Link: https://yourquote.com/https://yourquote.com/
9) RedBubble
RedBubble is best writing website for selling merchandise with your writings.
If you can create unique original quotes/poems/thoughts and more, then RedBubbe is an excellent and distinctive way to write online and earn money. With RedBubble, you can use your Quotes, Poems, and Thoughts and make them available as printed text on Clothes, Furniture, and more.
If you have an eye for creating quality quotes and write-ups that look good on clothes and furniture, this is the best writing website for you. People could buy T-shirts, Jackets, mugs, and mats. It covers more with your quotes, poems, and more printed. When people buy the product, RedBubble will publish it and deliver it to the buyer. You have to create content. They will handle the rest.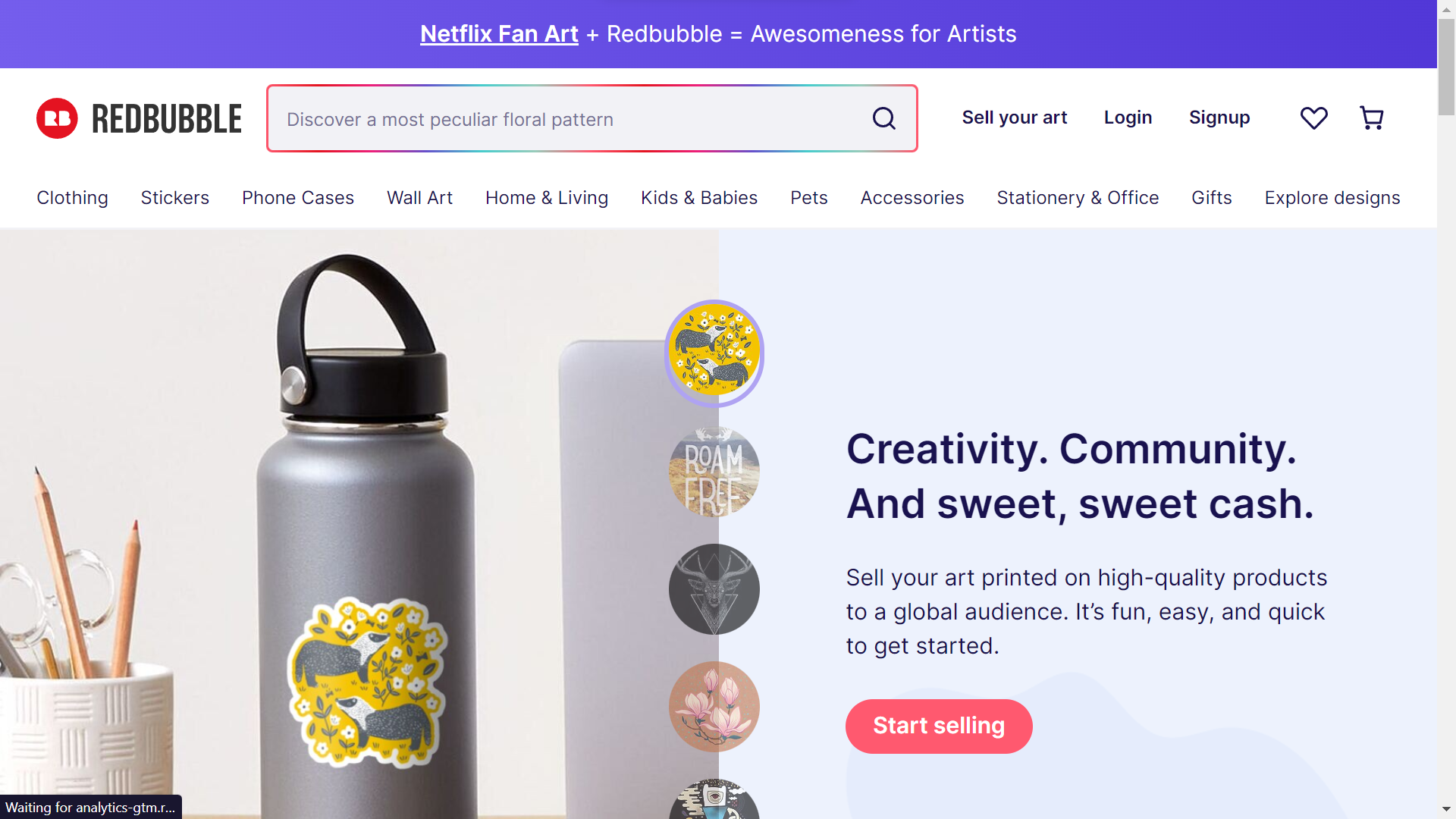 Features:
Art: RedBubble is the best writing website to create quotes and creative writing in a visually pleasing artistic form.
Earning: Allows you to earn money by selling your writeups printed on furniture and apparel of various forms.
Unique: Due to its special implementation and use case, it has little competition and lets everyone proliferate.
| | |
| --- | --- |
| Pros: | Cons: |
| Easily stylize your quotes with fonts, colors, and more | The first sale generally takes a couple of days |
| Consistent income after the initial sale | |
| RedBubble manages all the sales and logistics, allowing you to focus on writing. | |
Link: https://redbubble.com/
Final Verdict: Best Writing Websites
The best websites for writers, bloggers, authors, and copywriters are as follows:
| | |
| --- | --- |
| Feature | Platform |
| Best writing website for Earning Potential | Milyin |
| Best writing website for Audience Development Potential | Medium.com |
| Best writing website for Learning | Blogger |
| Best writing website for Poetry | Submittable |
| Best writing website for quotes | Your Quote |
| Best writing website for blogging | Milyin |
Last Seen: Dec 2, 2023 @ 4:54pm 16DecUTC
Akarshit Mahajan
@AkarshitMahajan6300
Published: | Last Updated: | Views: 52