Home » Creations »
Writing quotes is a challenging yet underrated job. You can quickly earn money by writing quotes using the right platforms. There are many great places to make money from your writing skills.
We will be showing you the best ways to earn money through quotes. As a writer, you could write various inspirational, sarcastic, romantic quotes and anything you want. There are many unique ways to help you earn money as a writer; we will uncover all the methods. Most of these methods to make money by writing quotes are noteworthy and highly effective in revenue. So, let's get started.
As an experienced writer, I can say that choosing the right platform goes a long way in helping you become a successful writer. When I started writing, finding a platform that could provide a proper return for my hard work was never really possible. However, today, many great platforms help your bread. I will be sharing these platforms with you. Keep reading until the end to read our final verdict that will help you make the right decision per your needs.
Earn Money By Writing Quotes
| | | | | | |
| --- | --- | --- | --- | --- | --- |
| Platform | Cost to Join | Earning Potential | Ease of Writing | Freedom | Link |
| 👍 Milyin | Free | Very High | Very Good | Very Good | Learn More |
| Wallpapers | Free | High | Moderate | Very Good | N.A. |
| RedBubble | Free | High | Good | Very Good | Learn More |
| Your Quote | Free | High | Very Good | Very Good | Learn More |
| Quotes Donut | Free | High | Good | Very Good | Learn More |
1) Milyin
Milyin is the best writing platform to create all types of Content
Milyin is a great free-to-join platform to create content in the way you like. As a new writer, you can start earning from Day 1 itself. With Milyin, you can create content of any form, including short stories, poetry, and quotes. All your written content will have ads. You would earn from these same ads. You could make a lot of revenue. It is a great tool to get paid to write about anything.
Unlike other platforms, Milyin provides plenty of tools to select the type of ads for your content. You could also increase or decrease the number of ads to meet your earning goals. Besides, in my experience, they provide very decent insights, statistics, and other data to help you improve. You could also restrict content for reuse, limiting copying or stealing your content online. You could create content pieces like "Top 10 Romantic Quotes in 2022".
Features:
Monetization: All your content is monetized from Day 1, and you start earning quickly. All your Creations have advertisements in them. Whenever your audience clicks on these ads, you make some money.
Configuration: You can configure your advertisements to appear in frequency and places of your choosing. This helps you better optimize promotions according to your taste.
Statistics: It provides data-driven insights and analytics about your Creation's performance. You can use this to optimize your content and improve user engagement.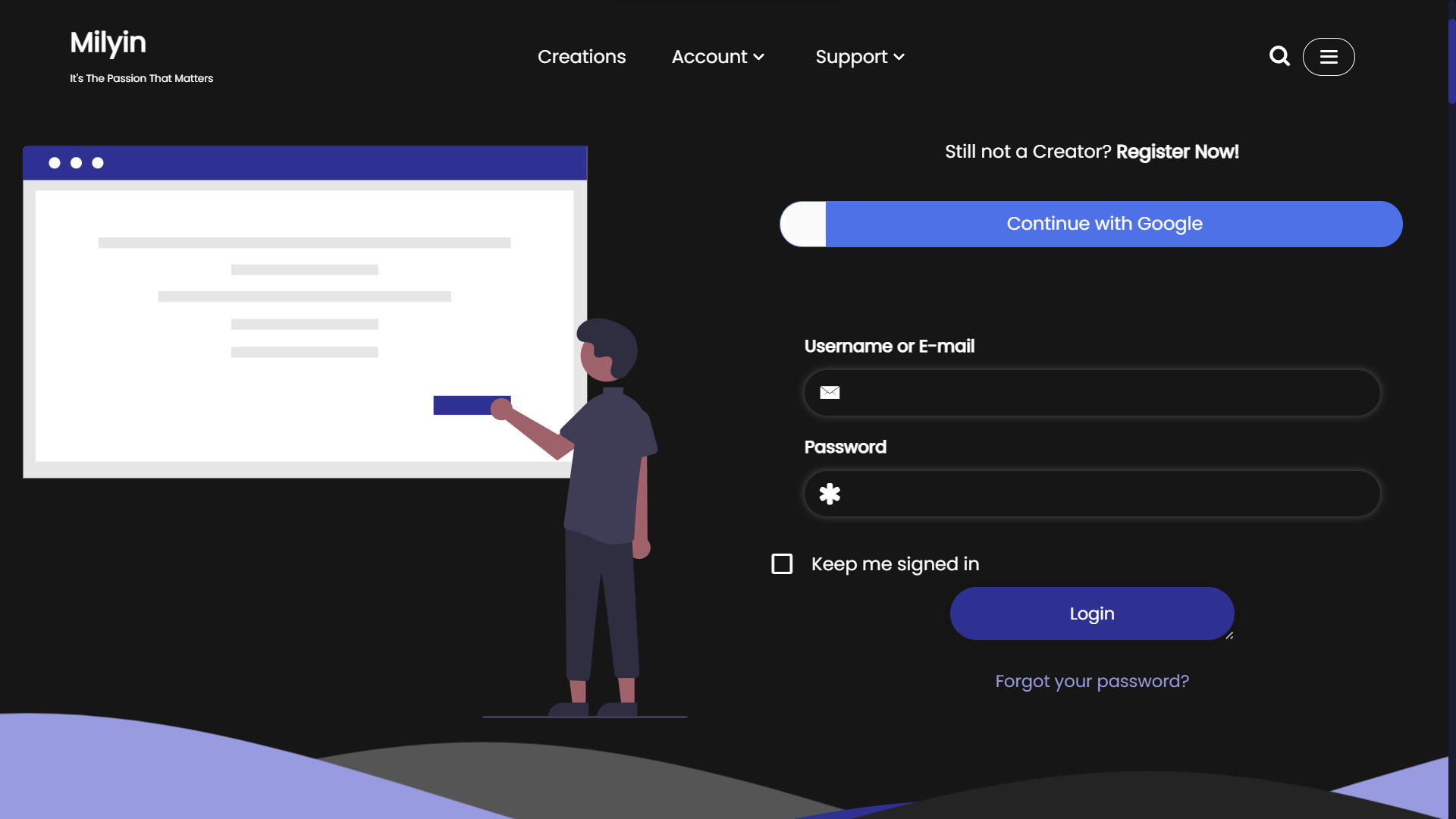 | | |
| --- | --- |
| Pros | Cons |
| Suitable for new as well as experienced writers | No apps are available for Android or iOS |
| Helps generate income right from Day 1 | |
| Unmatched tools for creating content and optimizing revenue. | |
Link: https://milyin.com/
2) Wallpapers
Wallpapers are best for creating attractive images of your quotes for high income.
Wallpapers are a great way to express emotions. It's not tough to find people who search for high-quality wallpapers. As a writer, you can earn money by writing quotes on images and then selling them as Wallpaper. To this day, I believe that Wallpapers are the most high-risk, high-reward approach to earning money by writing quotes. If you get success, you will be making a lot.
This approach is efficient. Many online places allow selling wallpapers. To make Wallpaper, you would need a little photo editing skills. Experience in photo editing is always helpful. But you could use many free tools on your phone or laptop to do the trick. Motivational quotes or genre-specific quotes can easily fetch you a handsome income. You could use places like Shutterstock to earn money by writing quotes and making wallpaper images.
Features:
Ease: You can create content with complete comfort with minimum pressure and deadlines. It allows you to build a habit of writing quotes consistently.
Sales: As a selling business, once you publish a few quotes that start trending, you'll start getting a lot of consistent sales and regular income without additional efforts
Skill: It helps build skills in graphic design, basic image editing, marketing, social media handling, and more.
| | |
| --- | --- |
| Pros | Cons |
| Helps become famous as a quote writer | Requires moderate photo editing skills |
| Allows targeting particular niches to the full extent | |
| Excellent payout rates per quote published. | |
3) RedBubble
RedBubble is the best for selling quotes online in the form of apparels and furniture
RedBubble is a form of POD or Print-on-demand dropshipping that allows you to use your unique and original quotes on clothes, furniture, and more. It requires no upfront investment. With POD, you can easily use your selections to sell goods—platforms like RedBubble to upload your quotes and let people buy products with your quotes printed on them.
The products include t-shirts, hoodies, bed sheets, mats, mugs, and phone covers. Unlike other platforms, you can set your pricing, which is a significant advantage in my experience. RedBubble would take a cut from your price for the manufacturing and delivery costs. After that, people buy your designs printed on various products, and you earn money.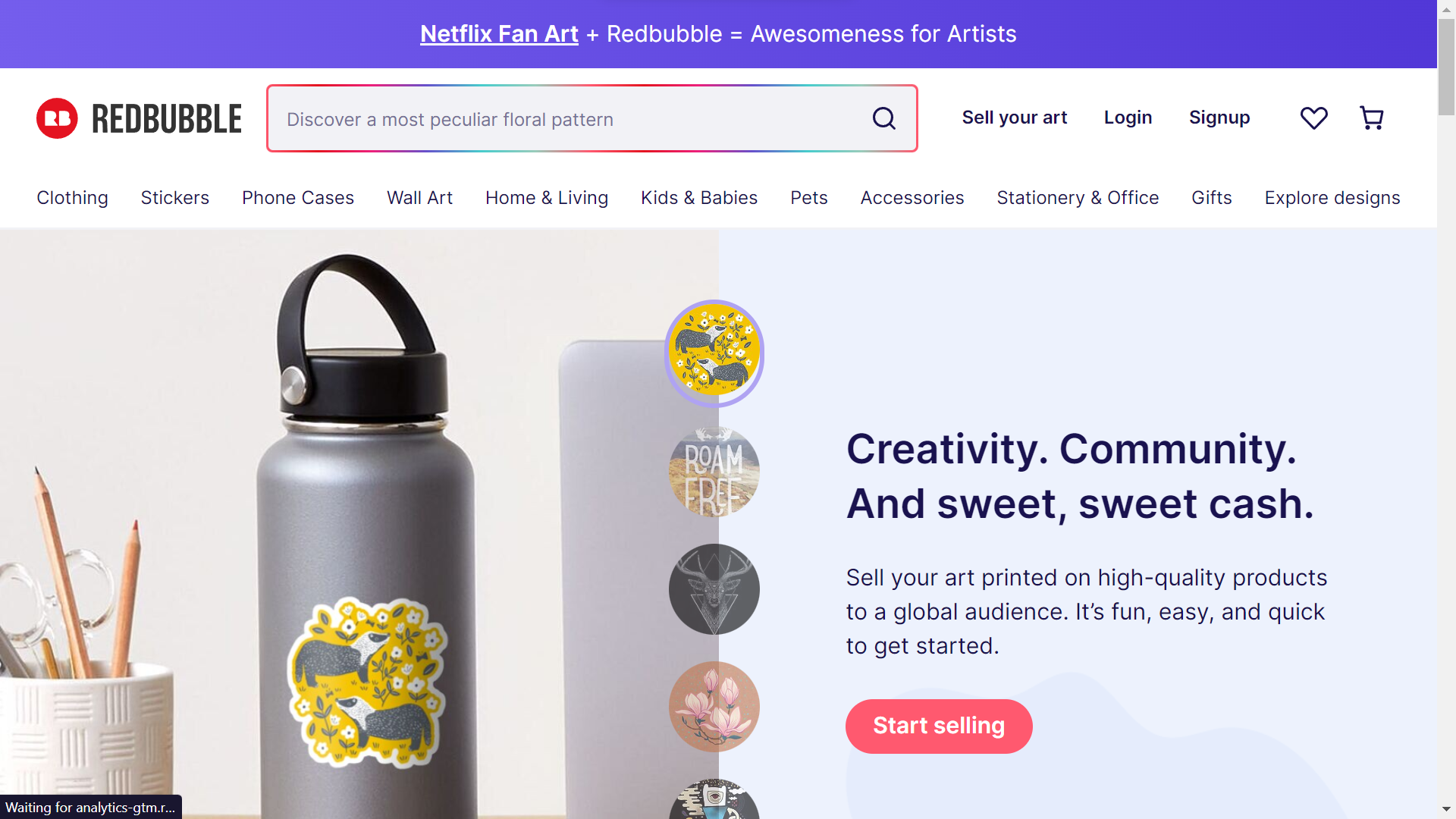 Features:
Setup: POD is very easy to set up, and you don't need to make upfront investments; no need to do coordination or management; you write quotes and post them on RedBubble using their tools for styling.
Management: POD services like RedBubble manage printing, selling, shipping, and processing. You can focus on earning money by writing and designing the quotes.
Content: Print on Demand generally runs on the latest trends. So, writing quotes on the latest trends allows you to make sales without much competition from others.
| | |
| --- | --- |
| Pros | Cons |
| Easy-to-use tools allow you to type and stylize them and change fonts, colors, and more. | The first sale generally takes a couple of days |
| Once you start getting deals, you get a consistent monthly income | |
| It lets you focus on writing rather than selling. | |
Link: https://redbubble.com/
4) YourQuote
YourQuote is best for earning money by providng your audience paid subscriptions for your quotes.
YourQuote is an Indian startup with huge potential and the ability to earn money by writing quotes. It can be used to write short stories or post quotes per your choice. You could even get your best quotes printed as a book as a successful writer.
It works on a subscription-based financial system. You can provide readers with a cheap subscription that will give them access to all your quotes. YourQuote allows you to choose your subscription price, ranging from Rs. 20 to Rs. 100. You could also offer some of your best works as a paid story.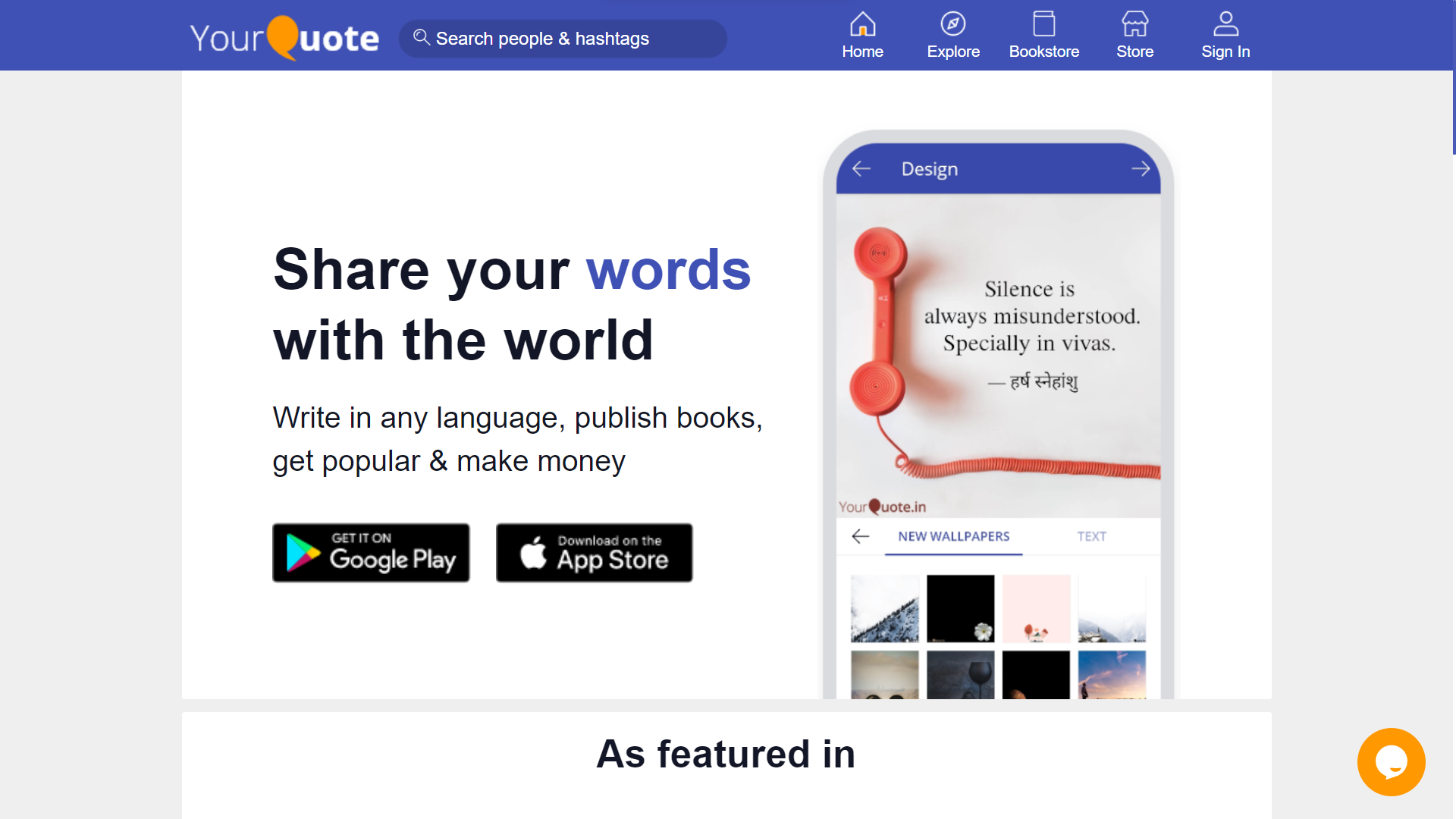 Features:
Niche: Unlike other ways to earn money by writing quotes, YourQuote is wholly dedicated to this niche, with all writers and readers exclusively producing selections.
Language: YourQuote has a user base and audience that supports content in various international and regional languages. This is ideal for non-English quote writers.
Ease: A simple and straightforward user interface that is ideal for you to easily create content as a beginner without much effort.
| | |
| --- | --- |
| Pros | Cons |
| Allows complete freedom to control and publish your content | Payments can be withdrawn only after reaching Rs. 1000 |
| Supports writing content in multiple languages like Hindi, Bengali, Gujarati, Malayalam, Kannada, etc. | |
| Easy-to-use tools allow you to convert your written content into beautiful artwork. | |
Link: https://www.yourquote.in/
5) Quotes Donut
Quotes Donut is the best website to write quotes and take part in wiritng contests online
Quotes Donut is the ideal app for writing many significant sections covering various genres while earning money. At Quotes Donut, you can easily make money by writing quotes through their excellent tools. Moreover, you can enjoy reading, saving, and enjoying quotes from other writers.
It's a great place for viewers to find quotes, get captions for Instagram, and more. The Quotes from Quotes Donut can also be used for books, painting, walls, mobile apps, websites, etc. You can create content in various categories in text and image format. It takes proper steps to minimize spam and moderate all sorts of plagiarism.
Features:
Trending: The best quotes on the site are highlighted in the trending section for excellent visibility, impressions, and earnings.
Audience: You can cater to a highly engaged audience that is genuinely excited and appreciative of your work.
Quote Maker: The advanced quote maker lets you stylize your quote into attractive graphics with easy-to-use tools. These graphics work well on social media and help attract casual readers.
| | |
| --- | --- |
| Pros | Cons |
| It provides complete control over your content and allows republishing anywhere you want | Very unstable app |
| Allows hiding your original name and showing your pen name | |
| Earn money by writing quotes through frequent contests. | |
Link: https://quotesdonut.com/
6) Self Publishing
Self Publishing using WordPress is best for earning money by writing quotes online.
If you are serious about earning money by writing quotes, then you must try to look into self-publishing. Self-publishing involves setting up your website to register your selections and make money. This gives you complete freedom for your content, with no restrictions. To implement self-publishing for writing quotes, you must buy a domain, host, and configure WordPress. This is also a great choice to earn money through article writing.
WordPress CMS would allow you to build your site without any problems. The benefits of self-publishing include the ability to write about anything and everything, using far more monetization methods than any other platform, and excellent control over how you want your content to look. Also, look out at the WordPress statistics.
Features:
Freedom: WordPress makes you completely independent and lets you easily stylize, design, and maintain your website without restrictions.
Brand Value: As an independent quote writer, you will build a reputation for writing and fan-following your favorite quotes.
Earning: Using WordPress, you can set up affiliate sales, advertisements, memberships, and various other methods to increase your earnings.
| | |
| --- | --- |
| Pros | Cons |
| Highest Earning potential among all platforms | Requires initial financial investment |
| Unmatched freedom to create content | |
| It helps you grow your audience independently. | |
Link: https://wordpress.com/
7) Social Media
Social Media is best for gaining popularity and socialism
The power of social media and organic traffic cannot be understated. You can use social media to earn money by writing quotes. Social media platforms like Quora and Pinterest can be a great choice to make money by writing quotes, as you earn when your content gets traffic.
Moreover, platforms like Instagram and Facebook may not have direct monetization tools. Still, if you gain a bit of popularity, you can use Amazon Affiliates or Sponsored ads to generate a lot of revenue. Social media can also help you become famous, which will help you build your brand value and be critical for attending significant writing events.
Features:
Target Audience: Due to the widespread popularity of social media platforms, you can quickly target a user base of over 1 billion people.
Paid Posts: If you succeed in attracting an audience that loves quotes. Many brands would buy paid posts from you to help you earn a lot.
Fame: You will become famous if your quotes succeed on social media. The popularity will invite brand deals, sponsorships, and invitations to events and seminars.
| | |
| --- | --- |
| Pros | Cons |
| An enormous audience size among all platforms mentioned here | It takes time to build a consistent income |
| It lets you utilize your friends and family to build an audience initially | |
| The most easy-to-use method | |
The Verdict
That's all from our side in terms of the best places to write quotes and earn money. All of them sound like reasonably good choices for your needs. But, as promised, our final verdict will help you make the right choice.
| | |
| --- | --- |
| Best for | Method to write quotes and earn money |
| Highest earning potential | Milyin |
| Dedicated Site for Quote Writing | YourQuote |
| Complete Independence for Writing | WordPress |
Last Seen: Sep 27, 2023 @ 4:37am 4SepUTC
Aditya Agarwal
@AkarshitMahajan6300
Published:
Last Updated:
Views: 12119