Home » Creations »
Writing poems and Shayari in India can let you earn money online. The best writing platforms allow you to write poems and make money with minimum effort. These methods include Milyin, Ghost, WordPress, and Fiverr.
The power of the internet is immense. You can earn money by writing poems online in India or doing Shayari in some of the best places online. There are many great ways to earn money by Writing Poems Online in India. We will walk you through them to help you start your poetic journey. Continue reading until the end of our Final Verdict, where we recommend the best method for your unique needs.
Earn Money By Writing Poems Online In India
| | | | | | |
| --- | --- | --- | --- | --- | --- |
| Platform | Cost to Join | Earning Potential | Ease of Writing | Freedom | Learn More |
| 👍 Milyin | Free | Very High | Very High | Very High | Milyin |
| Submittable | Free | Very High | Good | Moderate | Submittable |
| Ghost.org | $29 per month | High | Very Good | Very Good | Ghost.org |
| Square Space | $30+ a year | Very High | Moderate | Very Good | Square Space |
| Udemy Courses | Free | High | Very Good | Very Good | Udemy |
1) Milyin
Milyin is best for enjoying complete freedom over your content and placing advertisements to instantly start earning.
Milyin is a great place to get started as a poetry or Shayari writer in India. With Milyin, you get a suite of tools to help yourself grow as a poet. You can run automated ads on your content from Day and earn as much as Rs. 15 per ad click from your audience. Even decent poets can quickly make a respectable income from day 1.
Once you start getting views and build a genuine audience, you will have consistently high income for your content. Milyin is committed to supporting new bloggers, writers, poets, and all forms of creative professionals. With a couple of poems, you can earn regular, consistent income and build your audience and reputation.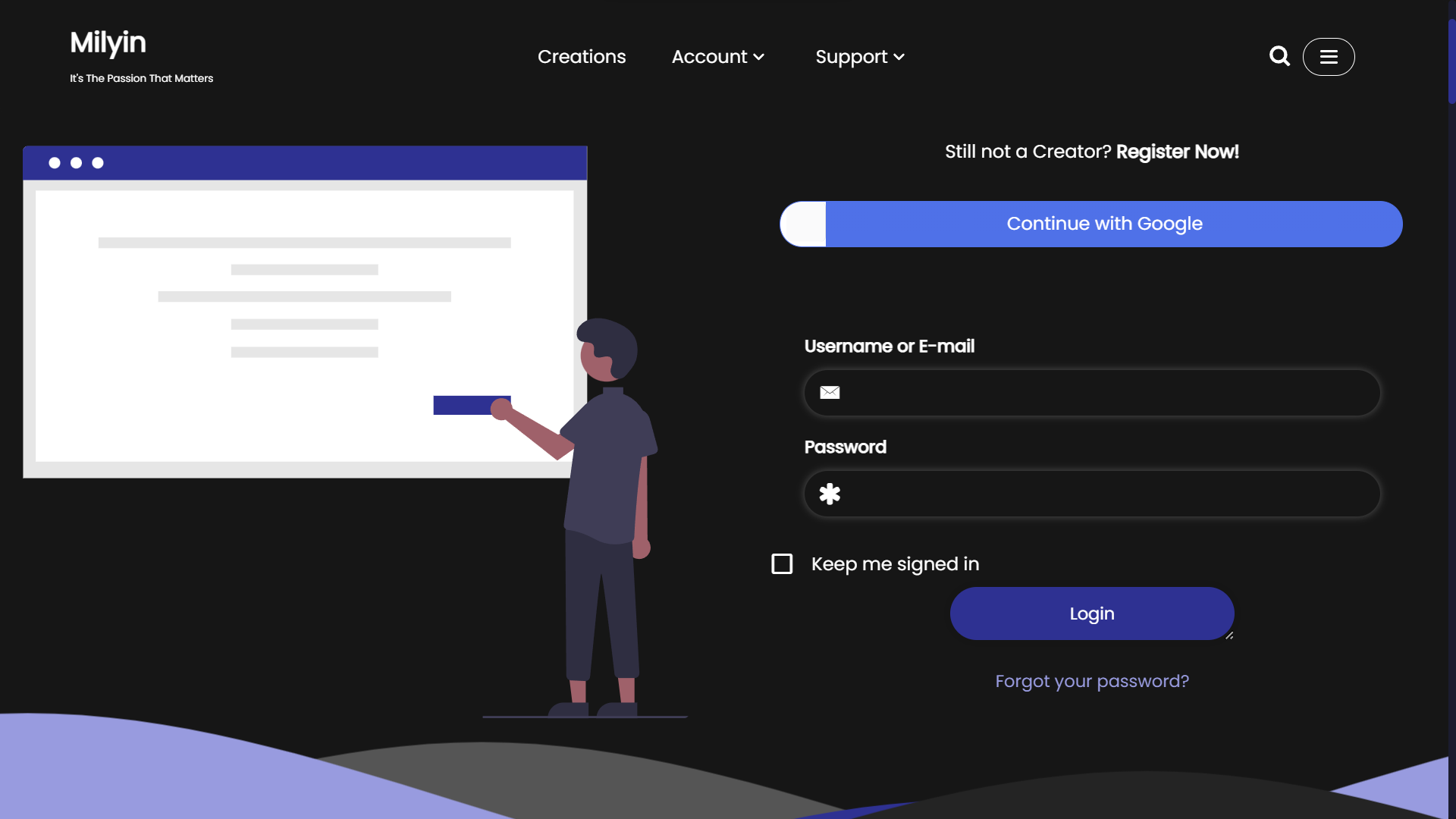 Features:
Improvement: tools to help you become a better writer as well. With Milyin, you can write poems available for people to read. People who read your poems will click your ads, and you will earn revenue.
Content Protection: Features to ensure you can't be reused. You can restrict copy-pasting and screenshots on your content, ensuring your content remains exclusively with you.
Media: It allows you to add media, embed social media, and create containers, tables, lists, and various other forms of content.
| | |
| --- | --- |
| Pros | Cons |
| Helps grow new as well as experienced writers | Only available on the web — lacks Android and iOS apps. |
| Gives you complete control over monetization. You can easily customize the ads to suit your monetary expectations. | |
| Ensures your content can't be easily copied, stolen, or misused | |
Link: https://milyin.com/
2) Submittable – Poetry Magazine
Submittable poetry magazine is best for writing poetry on one of the most reputated digital spaces to earn respect and credibility.
Submittable Poetry magazine is an excellent choice for people focused exclusively on poetry. It supports new as well as established poets with quality poetry. They have lucrative payments and allow for working as a real professional poet.
Submittable Poetry Magazine is a great place for professional poets with vast potential who can produce quality poems. With Submittable, you can submit your lyrics to one of the most reputable places to earn money by writing poems online in India. It supports independent creators and ensures quality poets can become successful. Your content gets reviewed by the magazine before being approved/published.
Features:
High Earnings for Poems: Once approved, you will earn $10 per line, with a minimum pay of $300 per poem, which is pretty impressive for new writers.
Joining: Submittable magazine is free to join, and you can submit your poetry whenever you want with minimum hassles.
Format: You need not worry about formatting and styling your poetry. Create your Shayari or poetry, and they will handle the publishing and formatting issues.
| | |
| --- | --- |
| Pros | Cons |
| Complete freedom to create poems in the format of your choice. | Low approval chances compared to other platforms. |
| Published writers immediately become more credible and respected among poetry enthusiasts. | |
| Highest earnings-per-word. | |
Link: https://poetry.submittable.com/submit
3) Ghost.org
Ghost.org is best for writing poetry with complete freedom and tranparency.
Ghost is an open platform that supports independent creators and writers (including poets) by allowing them to publish their content on Ghost.org. They provide excellent monetization tools and help creators grow a lot.
Ghost provides an excellent user interface and an easy-to-use content editor that lets all types of writers write content with complete ease and freedom. It allows the publishing all forms of creative content, including stories and poetry. With Ghost, you can quickly publish your content and become a famous and credible poet. You don't need any coding knowledge to use Ghost.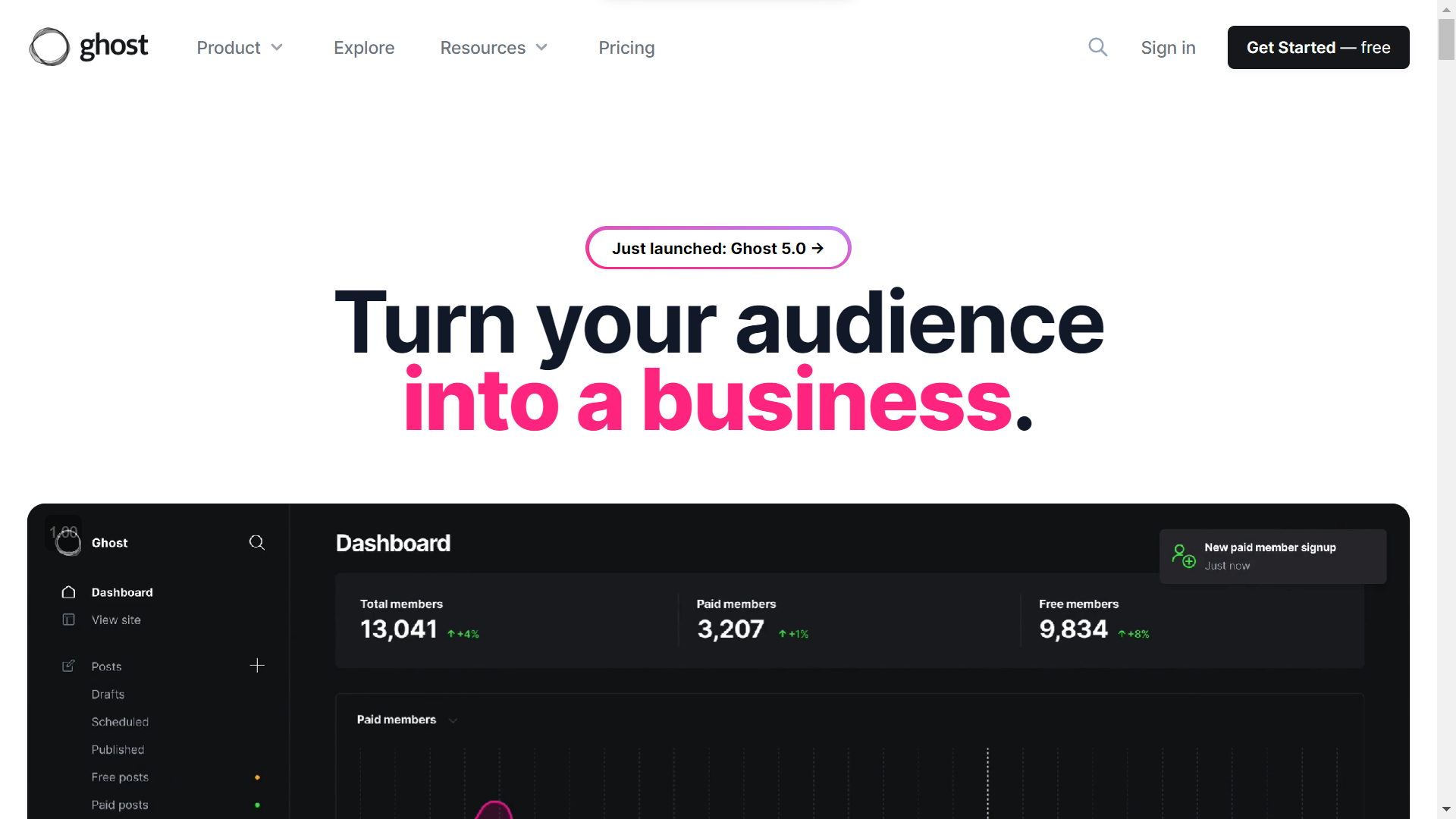 Features:
Customization: Ghost gives you customization options unlike any other platform. You can change the header and content styles, remove Ghost branding, or add some of your brandings to your content.
Integrations: It also provides users with plenty of integrations for automation and building specific use cases. You can integrate it with various popular services like Discourse and Zapier.
Independence: You may purchase and set up an exclusive domain to write your content with greater autonomy.
| | |
| --- | --- |
| Pros | Cons |
| Unmatched tools and features to help create poetry precisely the way you want | No Free Plan |
| Supports new as well as experienced creators in assisting them in earning money | |
| Integrates easily with services like Zapier, Slack, Google Analytics, and Typeform | |
Link: https://ghost.org/
4) SquareSpace
SquareSpace is best for designing advanced webpages without coding, retaining complete control of your content.
Self-publishing on SquareSpace allows you to enjoy complete freedom and flexibility to create and publish your poetry without being bound by the rules of any platform or organization. It gives you complete control and customizability without much effort.
Self-publishing involves starting your website to support all your content and ensure complete freedom. With the help of modern content management systems like WordPress, you can easily create and manage a website with little effort.
Self-publishing is becoming increasingly popular these days. Getting started on your poetic journey and earning a reputation and credibility will be a great choice as a poet. You can use Google AdSense and Amazon Affiliate to monetize your content. Besides, once your content starts getting views, you can even retarget it to allow for selling merchandise and use it to sell ebooks and various other products to earn money.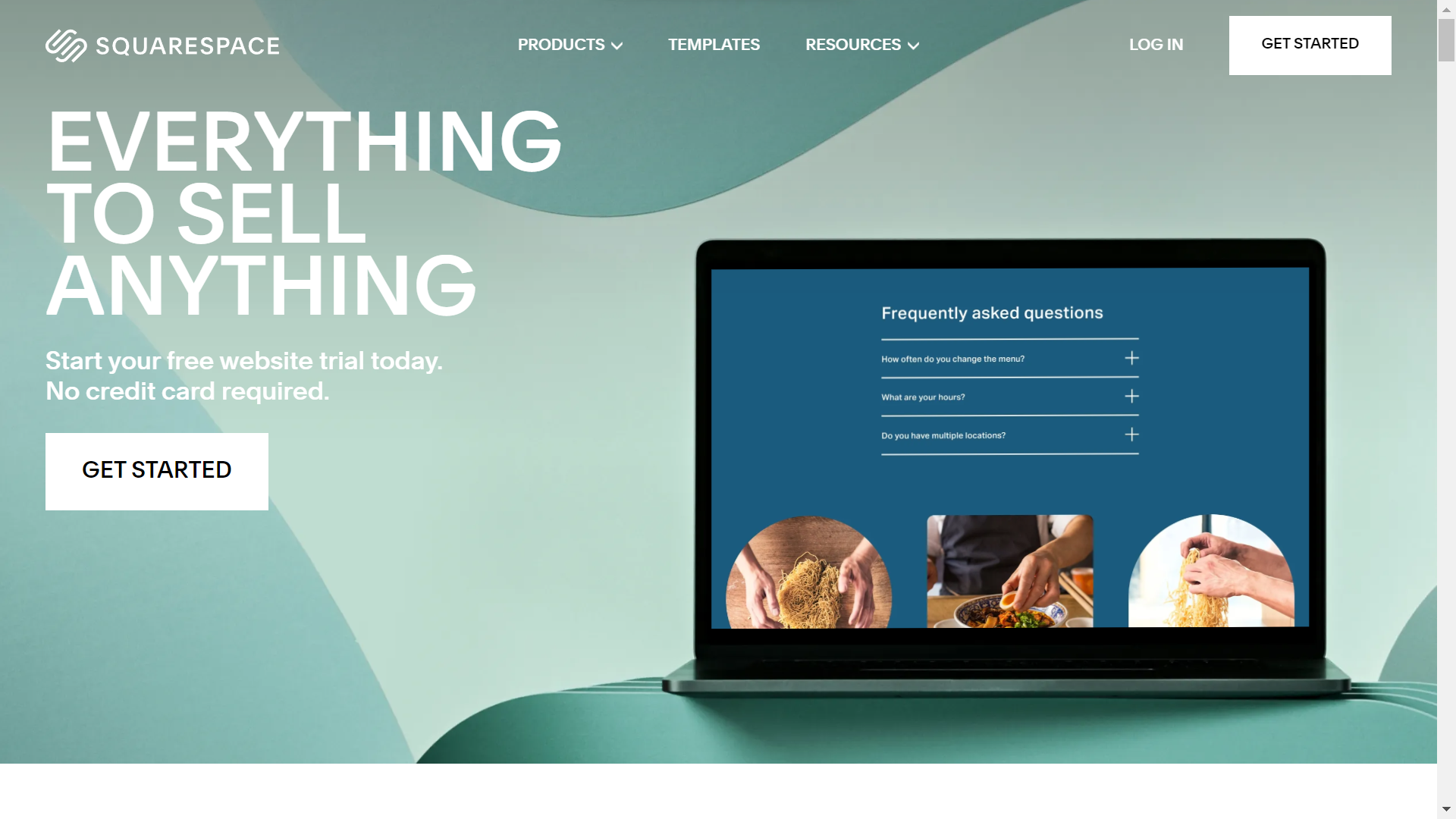 Features:
Transparency: In self-publishing, complete transparency is maintained to ensure you can understand how the platform works and better optimize it to suit your needs.
Monetization: Multiple monetization tools allow for having a great income potential for all writers. You can use advertisements, affiliate marketing, sponsorships, guest posts, and other methods to earn money.
Ownership: Your content would also be entirely yours and free from any restrictions of platforms. This would be especially useful for those who want to earn money by writing Hindi poems online.
| | |
| --- | --- |
| Pros | Cons |
| Complete freedom for creating content in all forms, including poetry | Requires small financial investment initially |
| Supports the broadest range of monetization options | It needs a lot of effort in the initial days to build an audience |
| Allows for gaining reputation and popularity | |
Link: https://squarespace.com/
5) Courses – Udemy
Courses on Udemy are the Best way to start earning money as an experienced poet.
There's a lot of demand for learning poetry in India today. If you have knowledge and experience doing poetry in India, you can start your own YouTube channel, a Udemy course, or physical lectures. You can provide expert tips on writing fiction like poems, stories, quotes, and many more.
There are a lot of people who want to be a poet but lack guidance. If you know the art of poetry well enough, instead of trying to earn money by writing poems online in India, you could earn money by teaching poetry in India. It has a vast potential and almost no competition, making it a great choice to earn money.
Features:
Hassle-Free: All the purchases, payments, delivery, and maintenance are handled by the course provider. You teach and enjoy long-term benefits.
Flexibility: It gives you flexibility and the ability to earn money with poetry. You may even sell recorded lectures, allowing you to earn consistent income for the long term.
Guidance: As a writer, you can provide online advice and tutorials. Furthermore, online seminars to spread awareness about poetry can attract a vast audience and revenue.
Expertise: Once you start teaching poetry, you will be perceived as an expert. As a result, you will receive more tremendous respect, and your poetry will likely be valued more.
| | |
| --- | --- |
| Pros | Cons |
| Allows you to pursue other jobs while still making money by teaching poetry | It requires a lot of effort to be a good enough teacher. |
| It helps improve your poetry skills. | |
| A good teacher ensures you can build your reputation as a skilled poet. | |
Link: https://www.udemy.com/teaching/
6) Comedy
Comedy is best to earn money by writing Hindi poems and shayari online in India
As a poet, you should try making poetry with a hint of comedy and humor to snowball and earn a lot of money. Indians love humor, and if you can fuse a decent sense of humor with your poetic skills, you can easily make money by writing poems online in India.
Comedy isn't easy. Making comedy in a poetic form is even more challenging. But it's a niche where you have the highest income potential. You don't need to go to events to earn money as a comedian poet, and You can make money writing Hindi poems online in India if you use a bit of humor. Pick a new trendy topic, and find the funny element in it. Create poetry surrounding that humorous element. It doesn't need to be extended. A short 4-8 line poetry is more than enough. You can publish it on Instagram or Pinterest or sell it as a printed T-shirt using sites like RedBubble.
Features:
Honor: Once you become famous, you shall be invited to seminars, lectures, and many other events where you will be paid to showcase your poetry.
Social Media: As a comedian/entertainer, your followers will grow massively and provide you with a great social following that can be leveraged using sponsorships and promotions to earn money.
| | |
| --- | --- |
| Pros | Cons |
| Comedy poetry has the highest earning potential among all the ways to make money writing poetry online in India. | Requires a couple of weeks before you start earning revenue. |
| It allows you to gain fame and respect, unlike any other method we discussed | |
| Ensures you can be completely independent of other people and organizations. | |
7) Fiverr Freelancing
Best to earn money by writing poems in India for businesses and organizations.
There are plenty of freelancing opportunities that can leverage the skills of a poet. You can try freelancing and writing content for business to gain credibility. This will allow you to earn money by writing poems online in India. Affiliate Marketing and Freelancing are both great choices for people who are eager to start earning consistently.
There are plenty of freelance opportunities in India. You can leverage these opportunities to earn money and become successful. Freelancing options could include writing poems for magazines and journals, writing poetic marketing campaigns, etc. You can even freelance to create funny, poetic designs for Print on Demand T-shirts, furniture, and more.
While freelancing as a poet may not sound like a promising way to earn money, the earning potential is still very high. It might not be a great choice in the long term, but as a new poet, you must try freelancing to earn money by writing poems online in India.
Features:
Earning Potential: Due to the constant high demand for quality poets, the earning potential of freelancing is exceptionally high.
Portfolio: Working with top clients helps build a portfolio and social reputation critical to getting jobs.
Experience: As a beginner, working with freelancing clients can give you a lot of knowledge that can be critical in helping you learn and become a better poet.
| | |
| --- | --- |
| Pros | Cons |
| It is a great choice to make money by writing Hindi poems online with ease | Requires a lot of initial time investment |
| Allows for doing other forms of poetry in parallel | |
| It can be a very useful side hustle. | |
Link: https://fiverr.com/
Final Verdict – Make Money By Writing Poems (India)
It's not easy to write poems and earn money in India. But with some of the best writing platforms, you can quickly get paid to write poetry or shayari in India. To help you ease your decision-making, we've curated our final verdict.
Last Seen: Sep 22, 2023 @ 5:55am 5SepUTC
Aditya Agarwal
@AkarshitMahajan6300
Published:
Last Updated:
Views: 5061