Home » Creations »
Some of the best platforms to write poetry include Milyin, magazines, Freelancing, PODs, and more. You can earn money by writing poetry online on any of these platforms.
With the power of the internet, you can now easily earn money by writing poems. As a new writer, you gain a lot of popularity if you write poems online. We will show you how to make money with lyrics online. It's hard to get published as a contemporary poet in popular magazines or books.
Your hard work and effort shall not go in vain, as we bring you the ultimate guide to earning money by writing poems. So, without further ado, let's discuss some actionable steps to help you become a popular and successful writer.
Keep reading till the end to read our expert advice on choosing the right platform to write poetry online.
Make Money By Writing Poetry
| | | | | | |
| --- | --- | --- | --- | --- | --- |
| Platform | Charge to Submit | Earning Potential | Ease of Writing | Freedom to Create Poetry | Link |
| 👍 Milyin | Free | Very High | Very Good | Very Good | Milyin |
| Submittable — Poetry Magazine | Free | Very High | Good | Moderate | Submittable |
| Poetry Website Self-Publishing | $30+ | Very High | Good | Very Good | WordPress |
| Freelance Marketing | Free | Very High | Good | Bad | Fiverr |
| POD | Free | High | Good | Very Good | POD |
1) Milyin
Milyin is best for creating poetry with ease and earning money consistently through its monetization tools.
Milyin is a great place to make money by writing poetry. With Milyin, you can use various monetization tools, including Amazon Affiliate Link, Google AdSense, and various other ad networks to use in your content.
If you write excellent and unique content, Milyin may even award you Rs. 1 per word for your particular content. With Milyin, you can easily earn money by writing poems from Day 1 and become successful quickly. Milyin has tools to restrict content reuse, ensuring readers can't copy/misuse your verses. It ensures that your original work remains safe from plagiarism.
Whenever Milyin finds any scope for improving your content, they will give you insightful suggestions to help you improve your content. You can also view your real-time stats and income for your content using a full stats page.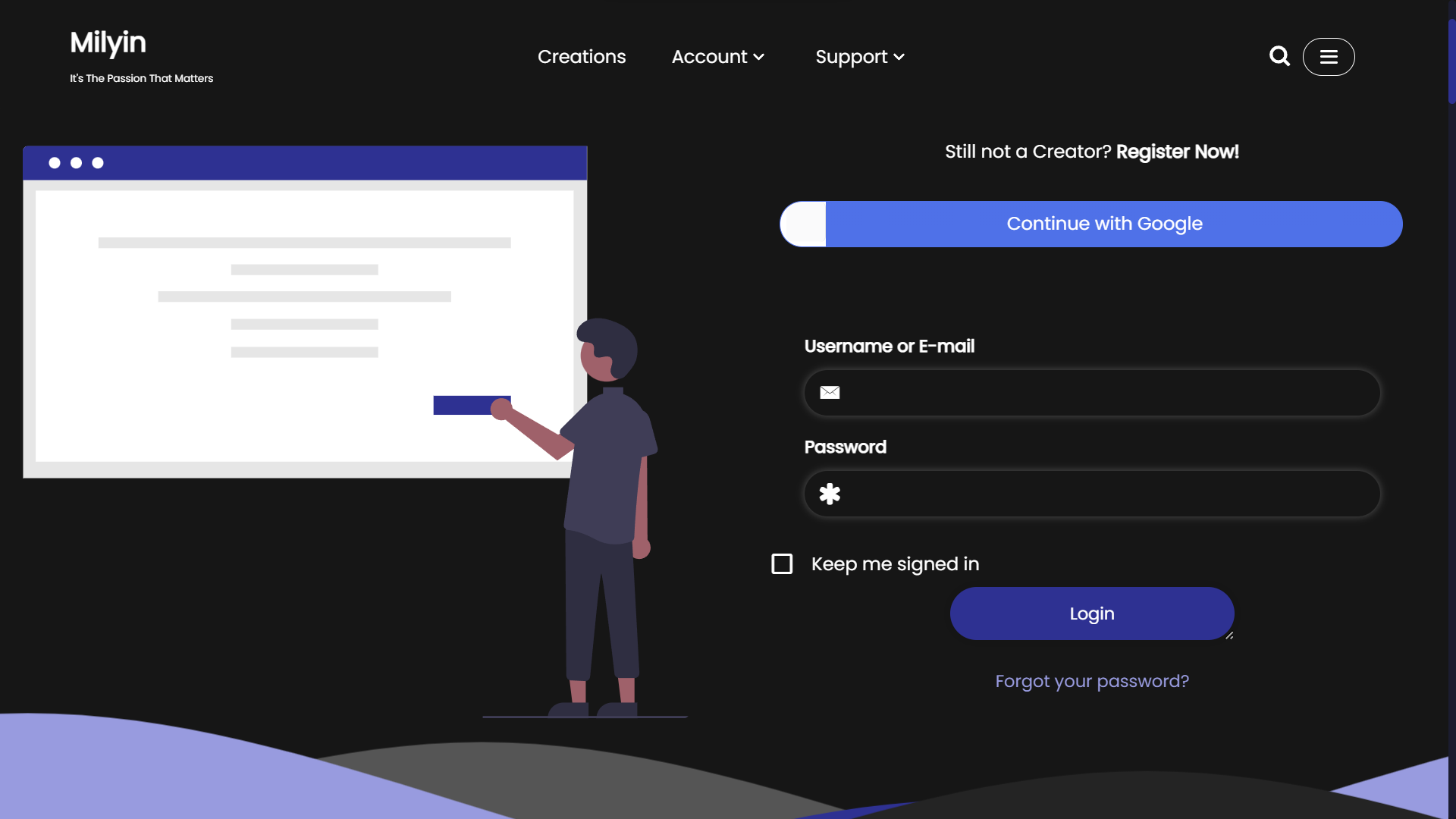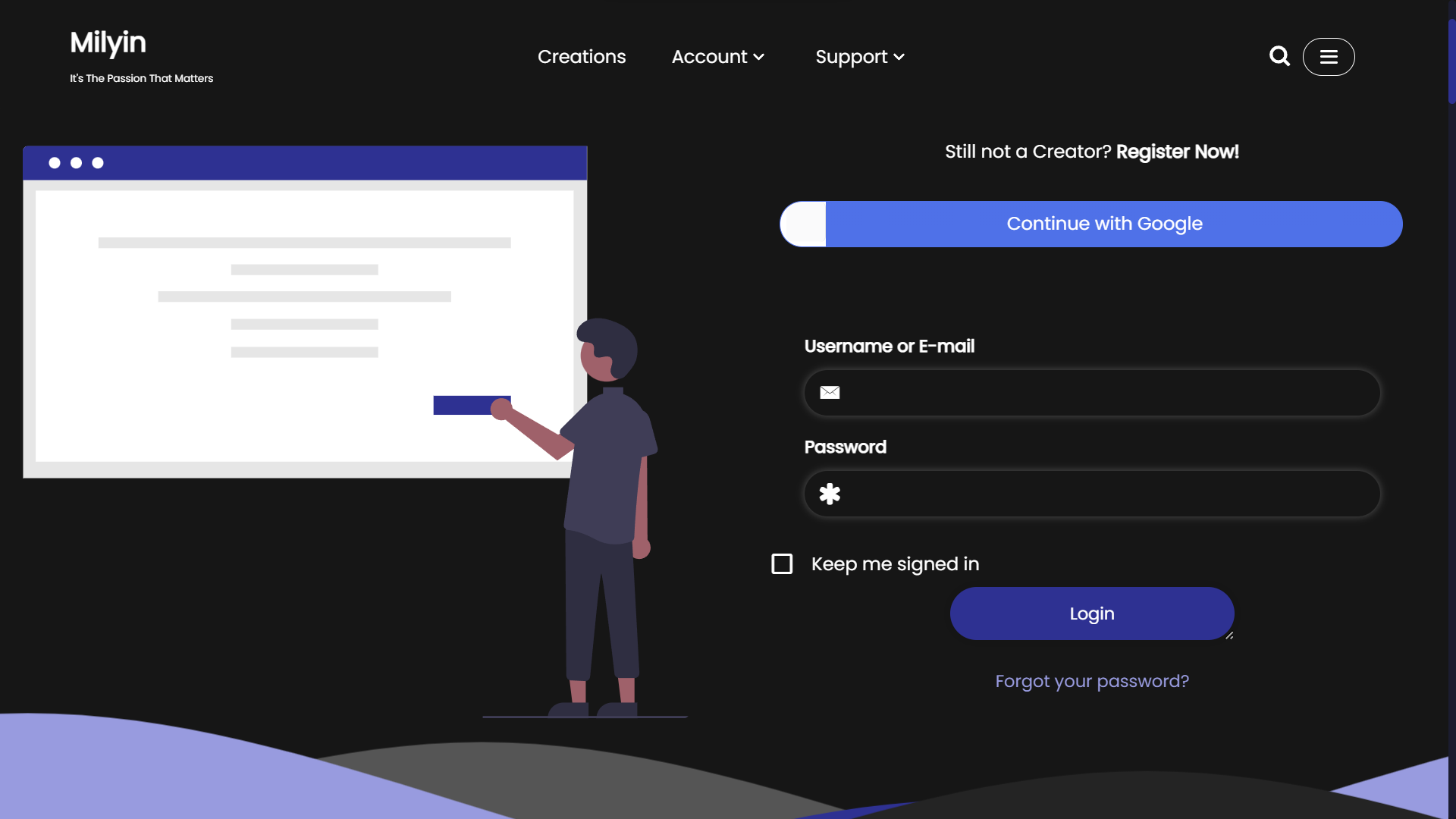 Features:
Freedom: Milyin allows publishing content with complete freedom and no restrictions. It allows you to quickly build an audience and get a view of your content.
Monetization Tools: They provide various monetization tools to generate revenue over your content. With Milyin, you can write short stories, books, poetry, blogs, research, and more.
Socialization: Various tools to socialize and interact with other Creators and audiences on the platform. You can build your audience and fans.
| | |
| --- | --- |
| Pros | Cons |
| An excellent choice for beginners as well as experienced writers | Available only on the Web. No mobile app is available. |
| Monetization tools allow you to customize multiple ad networks to maximize revenue. | |
| Milyin supports and motivates storywriters, poets, and artists. | |
| Proper guidance and knowledge base to help you grow. | |
Link: https://milyin.com/
2) Submittable — Poetry Magazine
Submittable Poetry is the best platform for writing stories for a reputable brand and gaining huge respect/recognition.
Poetry Magazine supports new independent creators as well as popular established creators. If you have quality poetry, you must try this. With this poetry magazine, you can earn much money and build credibility simultaneously.
Your content gets reviewed by the magazine before being approved/published. Once approved, you will earn $10 per line, with a minimum pay of $300 per poem, which is pretty impressive for new writers.
Features:
Professional writers: Poetry Magazine is a great place to present your poetry as well as enjoy the poetry of others. Poetry Magazine has always been a popular destination for poetry enthusiasts.
Payouts: Submittable magazine has one of the highest payout rates for approved poems. On a cost-per-word, it will be the most economically beneficial platform.
| | |
| --- | --- |
| Pros | Cons |
| It is the best place to build credibility and reputation as a poet | Take more than six months to get approval |
| They don't have any joining charges or initial tests. You can make money by writing poetry and submitting it to them. | |
| Requires no tests or upfront interviews to join | |
Link: https://poetry.submittable.com/submit
3) Self Publishing Poetry Website
Self Publishing website is best for enjoying complete independence, improving income, and having better brand value.
Starting a poetry website can be great if you have multiple good poems ready to be published and can quickly produce more than one poem monthly. You can use Google AdSense, Amazon Affiliate, and other ad networks. It gives you the poetic freedom to express yourself in the most unique way possible.
With the help of platforms like WordPress and Blogger, you can set up your site with minimal costs. Basic hosting for WordPress can cost about $15-20 and come with a free domain. They would allow you to create quality content with no restrictions. WordPress plugins and themes will enable you to earn money by writing poems online.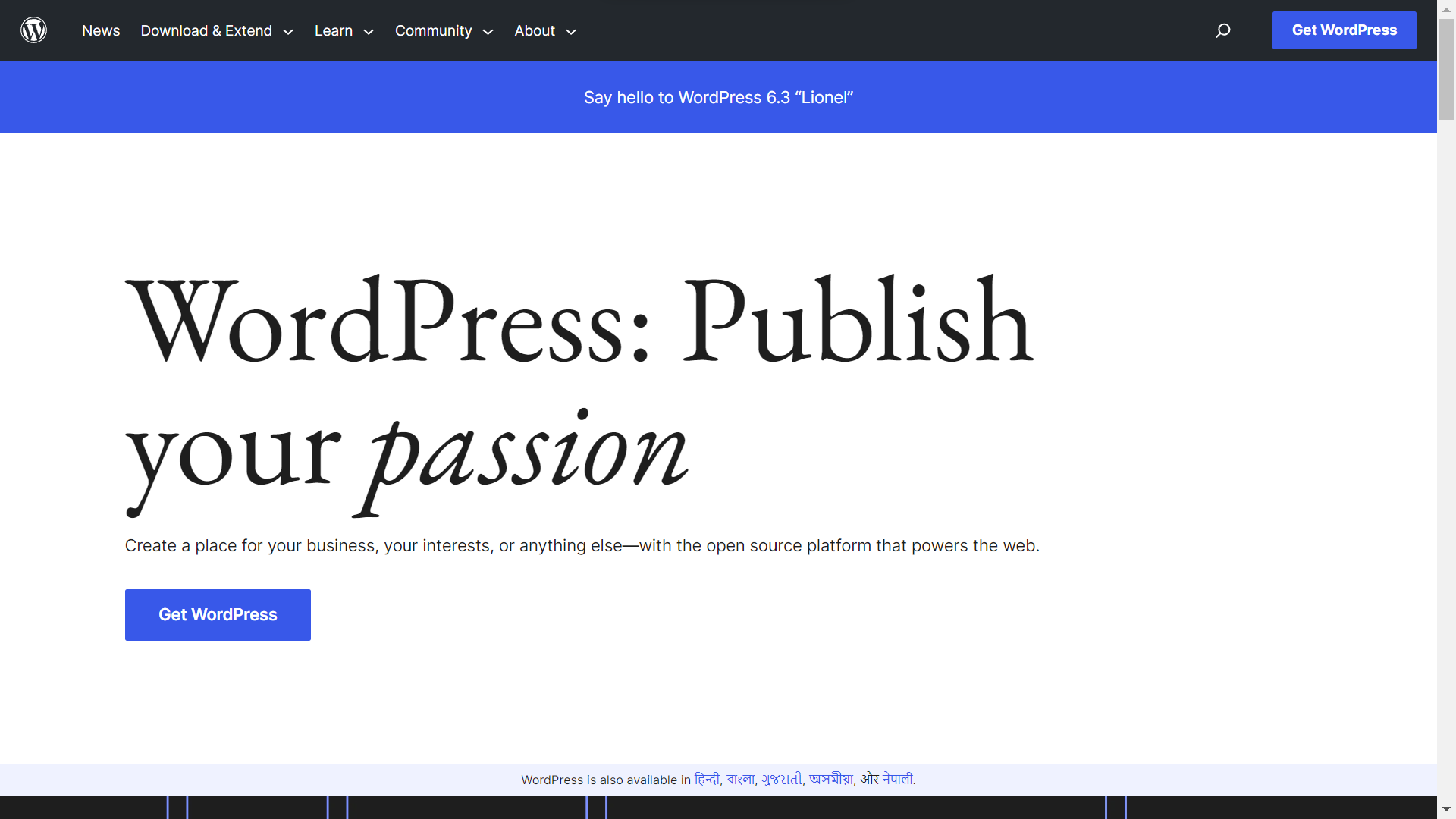 Features:
Approach: Creating a poetry website is a long-term approach that helps you grow your content and earn recognition without being bound by the rules and regulations of a publisher.
SEO: As you create content using WordPress, you will learn various other concepts, including SEO plugins, user retention, and content strategy, that will be helpful in the long run.
| | |
| --- | --- |
| Pros | Cons |
| It gives you complete poetic freedom | It requires a small upfront investment and a lot of effort |
| It helps you grow an audience organically and make money by writing poetry | |
| Allows you to choose from a variety of monetization options and optimize revenue | |
Link: https://wordpress.com/
4) Fiverr Freelance Marketing
Fiverr is best for starting to make money by writing poetry quickly by working with variety of interesting clients.
Freelance marketing on Fiverr is an excellent choice for getting started as a poet and earning revenue. Many small and medium-scale enterprises need to get catchy marketing campaigns. You can create rhymes and cute quotes for marketing. This way, you can become more creative and be better at poetry.
It might not help you gain popularity or fame, but it will be a great start to earning money by writing poems. With some experience doing poetry for freelance marketing, you can start writing your poetry in parallel. Moreover, since you would be a freelancer, you can also continue writing poetry with complete freedom.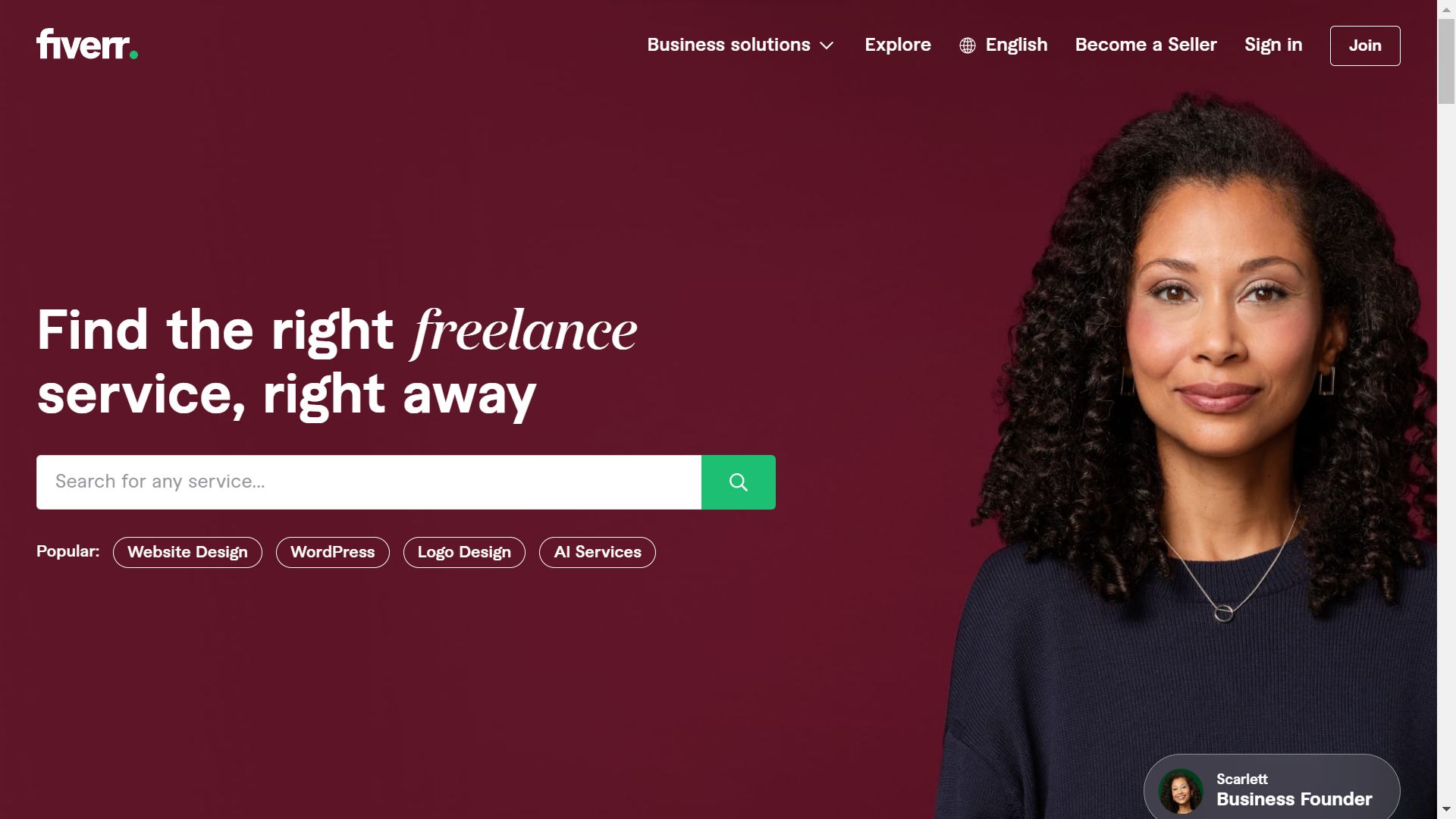 Features:
Portfolio: Freelancing work helps you build a valuable portfolio of your work for getting big clients, seeking jobs, or starting your publications.
Experience: As a freelancer, you will work with many clients and learn a lot. The knowledge gained would be critical for your future.
Marketing Campaigns: Freelance marketing helps you get started on your poetic journey. You can read and write marketing campaigns as poetry for small and large companies.
| | |
| --- | --- |
| Pros | Cons |
| It helps you quickly make money by creating poems with minimum effort. | As a freelance marketer, you won't have much freedom in choosing the topics. Instead, you will depend upon your clients. |
| It allows you to become better at creating rhymes and poetry quickly. | |
| Allows for running a side gig in parallel as well | |
Link: https://fiverr.com/
5) Redbubble
RedBubble is best to make money by writing poetry Independently by publishing content printed on apparels, fashion, and utilities.
POD, or Print On Demand, allows creative artists to create graphics and designs that can be printed on clothes, furniture, and daily-need products and sold quickly. With newer platforms like RedBubble, you can use your poetry or short rhymes and put them over various products RedBubble offers.
You won't have any costs. You can set your prices; whenever a customer buys a product, you will earn the total cost you set for the product minus the fee of manufacturing and shipping the product. I was a programmer who had bought plenty of t-shirts with fun quotes about coding. People often use POD apparel to express themselves better.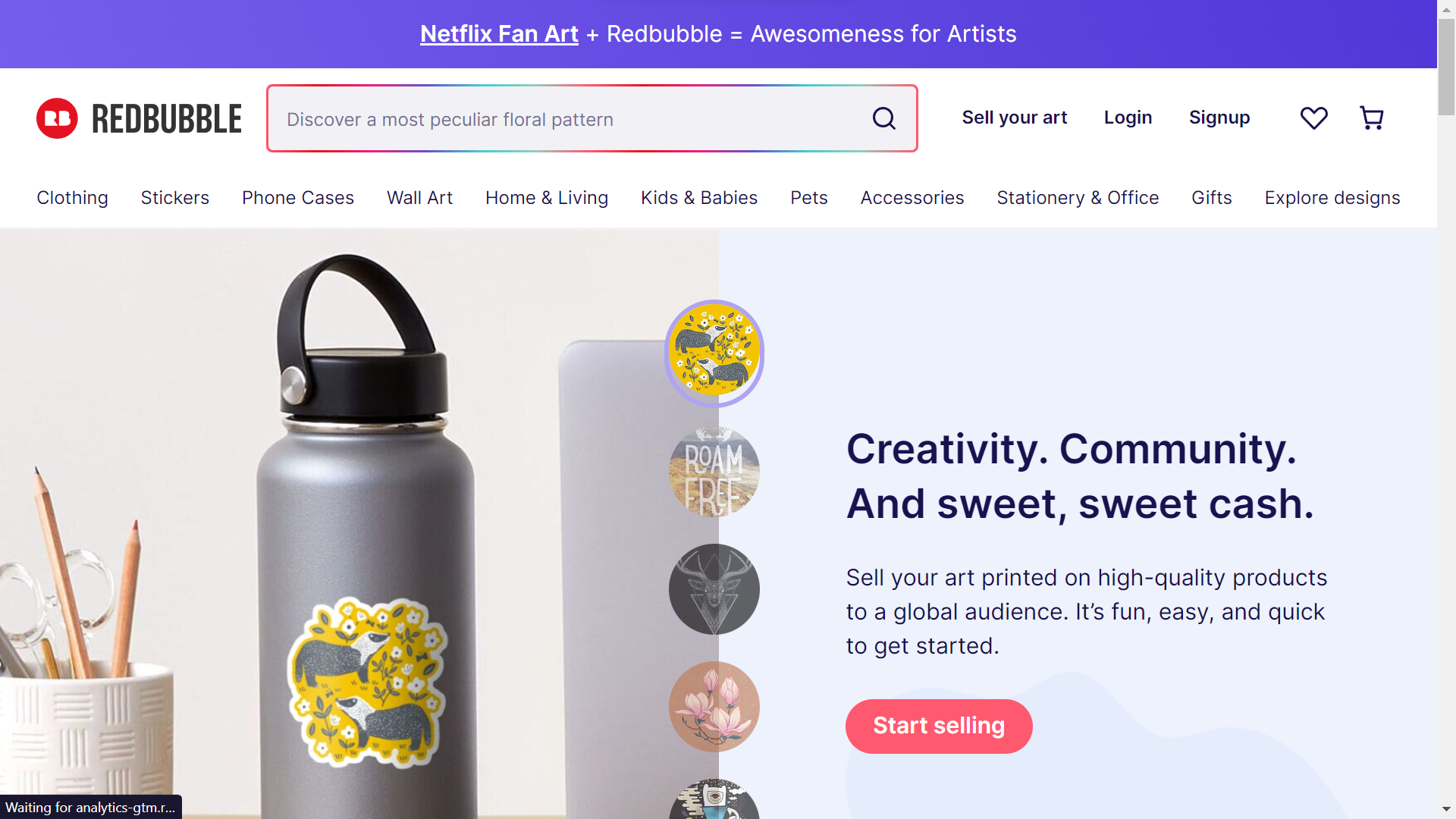 Features:
Approach: It is one of the more long-term approaches that require you to put in a lot of time initially, but once you get the ball rolling, you'll have consistent income without much effort.
Niche: If you have any particular interests, you can create rhymes about the same and sell them out in the market. It's a new yet powerful way to earn money by writing poems.
Skills: If you are a good enough writer and can incorporate your poetry skills into short, catchy rhymes that give a message, create humor, or represent an audience, then you can earn a lot from POD.
| | |
| --- | --- |
| Pros | Cons |
| It gives complete freedom over creating content | Requires basic photo editing and designing skills |
| Allows generating a lot of revenue from day 1 | |
| Easily create multiple short poetries and target various audiences efficiently. | |
6) Amazon KDP EBooks
Amazon KDP is best way to earn money by writing multiple poems targetted at a particular niche.
The potential of Ebooks to help you earn money by writing poems is immense. If you write poetry in a particular niche, you can write a short E-book covering all your poetries and explaining their meanings. This is a great way to earn a lot of revenue. For example, if you write about love, you could be writing many deep-meaning poetries that are tough to understand for a reader without proper explanation.
It would help if you compiled your poetry in an Ebook where you explain the meaning of every line and stanza so that the world can appreciate your poems and their purposes. Today, even 15-20 page Ebooks sell well globally. You can earn money by writing poetry in Ebooks if you put proper effort and time into it.
Features:
Niche: If you write for a particular place, you can create multiple poetries and publish them in an ebook as a package.
Credibility: Being a successful seller on Amazon KDP will help you build credibility and assert your dominance in that genre. Besides, it will help generate a consistent income in the long term.
Write Poems: As a KDP publisher, you have no limits or constraints over styling, formatting, and frequency of poems you write and publish.
Socialization: Poets on Amazon become famous and renowned; this popularity can be converted into merchandise sales, fan events, and other methods of earning money through poetry.
| | |
| --- | --- |
| Pros | Cons |
| It helps you explain the deep meaning of your poetry | Requires you to have at least 4-5 poems related to the same genre before you can start publishing |
| Ensures consistent long-term income once you start selling | |
| Builds unmatched credibility and trust | |
Link: https://kdp.amazon.com/
7) Trend jacking
Trendjacking is best for those who can create poetic content quickly
Trendjacking involves creating poetry about a new trending topic and promoting it to the public. If you can create apt poems with trend jacking, you will soon get invited for poetic seminars and discussions of current affairs, wherein you will use your lyrical skills to explain the latest trends.
A topic with much interest and little to no competition is a dream for a writer, as it directs everyone to the writer's content. Trendjacking helps you achieve that. Many people are interested when a topic starts to trend (think the start of COVID or the Russia-Ukraine war). However, there is not much content about it.
Suppose you create solid lyrical content with a hint of humor or explain the various aspects of trend jacking. Whenever a new thing happens, it is bound to become a hot topic. It would help if you created a poem about it, posted it on social media, gained popularity, and became a credible writer. With your credibility, businesses, seminars, and other events will leverage and ask you to use your poetic skills to write about them.
Features:
Marketing: Trendjacking is a desirable skill in marketing. A poet capable of trendjacking can succeed in affiliate marketing or freelancing.
Speed: If you can produce quality poetry involving some of the most trending topics in almost no time, you can easily make money by writing poetry online. It means you get quick cash and can complete many assignments in no time.
| | |
| --- | --- |
| Pros | Cons |
| It helps get ideas for writing when you don't have any topic in mind | Requires mental and physical preparedness to research and write about a new topic |
| Allows for writing with complete freedom and confidence | It would require 2-3 booming trend jacking before you start earning. |
| It helps build a lot of trust and credibility in no time. | |
Conclusion
We've shown you some of the best ways to write poetry and earn money. All of them are good choices. To help you take the final call, we've highlighted tools best for specific use cases. This will help you make better decisions.
Last Seen: Sep 27, 2023 @ 4:37am 4SepUTC
Aditya Agarwal
@AkarshitMahajan6300
Published:
Last Updated:
Views: 134