Home » Creations »
Medium.com is a juggernaut among all the content writing websites. Naturally, it is trendy among writers, bloggers, and content creators. Most writers love its straightforward, easy-to-use interface that allows them to publish content in different formats.
However, Medium.com isn't the best. There are many features and customizability options offered by other platforms that you can try. There are many better places to create and publish content. Some of the best Medium alternatives to earn money can also greatly increase your revenue.
We'd be showing the top 8 Medium Alternatives for writers like you. Also, keep reading till the end to read our expert advice on how to choose the right alternative to Medium for your needs.
Top 8 Medium Alternatives For Writers
| | | | | | |
| --- | --- | --- | --- | --- | --- |
| Medium Alternative | Price (Lowest) | Monetization Tools | Earning Potential | Supported Platform | Link |
| 👍 Milyin | Free | Yes | Very High | Web | Milyin.com |
| Ghost.org | $29 per month, | Yes | High | Android, iOS, Web | Ghost.org |
| Blogger.com | Free | Yes | Low | Android, iOS, Web | Blogger.com |
| WordPress | Free | Yes (Only in Paid Plans) | Moderate | Android, iOS, Web | WordPress.com |
| Write.as | Free | No | Low | Android, iOS, Web | Write.as |
1) Milyin
Milyin is best Medium alternative for writers who want to write and read quality content while earning money.
Milyin is a new platform, but its earning and growth potential can't be understated. Milyin is the best Medium alternative for writers due to its various tools, including a robust visual editor for writing comments, customization options to change the content layout and easy monetization.
With Milyin, users can create content in any genre and topic without problems. It's completely free to join. It pays users on a per-click basis. Milyin is one of the top Medium alternatives to earn money, paying users for every genuine ad click on their content. The best part is that Milyin allows users to use monetization options like Google AdSense and Amazon Affiliate. Furthermore, you can change the frequency of ads on your content to meet your revenue goals.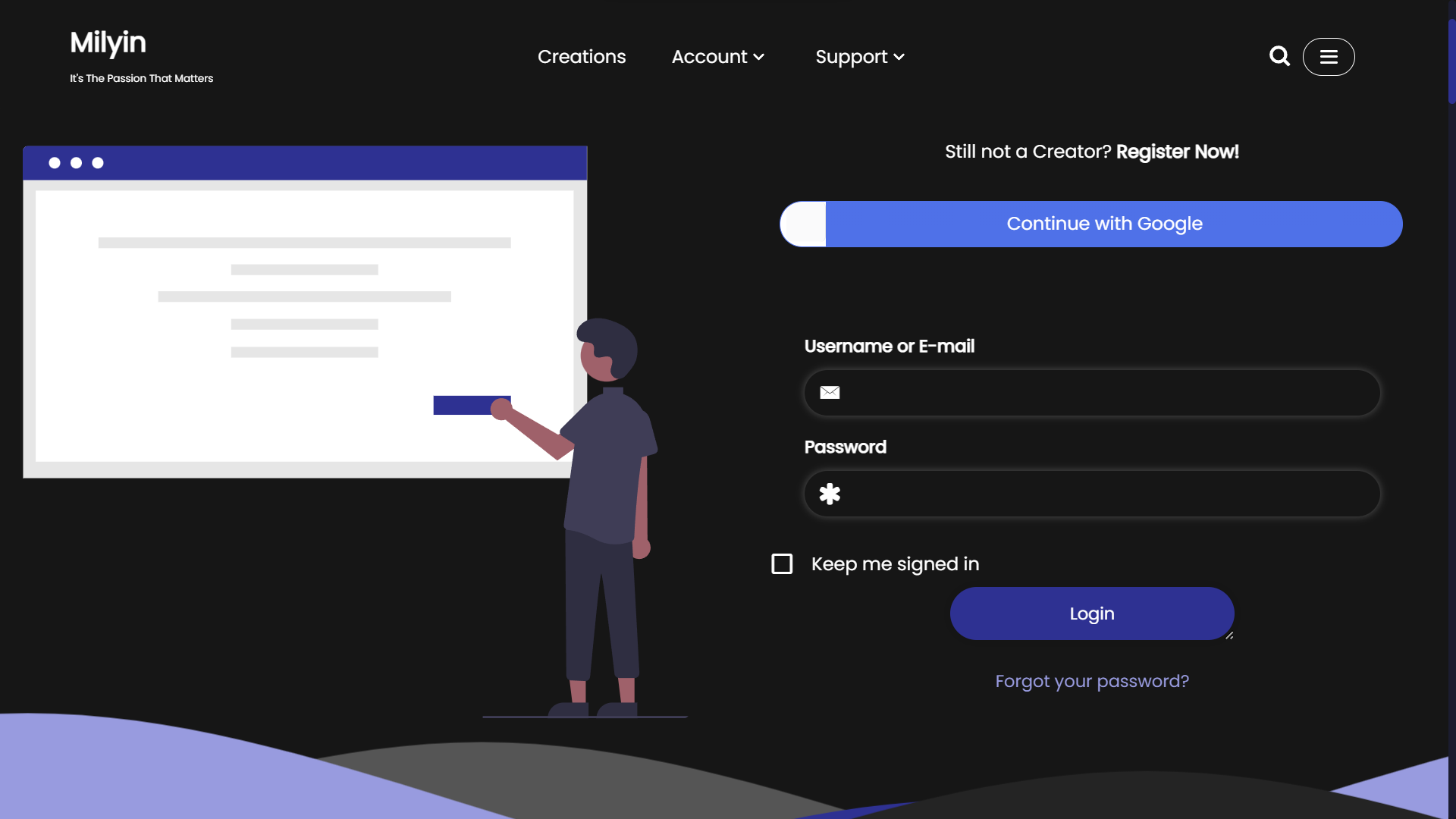 Features:
Hashtags: Allows interaction with other creators on the platform via comments, pings, chat, hashtags, and more.
Tools: Their tools include adding disclaimers, meta descriptions, images, headings, blocks, URLs, and more to the content, allowing for a fantastic content writing experience with complete freedom.
Customization: You can choose between boxed or complete with arrangements, add or remove headers, footers, table of content, and more.
| | |
| --- | --- |
| Pros | Cons |
| You can earn from Day 1 and enjoy a predefined rate of $0.1 per ad click. | Only available on the Web — Milyin doesn't have an app yet |
| Robust text and content formatting tools allow you to create content in the way you want | |
| Excellent UI makes managing, editing, deleting, or cloning your existing content easy. | |
Link: https://milyin.com/
2) Ghost.org
Ghost.org is best Medium competitor for enjoying customizable, feature-rich cisual editor designed specifically for the needs of writers.
Ghost.org is one of the most robust Medium alternatives for writers, with features, customization options, and tools, unlike any other platform. Unlike other platforms, Ghost allows users to choose the UI design such that you can easily remove Ghost's branding and use your branding for your content.
But that's not all. Ghost has a proper visual editor for content writing without coding knowledge. This simplifies the content writing process and ensures that users can produce content quickly at scale. Configuring and getting started with Ghost is a breeze as well.
Features:
Content: It allows you to add content in the form of product placements, signup forms, and advertisements to help users easily monetize their content
Writing: You are provided an advanced content editor with various writing tools for media, tables, lists, embeds, and other use cases.
Use Case: Unlike Medium, you can implement various use cases to provide your audience with newsletters, exclusive memberships, merchandise, and more.
| | |
| --- | --- |
| Pros | Cons |
| Some of the best features among all medium alternatives for writers | No free plan makes it a terrible choice for newcomers. |
| Supports custom branding options to match your needs | |
| Allows for easy integrations with Zapier, Slack, AMP, Disqus, Google Analytics, Typeform | |
Link: https://ghost.org
3) Blogger.com
Blogger.com is the best alternative of Medium.com for beginners and inexperienced writers to learn content writing and gain experience.
Blogger.com is simple, essential, and gets the job done. If you are looking for hassle-free writing and publishing, then Blogger.com is the perfect choice. It's among the best great medium alternatives for writers still learning the basics of blogging. It was one of the oldest blogging platforms in the 1990s. If you don't like Blogger, you can also look into some of the best Blogger Alternatives.
Blogger is aptly considered a precursor to WordPress and laid the foundation for all modern self-publishing sites. However, it might not be an excellent choice for experienced writers who need advanced tools for their work. Furthermore, it doesn't offer SEO tools for blogging.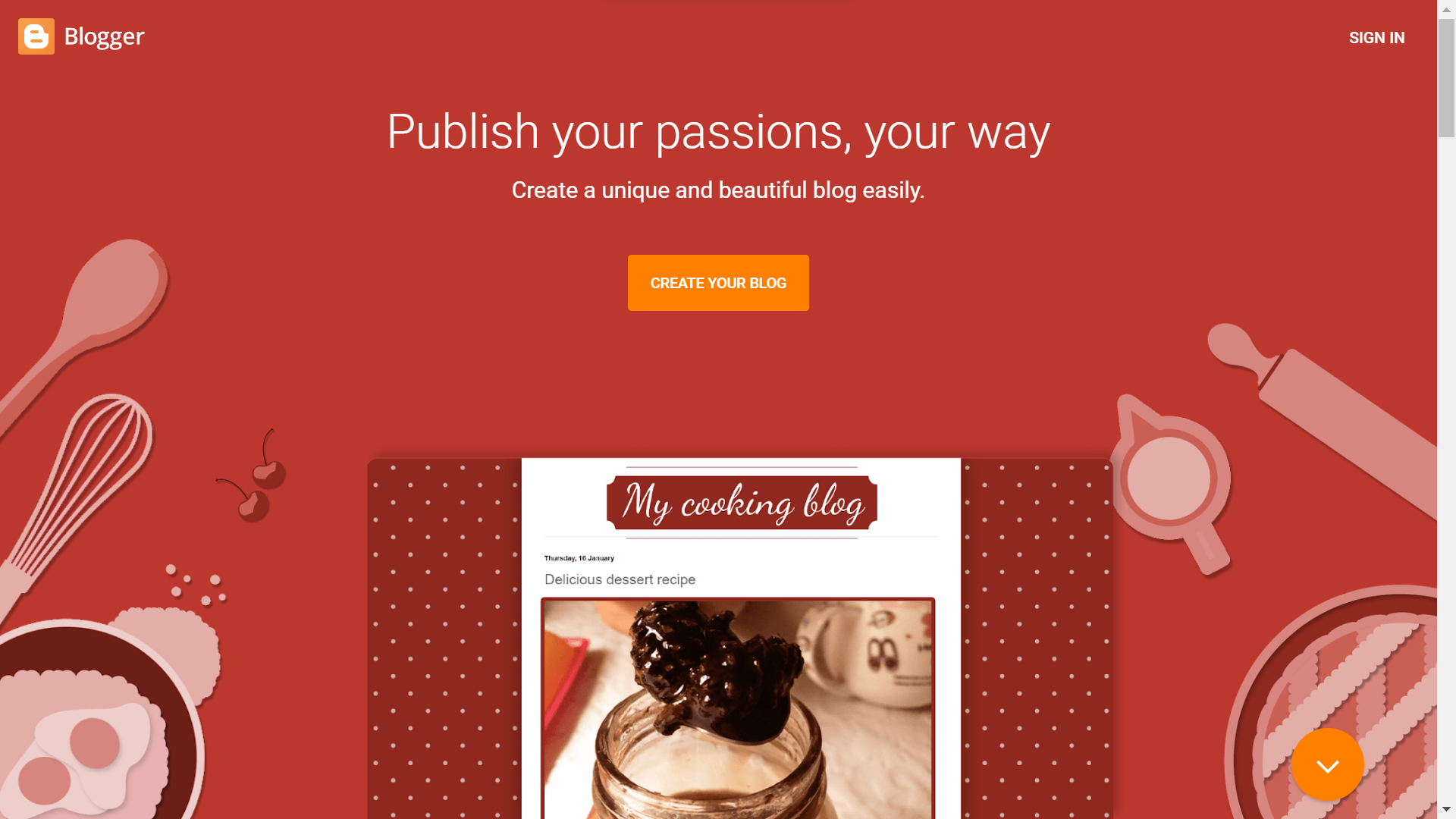 Features:
Beginner-Friendly: The simple and easy-to-use interface makes it an excellent choice for newcomers.
Themes: Basic themes and personalization options to customize your blog. You can make basic adjustments and stylize your blog to meet your requirements.
Community: As one of the oldest writing platforms, it has a great history and a well-knit community of writers and readers that help one another grow.
| | |
| --- | --- |
| Pros | Cons |
| Trusted by many long-term writers | Shallow earning potential. |
| Very reliable and ensures easy publishing | |
| Completely free to use | |
Link: https://blogger.com/
4) WordPress
WordPress is best enjoying high-scalability as it allows multiple admins and authors to collaborate and create content for you.
WordPress is the most popular way of building sites. WordPress powers a significant portion of the entire internet. As a writer, you can look into their free hosting plans to create your blog as an alias of wordpress.com and customize it per your needs. This makes it one of the most effective medium alternatives for writers.
WordPress's primary benefit is that if you plan to scale up in the future, it would be straightforward. You would likely start your site using WordPress.org and a domain name. WordPress makes it easy to import/export content and become independent writers. The ability to scale up makes WordPress one of the most fantastic Medium alternatives for writers in 2023.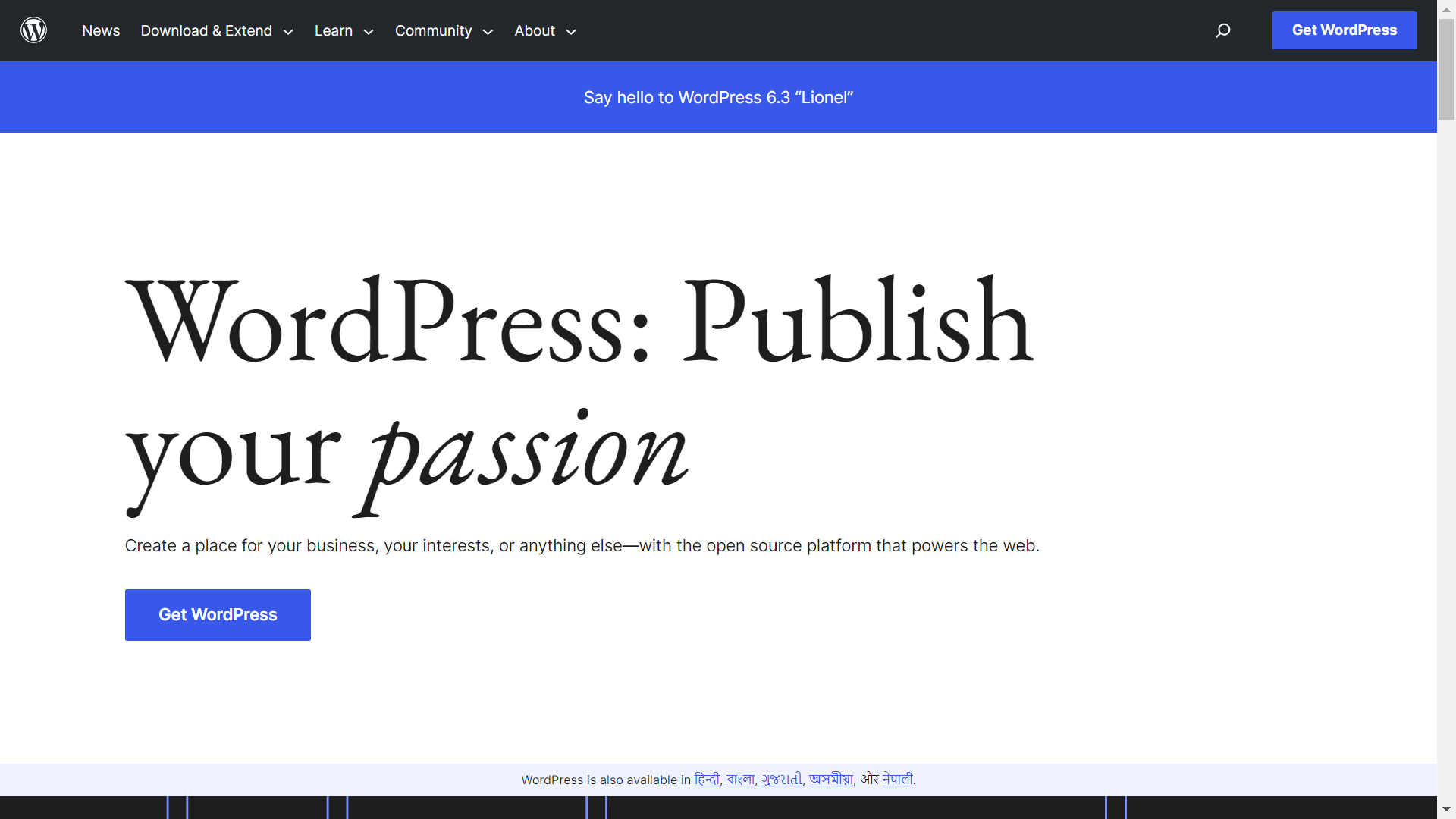 Features:
Themes: Various themes will enable you to add functionality and make design changes easily to suit your writing, making it an ideal Medium.com alternative.
Community: It has a lot of support documents, an active online community, responsive customer support forums, and a variety of 3rd party guides and blogs that allow for efficiently fixing any issues you face.
Writing: It is among the best platform for writing due to the variety of writing tools, aids, and features made available to you in the form of plugins.
| | |
| --- | --- |
| Pros | Cons |
| Completely free and very popular | No monetization options for free plans |
| Many free online SEO tools like Yoast SEO available for WordPress.org users | |
| It allows easy scalability, preparing you to become an independent writer. | |
5) Write.as
Write.as is one of the best Medium competitors for people who enjoy writing their thoughts and express them freely.
Write. as is a platform for presenting and showcasing your thoughts. It does not intend to be a place to write blogs or make websites. Instead, it's a place to showcase your thoughts and ideas. It has tools to ensure you can quickly write and publish your content.
Write.as has a minimalistic and distraction-free space for the writers. Write. It has no ads and maintains a clean, user-friendly dashboard. It also has a straightforward signup process, ensuring you can get onto creating content quickly, making it an excellent medium alternative.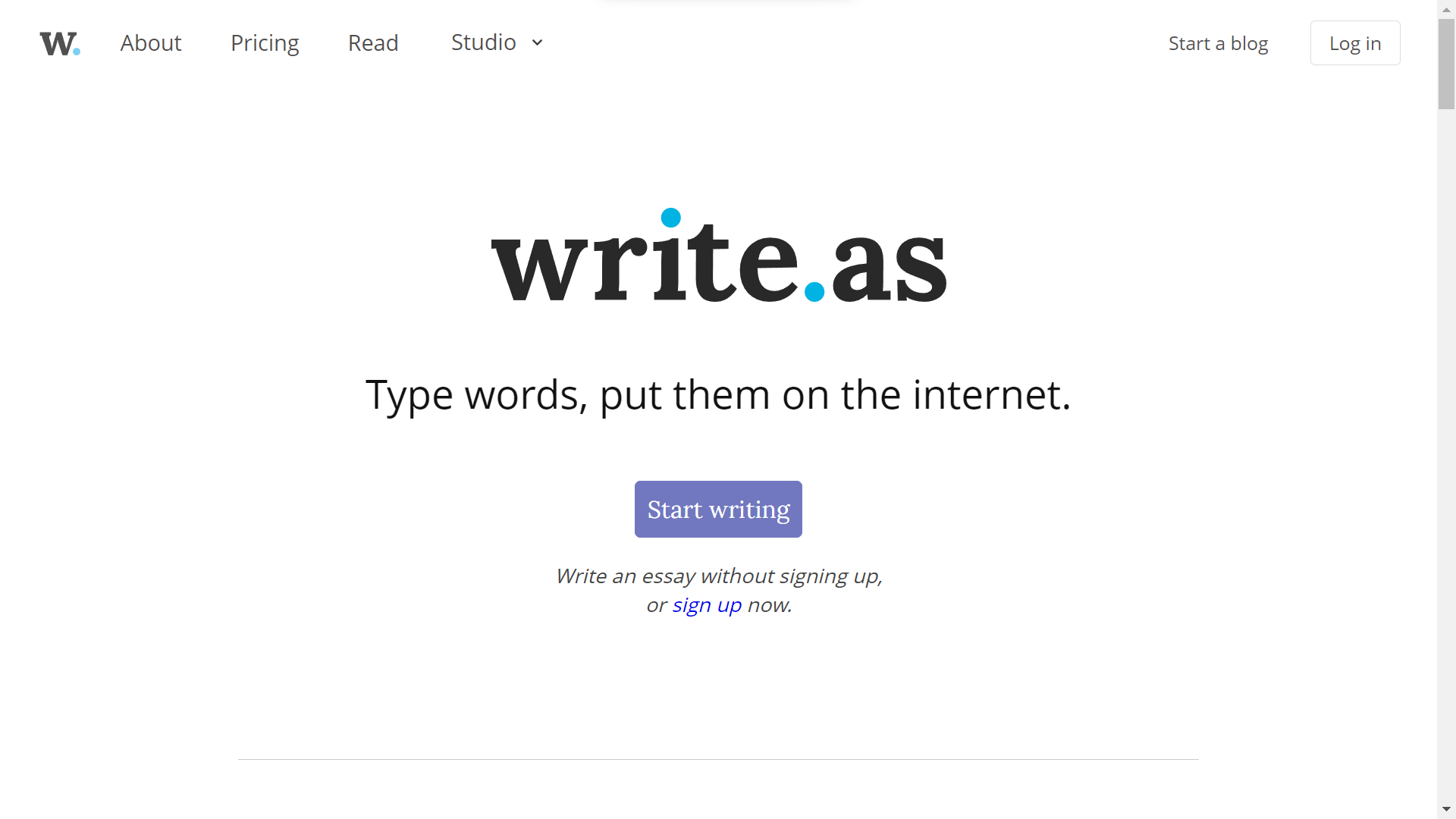 Features:
Expressing: Learn about others' unique and personal experiences through a strong global community of engaging writers and readers.
Beginner-friendly: Unlike other platforms, it is designed to be very natural and free-flowing. As a result, it doesn't require much experience to gain success.
Focus: It focuses exclusively on content, ensuring all other forms of writing can thrive freely and earn a lot of money.
| | |
| --- | --- |
| Pros | Cons |
| Great place to write your unique thoughts and perspectives | Not a good choice for professional writing |
| Minimalistic UI ensures you never get distracted from writing | |
| Easy signup process | |
Link: https://write.as/
6) HubPages
HubPages is the best for creating quick and easy discussions and earning money through ads.
HubPages has a unique concept of focussing on discussions. It's straightforward to monetize content on HubPages. With HubPages, your content would have Google AdSense and Amazon Affiliate ads. For every conversion, you would be paid based on some predefined factors. HubPages is the best Medium alternative to earn money by writing articles. Write.as is, therefore, one of the best Medium alternatives for writers.
HubPages is an excellent choice if you are looking for Medium alternatives while pregnant. It's a great platform for sharing recipes or art and craft ideas. Furthermore, HubPages is an excellent choice for quickly creating unique content with various topics.
Features:
Earning: HubPages provides a variety of options to monetize your content and quickly monetize your content for earning consistent revenue.
Ease of Use: HubPages handles all the work helping you focus exclusively on writing and creating quality content, making it an excellent alternative to Medium.
| | |
| --- | --- |
| Pros | Cons |
| Completely free to use | Payouts are relatively lower than your Google AdSense/Amazon Affiliate account. |
| Huge earning potential | |
| Plenty of stories about personal interests | |
Link: https://hubpages.com/
7) Tumblr
Tumblr is best for customization options and free hosting support for writing content with great independence.
Tumblr is one of the top medium alternatives for writers who want free hosting and easy customization options. Users can add images, text, and links to their posts. They can also use tags to organize their posts into categories.
Tumblr's major drawback is its restrictions on quickly moving content across platforms. Furthermore, they provide no monetization tools. As a result, if you are looking for the best Medium alternatives to earn money, you must avoid Tumblr.
Features:
Beginner Writers: It can be an excellent choice for beginners with little to no experience who want to gain proper experience before starting professional writing work.
Content: Supports various content formats, including photos, videos, GIFs, and many more forms of content.
| | |
| --- | --- |
| Pros | Cons |
| Straightforward and beginner-friendly | Lacks features for experienced writers |
| Completely free to use and provides decent Web hosting for your content | |
| Tools to assist new/inexperienced writers | |
Link: https://tumblr.com/
8) Squarespace
Squarespace is the best Medium competitor for writing content as well as building quality websites.
Squarespace is similar to WordPress in many ways. They both support writing blogs for free and are best known for their abilities to help create websites. That's why both of them are excellent Medium alternatives for writers.
Squarespace ensures that you feel like the owner of your content and can customize the look and appeal according to your needs. But that's not all. Squarespace has advanced tools to ensure you never need to touch code and can easily create the sites and content with their advanced drag-and-drop tools.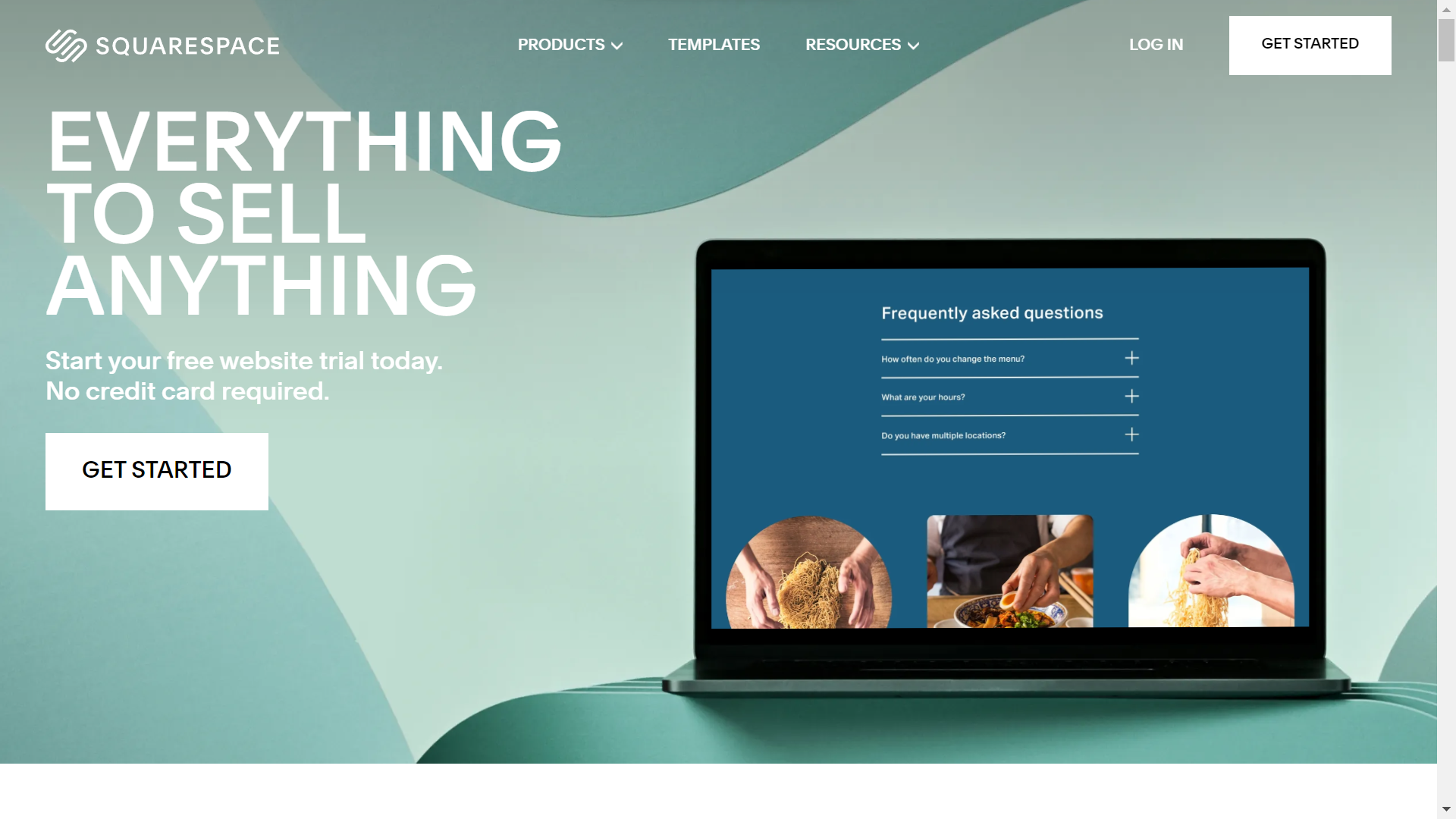 Features:
Content: Squarespace is an excellent choice for professional writing with its robust writing tools and advanced tools to add media, tables, lists, and various other forms of content.
Earning: It gives you the independence to use affiliate links, advertisements, and other methods to earn money by writing content, making it an ideal Medium alternative.
| | |
| --- | --- |
| Pros | Cons |
| Robust page builder tools allow for creating content with ease | Lacks proper built-in SEO tools |
| Supports all types of monetization options | |
| Allows you to have complete ownership of content | |
Link: https://squarespace.com/
Conclusion – Medium Alternatives
It looks like we've reached the end of this Creation. Until now, you've seen some of the best Medium alternatives for various use cases. You should look into one of these best Medium alternatives for your needs. We've created our conclusion to help you narrow down your choices. Also, Medium doesn't pay well to writers from India and other countries globally.
| | |
| --- | --- |
| Best for | Medium Alternative |
| Earning Potential | Milyin |
| Beginner Friendliness | Blogger |
| Customization Capabilities | WordPress |
Last Seen: Sep 22, 2023 @ 5:55am 5SepUTC
Aditya Agarwal
@AkarshitMahajan6300
Published:
Last Updated:
Views: 266