Home » Creations »
The decision to embark on a trip to Kashmir was a spontaneous one. I had heard tales of its ethereal beauty, but nothing could prepare me for the awe-inspiring journey that awaited.
Day 1: Arrival in Srinagar
The plane touched down at Srinagar Airport, and as I stepped onto the tarmac, a chill ran down my spine. I was welcomed by a stunning vista of snow-capped peaks, and the scent of blooming saffron hung in the air. My adventure had begun.
The Shikara ride on Dal Lake was a tranquil initiation. Floating gardens, colorful houseboats, and the mesmerizing reflection of Char Chinar Island left me enchanted. As the sun dipped below the horizon, the Mughal Gardens beckoned with their symmetrical terraces and cascading fountains.
Day 2: Exploring Srinagar
Srinagar's old city was a treasure trove of history and culture. I marveled at the intricacies of Shah Hamdan's Mosque and got lost in the labyrinthine markets of Lal Chowk. The fragrant spices, vibrant textiles, and intricate handicrafts tempted my senses.
Shah Hamdan's Mosque
Day 3: Gulmarg – The Meadow of Flowers
Gulmarg was a scenic paradise. The Gulmarg Gondola soared to heights that took my breath away. Trekking through fields of wildflowers, I encountered nomadic shepherds who welcomed me with a warm smile. The backdrop of the Himalayas was a sight beyond imagination.
Day 4: Pahalgam – Valley of Shepherds
Pahalgam was next, and the Betaab Valley, named after the Bollywood film, was a tapestry of colors and serenity. A horseback ride through the valley led me to the tranquil Lidder River. I could have spent a lifetime by its banks, listening to its melodic flow.
Day 5: Culinary Delights
Kashmiri cuisine was an adventure in itself. I savored Rogan Josh, Yakhni, and the opulent Kashmiri Wazwan. The flavors were a tantalizing dance on my taste buds.
Day 6: Sonamarg – The Meadow of Gold
Sonamarg, aptly named, was a spectacle of meadows bathed in golden hues. A hike to Thajiwas Glacier was an adrenaline rush. The crisp mountain air was invigorating.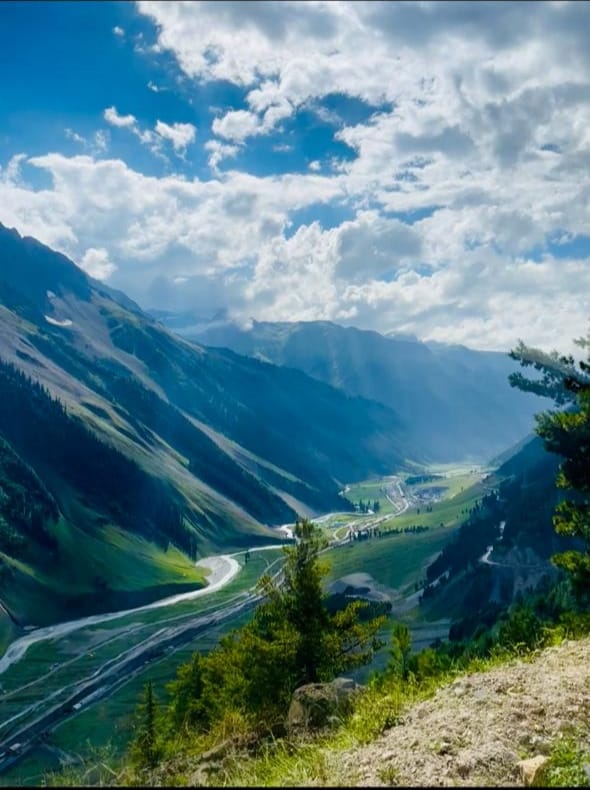 Day 7: A Glimpse of History
A visit to the Shankaracharya Temple, perched on a hilltop, offered panoramic views of Srinagar. The ancient architecture and spiritual aura left an indelible mark.
Day 8: Return to Srinagar
As my journey neared its end, I couldn't help but feel a sense of melancholy. I knew I was leaving a piece of my heart in Kashmir. The warmth of the people, their stories, and their enduring smiles had touched my soul.
Day 9: Farewell, but not Goodbye
Leaving Kashmir was like bidding adieu to a dear friend. I promised to return, for the beauty of this land was not just in its landscapes but in the hearts of its people.
And so, I boarded the plane with memories etched in my mind, a camera filled with breathtaking vistas, and a heart full of gratitude. Kashmir had revealed its mysteries to me, and I knew that this enchanting valley would forever hold a special place in my wanderer's soul.
Last Seen: Sep 17, 2023 @ 5:38pm 17SepUTC
Shravya Verma
@Shravya-Verma
Published:
Last Updated:
Views: 6